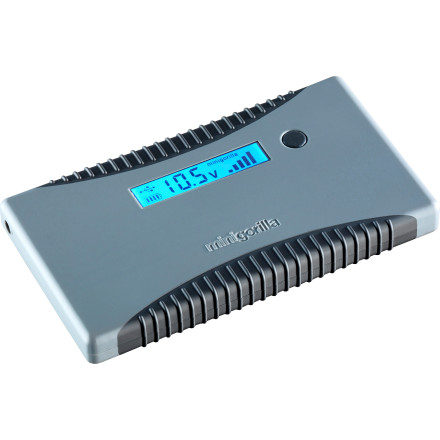 In today's fast-paced economy, running out of power is in many cases simply not an option. With the compact Powertraveller Minigorilla Portable Charger, you'll be able to breathe up to six hours of new life into your netbook, mobile device, or tablet. The Minigorilla includes over 20 different adapter tips for compatibility with most major netbook and mobile brands and the international AC travel charger allows you to recharge the Minigorilla nearly anywhere in the world.
Supplies up to six hours of additional power for laptops, mobile devices, MP3, tablets, hand-held game consoles, GPS equipment, and much more
LCD screen indicates battery capacity status and level of charge remaining
Includes adapters for all major mobile and computer brands
Included 5V USB allows you to charge smaller devices
Multi-voltage capability (8.4V, 9.5V, 10.5V, 12V, 19V) allows you to adjust the power source for specific devices
Short-circuit, over-charging, and voltage detecting safety features help protect your devices
Minigorilla can be recharged via a standard wall outlet (5-6 hours) or the Powertraveller Solargorilla (10-12 hours) (Solargorilla sold separately)
Includes an AC travel charger for international travel
Compact dimensions of 5.9 X 3.2 X .5 inches and a zippered carry case make for easy transport
Includes 11 different laptop adapter tips to fit most laptops/tablets
Includes 9 different mobile and handheld device adapters, including mini USB, micro USB, various cell phone models, and Nintendo DS Lite
What do you think about this product?
Have questions about this product?
I want portable power for my Nookcolor. ...
I want portable power for my Nookcolor. The Nook comes with a powercord that has usb on connector on one end a smaller one on the Nook side. Would your minigorilla work, and does the minigorilla come with a recharging cord?

Thanks, Rod
Rod,

The Power Traveller Minigorilla Portable Charger has a variety of different adapters to fit almost any device you can imagine, and will be compatible with your nook through its USB connection. The Minigorilla also comes with a recharging cord.