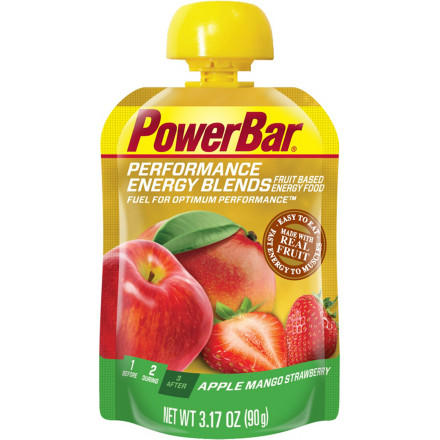 The folks at Power Bar created the Performance Energy Blends energy pouches for those of us who would prefer to fuel our runs, rides, and races by natural means. Unlike other gels, which are essentially sugar syrups with flavors and sometimes caffeine added, these Blends are made up of pureed fruit with a touch of the vitamins A & E thrown in. The result is a delicious snack that goes down very easily (perhaps because your body recognizes it as real food) and quickly delivers energy to your muscles to keep you moving at peak levels.
Delicious Dual Source Energy Blend is 98% pureed fruit to provide tasty natural, food-based nutrition

2:1 glucose-to-fructose ratio delivers 20-50% more energy to muscles than glucose alone, and improves endurance performance by 8%

Resealable top means that you can meter out your consumption, and you won't end up with sticky goop all over the inside of your pack or pocket when you stash a used pouch

Consume before or during intense exercise to optimize your performance

Gluten-free, allergen-free, caffeine-free, and contains no artificial flavors or colors

Share your thoughts
What do you think of the
Powerbar
Performance Energy Blends - 6 Pack
? Share a...
Powerbar
Familiarity:

I've put it through the wringer
so i have had all 3 flavors and they all tasted really good. i like how they were not heavy on your stomach i would take one right before i would run and i never felt like it made my stomach hurt or anything i would recommend them!
Meh
Familiarity:

I've used it once or twice and have initial impressions
Tastes good, lots of "easy to digest" sugar. Expensive but does what it promises. Agree with other users about the applesaucy taste and texture. Looking at the ingredients its probably not far off of Mott's applesauce in concentrated form with good packaging
Awesome Stuff
Familiarity:

I've put it through the wringer
I really like this stuff, I'm not a big fan of the Gu's and Powerbar met me halfway on this one. A drinkable snack that doesn't taste awful, it actually tastes pretty good. Just like applesauce. Definitely a good investment to bring with you
good product
Familiarity:

I've put it through the wringer
I got a few of these recently and really liked them on rides. The pouch is big enough to get a couple of doses out of each and it seems to be easy on the stomach because its fruit based.The banana blueberry flavor is my favorite.
Pick me up
Familiarity:

I've put it through the wringer
I seldom use these blends after a long trail run or hike. These are so delicious and light on the stomach! You get a ton of calories without the feeling of being bogged down by food. These are blended goodness, so your body absorbs them quickly to replenish what you need.
Easier to swallow than most gels
Familiarity:

I've used it once or twice and have initial impressions
For quick energy that you can pack with you these things are pretty great. I try to eat fresh fruit before all of my exercises but these things fit the bill if that is not possible. The flavor is good and these are easier to choke down than most gels due to a more fluid consistency.
I grabbed a couple of these at the grocery store only because they were on sale AND had a coupon next to them. They then cost about the same as any energy gel so I said, what the heck. I bought both flavors, apple-mango-strawberry and blueberry-banana. I tried the first before a long ride to top off my energy before a long ride. The first thing I noticed was the super awesome packaging. Its seriously a good design. Next was the flavor. It was really, really good. Then I noticed the texture and realized I was eating apple sauce. Definitely the best apple sauce I have ever dreamed of though. The energy it provided was maybe on par with most gels. About a week later I tried the blueberry banana half way through a 40 mile gravel ride on a 90F day. I was definitely feeling fatigued when I cracked the cap. The first taste kind of tasted like overripe banana, like you would made banana bread with. Then the blueberry sweetness joined in. I liked it, maybe not as much as the first flavor, but still pretty good. The energy boost left some more to be desired and I ended up stopping a few miles later for a Larabar and a gel. I may have been hoping for too much from the Powerbar Energy and the heat definitely didn't help but I'm glad I had back up reserves. Bottom line, this stuff works just ok and its way over priced. It is something different, but at almost $3, it is not something I will buy again unless at a deep discount. If the price doesn't make you flinch, definitely try it for the flavor alone.