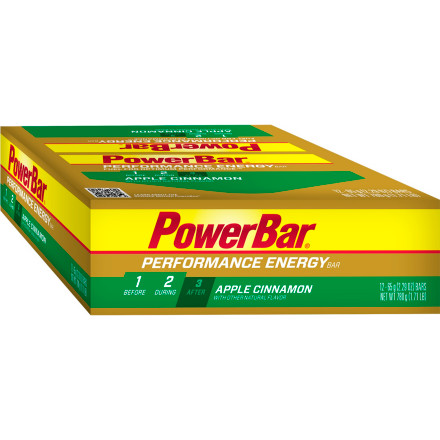 Detail Images

Community Images
During the nineties energy bars gained quick acceptance over homemade and grocery-store alternatives due to their pack-ability, nutritional value, and long shelf life. In a word, convenient. At the forefront of that energy-bar movement was Powerbar and its line of Performance Bars. While most of those energy-bar start ups have quietly disappeared, Powerbar, like one of its sponsored endurance athletes, has soldiered on.
This is because Powerbar has continually fine tuned its flavors and formula to ease digestion while providing nutritional benefits for high-intensity athletes. Fore example, each low-fat bar contains 200mg of sodium-based electrolytes to help the body efficiently replenish its water supply. This helps prevent dehydration when exercising or competing in extreme conditions.
But, that's just one advantage these energy-bars bring to serious endurance athletes. Through extensive research and development, Powerbar's optimized a glucose to fructose blend with a two-to-one ratio for efficient and long-lasting energy. What they've coined C2MAX, this dual-source energy blend helps supply more energy to muscles than glucose alone.In fact, testing by Med Sci Sports Exerc journal as shown this ratio to deliver 20 - 50 percent more energy to muscles, and improve endurance performance by eight percent.
Powerbar Performance Bars ten flavors are free from preservatives and artificial flavors. Each box contains 12 bars.
Very thick
Familiarity:

I've used it several times
These bars are dense. I felt like using them on cool days with a moderate 2+ hour ride was ok, hot days left me feeling like I was sacrificing my hydration to get these calories down.

Also, it's not the easiest thing on my inner pipes.
Not only are they tasty but my stomach likes them and they are packed with energy. Its hard to beat how energy-packed but easy to to digest maltodextrin is. I don't get any gastric distress from these even though they are heavy enough to curb hunger. Normally just use these on long bike rides but today I used two during an 8hr test and will use them again on monday for the other 8 hour test.
Yep.
Familiarity:

I've put it through the wringer
I am still trying to figure out how they made a powerbar taste so yummy. I go through 3 boxes of the peanut butter flavor per month. I eat them before, during, sometimes after mountain biking and they keep me fueled up nicely. Don't forget to drink a bunch of water with them!
yum
Familiarity:

I've put it through the wringer
what can i say its a power bar. it does the trick!
Easy to break down and digest on the move I give these bars an A+++. I use them pretty much doing anything with endurance. I like the consistency better than Gu or power gel, but alas those are so compact and easy to digest you can't not. I still use these though, and they have the caloric density that the gels don't. Within 5-10 minutes you start metabolizing this bar so it is quick energy you need on the go. Highly recommended and wow do they have so many more flavors than they use to.
I have tried nearly everything out there. I typically go for PowerBar Performance Energy or Clifbars. Clifbars for meal replacement. Powerbars for pre/during workouts. These are ideal for me as they pack a great amount of calories in an easily portable and more importantly palatable treat. I prefer these to energy gels as they are a bit easier on my stomach. My favorite flavors are Vanilla Crisp and Cookies and Cream. Occasionally I will go for the Chocolate.
I'm useing it for 12 years!!! on bike, runing, climbing and trekking.
One bar geave me the power to go on for 2-4 hours (on the bike and running 2h-and on trekking for 4h)
And it can be in the bag for 4 days on temp of 42C!...it freeze in -4C (+32F?) and you can only lick it!
Though I do prefer clifbars, I do get tired of eating the same flavors for extended periods, so when I get tired off clifbars I usually switch to Vanilla Crisp Power Bars.They taste pretty damn good for the looks of them, and allow enough calories for a solid snack during a hike/run/etc.