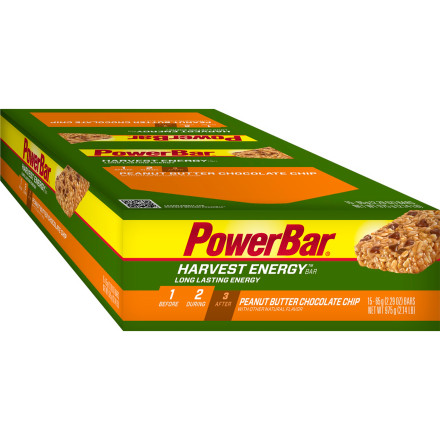 Detail Images
The PowerBar Harvest Bars taste better than the dry, cardboard substance you've gagged yourself with the last three training rides. In fact, the Powerbar Harvest Bars are so good that you may become addicted to them. It's true, although you could feasibly survive off the Harvest Bars alone (and some water to wash them down), we don't recommend it. We do however recommend that you take along a bar on your next training ride. Because after all, just because you took the afternoon off to go ride, doesn't mean your taste buds didn't come along.
So how do the Harvest Bars provide energy? Easy. The Harvest Bars use a balanced mix of whole grains, soy protein, and natural fiber to keep you fueled for your ride. PowerBar claims that between 70 and 75 percent of the bars' energy is derived from carbohydrates. And as you've probably heard, carbs act like the gasoline for your body's engine. Where the Harvest Bar differs from the competition is in its aforementioned formula. The whole oats, fiber, and protein take longer to digest than glucose based carbohydrates, and this means that you receive a long, steady supply of carbs released into your bloodstream. This equates to consumable energy that simply lasts longer.
The PowerBar Harvest Bars couldn't be easier to use for fuel on your next ride. Simply eat a bar 30 to 60 minutes before your ride, and then eat one every hour of your activity afterwards. No powders and no lab experiment goo food; just good, wholesome food.
The PowerBar Harvest Bars are offered in a container of 15 individual bars and in the flavors Double Chocolate Crisp, Oatmeal Raisin Cookie, Peanut Butter Chocolate Chip, and Toffee Chocolate Chip.
Best Long Ride Fake Food
Familiarity:

I've put it through the wringer
Next to PB&J this is the best processed fake food out there for long rides. Never had an GI issue and always seems to sit well.
Better than the originals
Familiarity:

I've put it through the wringer
I love the Harvest bars. They are much better than the originals as far as taste goes. They are enough to hold you over for a while until you eat again. They are a little price but they always find their way into my pack.
I'm super picky with what I eat while on a long ride. In order to add some variety to snacks while riding on a 500mile self support trip my wife started trying these out and really liked them, they help curb hunger and though they don't offer as fast of a blood sugar boost as the old performance bars, they taste great and do the job. By far my favorite flavor is the oatmeal raisin and Kels's favorite is the apple cinnamon crisp.
Come a long way
Familiarity:

I've put it through the wringer
So glad to see power bar has come a long way since I was a kid! These harvest bars are a long leap away from their original processed mush that was the original power bar. These are super nutritious and delicious--this fat kid approves These are a great resting snack afterwards to replenish all you lost on the road that day.
We'll see
Familiarity:

I've used it once or twice and have initial impressions
I love the performance energy bars and have just started using these to change things up a bit. My first impression is that they don't cause any gastric distress and are tasty. I havn't been able to use them on a really long ride yet but will be using these on a 500mile self assist ride and will update after.
Scrumptulescent!
Gender:

Male

Familiarity:

I've put it through the wringer
These are great tasting. I've tried the Double chocolate and Peanut Butter Chocolate Chip Crisp. Both are highly addictive. When its cold temperatures (ie in pocket while skiing) they become too hard to eat. I hate to support a company like powerbar but this is a good product, that being said I buy em for 50 cents a piece at a local liquadation store.
Great energy food for a snack, but for go food, if I am going too fast these are just too hard to break down. A little heavy for fastpacking or trail running for me, but if I was hiking or down with some tele skiing this would be a good choice for a snack when I get to B.