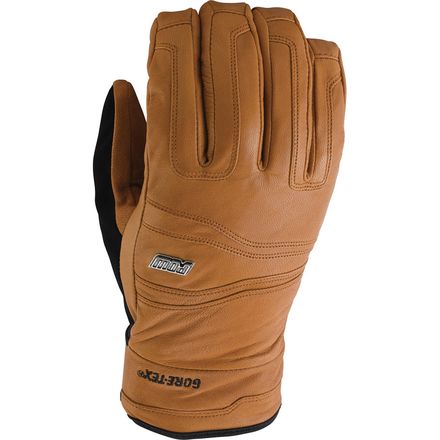 Community Images
Description
It's probably just roped off because the patrollers want it all to themselves, anyway.
When the resort is covered in gapers competing in an 'Oblivious Moron' contest, the Pow Stealth Glove provides versatile, low low-profile hand protection for mid-winter rope-ducking missions. The Stealth's goatskin leather shell resists damage well and breaks in over time to improve the fit the longer you wear them. The waterproof/breathable Gore-Tex insert keeps your hands dry as you help yourself to illicit face shots, and the super-warm PrimaLoft One insulation ensures warmth while you hide from ski patrol.
Share your thoughts
What do you think of the
Pow Gloves
Stealth GTX Glove
? Share a...
great glove
Familiarity:

I've put it through the wringer
I love this glove. It's super easy to handle shit with these on and their great for strapping on and taking off your bindings. The high quality leather shows greatly as mine are still in perfect condition after 2 seasons.These will with out a doubt keep your hands super warm and dry, get these gloves bottom line.
Killer leather, great feel.
Familiarity:

I've put it through the wringer

Fit:

Runs small
I have used these bad boys for a season and a half now, and the leather still looks brand new with only a little minor stitching fray. Over that period I would say 40 days on the slopes and 10 or so winter hiking. The size for me ran a bit small because I have giant fingers, so the length was spot on, but the fingers are slightly stubby. I have no regrets buying these despite that because the quality of the build is so great and the dexterity of the gloves is still amazing despite the fingers being too short.

If you want to keep the leather looking new and feeling great I would suggest buying a thing of sno-seal, heat them with a hair dryer for 30 sec - 1 min until they are warm to touch, then saturate them and let them dry back to room temperature. After they are dry, reheat the gloves and wipe off the excess with a rag. This both enhances the waterproofing and breaks the leather in for a more supple feel.

The only other thing I would suggest with this glove is to buy a silk liner for days under 10 F.

Great glove and price reflects the quality.
Warm and durable
Familiarity:

I've put it through the wringer

Fit:

True to size
These gloves look sick, Feel good, and keep my hands warm and dry. Between the leather and the gortex these gloves seem bomb proof.
POW Stealth GTX Glove and Mitt
Durability, Waterproof/Breathable (THANK YOU Gore-Tex), Warmth and Dexterity. The Stealth has it all.
These gloves rock!
Familiarity:

I've put it through the wringer

Fit:

True to size
These gloves are absolutely amazing! They have the perfect amount of insulation to keep your hands nice and toasty. The gore tex allows your hands to breathe and it keeps them dry at the same time. I also dig them because they have no gauntlet. They also ride pretty close to the skin--super low profile!

**I like them so much i picked up the stealth mittens!
Leather, AND gore-tex? Word, homie.

Anything that's not leather falls apart too easy, these have been holdin' together like a boss. My fingers tend to get kinda cold on them real brisk days, but never too bad.

Waterproofing? It's gore-tex under leather, don't even worry about it.

A little pricey, but these are gonna last ya!
I really like these, got them late into the season so the temperature was on the rise. And during easter these were a bit too warm. But super comfy, looking forward to spend some more days in these next season!
Can't say anything on how they wear since I spent only a few days with them on, but seems like a well build glove! I'll update next season!
I bought these after reading some reviews and thought I'd give them a shot. I wasn't impressed with a couple of things. First off, what I did like was the leather and construction...they'd probably hold up good enough for a season or two and seemed pretty warm. What I didn't like was the cuff enclosure (not tight enough for my taste), overall fit and, mainly, the lack of curvature of the fingers, etc. allowing for dexterity.
I would highly recommend these gloves, the goat skin leather makes them water-tight and super warm. POW makes the best gloves out there!
Not as good as the older version
Gender:

Male

Familiarity:

I've used it several times
Solid quality and good looks, and the linings are super warm. But I agree with other reviewers who said the previous version with Hipora inserts were better. I especially miss the inner wrist gaiters on the older model. First day out with these new gloves happened to be a heavy pow day, and within a few runs snow was finding its way into the gloves. Had to remove them several times to shake out the snow. This just did not happen with the older pairs. Also, I am a bit puzzled by Pow's size. I also have a pair of Pow HD gloves in the same size (s) and they fit super tight. These Stealths, however, fit loose both length and width wise. Which makes the snow getting into the gloves even more annoying. I would advise trying these on before purchase if you are not sure about your size.
Stealth GTX Glove/ Mitt - POW Gloves
POW Gloves: Stealth GTX Glove Video
POW Gloves: Stealth GTX Glove Video. Gore-Tex, Goastskin, Primaloft. O-yes-we-did!
I got these gloves and skiied about 100 days with them this season in all conditions that Utah had to offer. They were awesome! The goretex kept me dry on the wettest of days, and the dexterity on these gloves is great considering they aren't the most expensive gloves out there. I was very happy with them, my finger tips only got chilled on the coldest of days.
Not as good as they used to be, but still pretty dang good!
I had the previous version that had the Hipora waterproof material and they were soft and fit perfect! I absolutely loved them! I made the regrettable mistake of dropping one of my gloves off the lift on a powder day and wasn't able to find it. I bought this newer version with the Gore-Tex and it seemed to fit a little looser on my hand and just didn't have the same unique comforts like the previous version did. I still love them though and if and when I need to get some new gloves I will be buying these again as these are the only gloves that can keep my little hands warm! :)
Great gloves, but keep it away from heat
I got these and they were the best gloves I've ever owned, until i put it near a fireplace to dry during lunch. After about 1 hr of lunch one of the gloves shrank. The pinky on the left glove was reduced to 1/2 of its original size. I don't think I put it too close to the fireplace because there were about 10 pairs of gloves there and the rest of them were fine.

DogFunk refund policy once again saves the day.
I've had a pair of these since 08, and average about 25 days boarding a season.. They have held up great in all conditions. My pair was made before they switched to the gore-tex, so I don't know what the difference is. But I'm buying another pair now just to keep around for whenever my current pair wears out. If ever.

Update: I got the new pair.. and in comparison, I gotta say the new gore-tex version is not as good as the older version with thinsulate. The difference being that the thinsulate version had an extra wrist section that forms a good seal around the wrist opening to keep snow out. The new ones do not have this unfortunately. I know from experience that wrist high gloves without a tight seal, no matter how waterproof the shell is.. will end up soaked on the inside. Changing my original 5 star rating.. down to 2 stars.. Sorry guys.

Image: The glove on the bottom is the old one with the extra wrist sleeve. The new gore-tex is on the top.
I grew up in Michigan shoveling snow for what seemed like hours a day so I appreciate a good pair of gloves when I see em and these are the best! I am a snowboarder and started off last season with some Burton AK's that were like wearing paper bags so I bought the POW gloves and they saved my season. They run a little small but the more you wear them the better they get. Soft and plyable but very warm and DRY!!