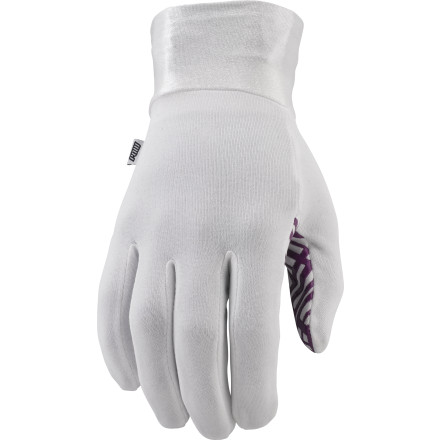 Detail Images
Description
Warm up, get a grip.
If you don't have liner gloves already, you'd be amazed by how often you'll use them. And if you already have liners, you'll see how much better the POW Gloves Liner Glove is. It's premium polypro with a smooth cuff band, and it slips easily under your gloves or mittens for a boost in warmth and comfort. Silicone grippers make the glove a good option for driving or gripping poles as you hike for turns.
Share your thoughts
What do you think of the
Pow Gloves
Liner Glove
? Share a...
Warm, fitted, but smaller than expected
Familiarity:

I've used it once or twice and have initial impressions

Fit:

Runs small
They are warm, have great grip, but they are a bit smaller than expected. I use Large and got a Large but it felt a little too tight. Almost what I would expect of a medium size. But not a deal breaker.
1st glove liners
1st glove liner
Familiarity:

I've used it several times

Fit:

True to size
Used these glove liners for 4 days in Wyoming. Temps never got above 25. Felt good on my hands. My hands stayed warm almost always. A couple of times a couple of fingers got cold, then warmed up. Worked well as a light glove.
2 concerns. Sometimes had difficulty getting my fingers into my gloves with the liners on. I wonder if the grip material on the palm was grabbing the inside of my gloves.
Also, the touch pads for my cell phone on the liner finger and thumbs did not work for me.
Impressive Glove!
Familiarity:

I've used it several times

Fit:

True to size
We have had a rather unusually cold winter in Texas this year. I have a puppy that likes to go for regular walks, and these gloves are just the answer. They are warm enough for our temps. They have the nice grip features. They appear to be well made, and they fit well. How much more can you ask? I am proud of my purchase!
These are super sweet for cold days or if you're gloves are from the 1980's. Super grippy! Would probably be great alone on warm spring days. As far as the touch screen tips, yes they work, but do they work well? Meh, hard to say. I usually just take em off If I need to use my phone.
Stoked when I have these on
Familiarity:

I've used it once or twice and have initial impressions

Fit:

True to size
These are awesome. They keep my hands warm and dry while allowing me to still access my phone and music. Also love the sticky grip! I have been wearing them under my mittens for now but can tell they are gonna be perfect to wear alone once spring riding hits.
I'm Addicted
Familiarity:

I've used it several times

Fit:

True to size
When I first got these I was just looking to find something that would bump my cart so I could receive the free 2-day shipping. I'm super stoked to land these because with my mitts (Dakine Tanner Hall Fillamore), these provide that extra layer to keep your hands warm and dry underneath your mittens or gloves. I find myself more often than not using these off the mountain as well. As a snowboard instructor I've pocketed the mitts and relied on these to teach lessons and strap/unstrap guests and they give that extra umpphhh to both prevent your bare skin from feeling the blunt of 0*F brutality and add that extra layer to keep you warm when the temps drop to 15 below.

They're super functional with the smart phone touching compatibility and the grippy layer on the palm which comparatively allows for a much easier driving experience when the steering wheel's frozen.

I typically get XL gloves/mitts/liners and these bad boys fit true to size.
These are warm, keep my hands reasonably dry, and grip well.
These liners are much, much thicker then any liner I have previously used. At least twice as thick as the Dakine liners that came with my gloves (that I was replacing, as they have worn out), and other liners I have had in the past were even thinner, more of a silk weight. To Flying Goat, I'm not sure what liners you have used in the past, but I would argue that these are the thickest I have ever used.

This isn't to say these liners are bad, because if you want a thicker liner they certainly deliver, and at a great price. Luckily they still fit inside of my outer gloves so the thickness hasn't been a huge issue. The material is pretty stretchy, and sizing wise I would suggest going down a size for a better fit, as i ordered a large (my normal glove size) and they are a little looser then I would like for a liner.

The thickness does give them a bit of extra warmth though, as I have worn then in 20-30 degree weather while walking and my hands were comfortable.

The rubber palms are extremely sticky (the fingers will almost stick together if you press them together), but don't seem to get stuck on the interior of my gloves, which is nice. Quality seems good, though the stitching on one finger seems to be loosening, will see how that turns out.

Overall: buy a size down, and if you are looking for a thicker liner, then these are a great deal.
Not so warm but grippy
Gender:

Male

Familiarity:

I've used it several times
I lost the liners to my Burton gloves, so I bought these. I think they look awesome and are super grippy, but they definitely could fit better and be warmer. I would recommend to try them before you make your purchase.
Quality liners with grip. Used them when driving and they felt great. Not thick like other liners. Great price.
POW Gloves: Liner Glove Video
POW Gloves: Liner Glove Video. Wicking, Stretchy, Grippy!
POW Gloves: Liner Glove Video
POW Gloves: Liner Glove Video. Wicking, Stretchy, Grippy!
Are you able to use these with touch...
Are you able to use these with touch screens?
Hey Justin,

Unfortunately not. We do have a few other options though. There are several in the Celtek line (Ruble, Contact, Sol) as well as the Dakine T-Storm.
These liners look, feel, and wear better than my pricier liners from other big time outdoor clothing names. The grip material and coverage is simply superb. Holding my stainless steel thermal mug or driving in these is no sweat compared to some of my gripless liners.

The material feels very high quality and soft against the skin. The stitching seems first-rate and I haven't found any danglies or loose threads at all.

I wore these on a 30 minute walk in 20F weather with a mild breeze the other night and my hands got a little chilled. That's pretty good for a lightweight liner at this price with these features!
-:?:-A-:?:-W-:?:-E-:?:-S-:?:-O-:?:-M-:?:-E-:?:-
I wanted the black ones, but "large" was sold-out.
Took a chance on the XL size fitting, and they did!
The large might have been too tight, although I'm
sure they would stretch. I purchased mine with the
intent of wearing them as liners for my "winter"
motorcycle gloves. My older liners were wool, and
developed many holes after only wearing them a few
times (as liners). These POW polypropylene liners
feel GREAT and function exactly as I wanted them to.
So glad that I chose these over all the others available.
The rubber strips on the palms are very tacky & provide
excellent grip, even when wet.

Overall very pleased w/ mine.
«:::T:::» «:::H:::» «:::A:::» «:::N:::» «:::K:::» «:::S:::» ‹(•¿•)›
On cool days I wear these by themselves, and on cold days they fit well enough that they easily slip into other gloves. The grip on the palm is nice...it comes in handy during fall football games. The fit in the fingers is snug, not tight, but the thumb is a little off - it restricts range of motion somewhat, like it connects too far down on the palm.
Needed a glove with grip for my synchronized skating. These gloves are perfect--just enough warmth and with a good grip and nice fit for my slim hands.