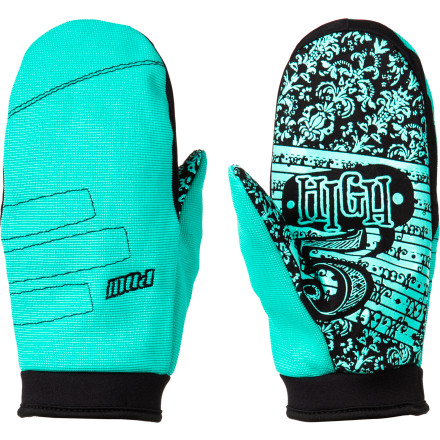 Detail Images
Celebrating the beginnings of the winter thaw requires epic high fives. Give them with the Pow Gloves High 5 Mitten. Thanks to a waterproof Clarino palm, your celebration won't end with you searching for paper towels and a fireplace. A breathable back ensures you stay regulated and sweat-free even when the hand-slapping has you at an all-time cardio high.
High Five Glove/Mitt - POW Gloves
High Five Glove/ Mitt - POW Gloves
These Mitts are the most low profile and one of the warmest gloves I've ever had. For sure buy them.
don't leave me hangin' brah
Given its low profile and light weight, this mitt is surprisingly warm, and water-resistant enough for shred days when the mercury hangs around 40ish. Also absolutely essential for initiating the celebratory or ritualistic exchange of "five" with the following:
* small children (down low)
* beaters (also down low)
* bros (up high)
* mothers of said bros (way up high)
* lift operators (super high)
* pizza/chinese takeout delivery drivers (fist bump)
* stiffy stiffersons on the tram (down low)
* snow bunnies/ER nurses (up high)
* sleeping grizzlies and/or grazing elk (gently down low, run like hell)