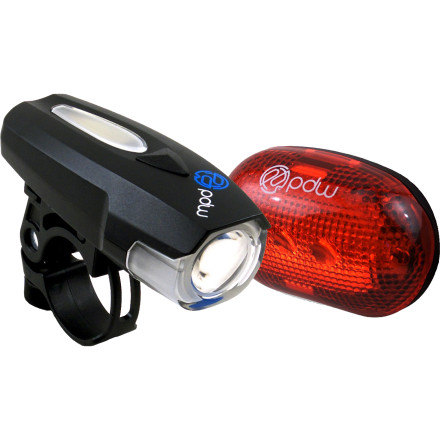 If you're riding at night, you need lights -- front AND rear. The solution is simple -- get the Portland Design Works Spaceship/Red Planet Light Set. With two of PDW's brightest, most dependable lights, you'll be riding safe and sound to and from the bar.
Portland Design Works' Red Planet Tail Light features a simple, no-nonsense design. It uses five LEDs to illuminate the darkness in your wake. Three of the LEDs point straight back into the eyes of drivers, while the two outer LEDs project outwards for side-to-side coverage. The lights are affordably powered by two AAA batteries, and the whole sub-50g system is housed in a durable, water-resistant plastic case.
The Red Planet has three strobe settings -- steady, blinking, and 'kitt.' We're sure that you can imagine the actions of the first two, but 'kitt' was something new to us. This mode sweeps across the LEDs, side to side, much like the voice of a certain 1980s talking car of the same name. So, when you're a 'rider of the night', and you don't want to be just another blinky-blinky on the rode, you can activate this function to stand out to the inattentive driver.
The front light in the package is a headlamp that PDW calls the Spaceship. Running on two AA batteries, the Spaceship unleashes a Japanese LED explosion of pure white light. The beam refraction is further strengthened by a German-engineered lens. To make sure that your Spaceship can be spotted by your brethren in space, PDW fixed a secondary LED atop the light's body. The light shines up to the celestial heavens like a homing beacon, but we just think that it looks cool. The whole system has been housed in a water-resistant case, so rain or shine, you'll be riding safely.
For easy attachment, the tail light comes with mounts for your seatpost and seat stays. PDW also included a backpack clip if you think that your bike is too pretty for mounting hardware. The Spaceship features an integrated mountain clip that can fit around either 22.0 or 31.8mm handlebars.
The Portland Design Works Spaceship/Red Planet Light Set is available in one color and size. The Red Planet Tail Light is 32x70x43mm, and the Spaceship headlight is 98x41x35mm. All corresponding batteries are included in the light set.
What do you think about this product?
Have questions about this product?
Great Light, Bright and good price for what you get. It has kept me safe!