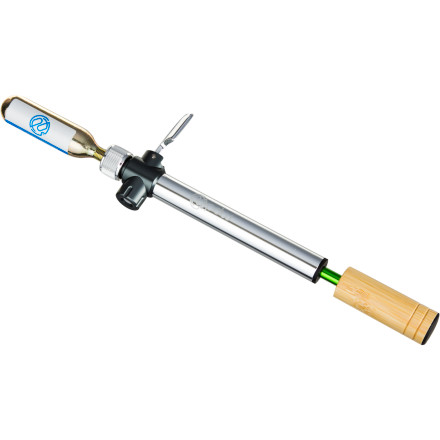 We're not ashamed to believe that there's an actual touch of magic at work with the Portland Design Works Magic Flute v1.0. Like the opera of a similar namesake, this inflation device is split into two acts -- 'traditional' and CO2. And if you're like Tamino, and stranded in a barren land, you'll be happy to have the Magic Flute by your side.
Portland Design Work's Magic Flute features an alloy cylinder to ensure a long lifespan. At one end is a handle that retracts to expose the manual pumping rod, and at the other, PDW positioned the air nozzle. Sounds fairly boilerplate, right? Well, that's about to change. Above the nozzle is an integrated port where you simply thread in your CO2 cartridge. Even cooler, the housing around the female threading turns clockwise to release the CO2. That's right. With the Magic Flute, you can fully regulate the airflow output. This feature is especially useful when you need to top off both the front and rear tires.
And if you double flat, or simply forgot your cartridge, the manual pump feature is always at your disposal. For portability, the Magic Flute comes with a mounting bracket that secures to your frame's water bottle bosses. However, at the length of a small hand, the Magic Flute will easily stow away in your jersey pocket, too.
The Portland Design Works Magic Flute v1.0 is available in one size and in the color Silver. This pump is compatible with both Presta and Schrader valves, but the pump head requires special reassembly for use with Schraders. But, fear not. The assembly process takes less than 15 seconds, and it requires no tools.