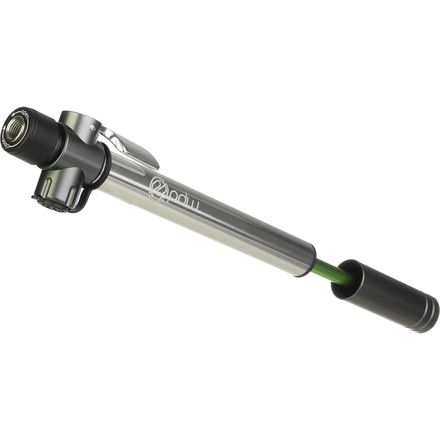 Colors
Description
Abracadabra.
Whether you're a CO2 fan or feel more comfortable refilling a flat the old-fashioned way, having a pump that works when you need it to is crucial. One that looks nice mounted on your bike is a nice bonus too, and Portland Design Works' Magic Flute Pump fills both of those requirements. You can thank the aluminum alloy construction for keeping weight down to just 110g, and the polished finish for making sure the pump will be far from an eyesore when you attach it to your frame with the included composite mounting bracket. If you decide to use a cartridge, the Magic Flute's threading system makes inflation easy, and the aluminum valve helps you avoid losing any valuable CO2. Use the pump with Schrader or Presta valves and ride with it to the middle of nowhere worry-free.
just a few small things away from great
Familiarity:

I've used it several times
Purchased because I wanted to streamline my emergency kit. Carrying just a pump that has a built in C02 inflater is very nice. A few small cartridges to seat a tubeless tire (CX and MTN) and then use the pump to fill to riding pressures.

have not had to use on the trail yet but did a few test uses in the garage (always get to know your gear before your in the woods with it).

Only improvements are a plug for the c02 to prevent it from getting filled with sand/other junk. I went a local hardware store and bought a rubber stopper and trimmed to fit. Also, sand can get stuck where the pump handle pulls out that scratches the soft aluminum pump body. no functional damage but it makes it age before its time in my eyes.
Magic!
Familiarity:

I've used it several times
Purchased this pump for my commutes to work - I had one too many a goathead lodge itself in my tires to count and got tired of walking the rest of the way home / wrangling C02 cartridges. I ended up going with this pump specifically for a few reasons.
1. All of the parts are replaceable. So if anything were to break down the road, you can replace all of the parts.
2. The pump is both compatible with presta and schrader valves. This is mega convenient considering the fact that I've got Schrader valves and my husband has Presta, so we both can utilize this pump if need be.
Thus far, it's performed pretty well. It fits well in my Timbuk2 commuter bag or backpack and is super, super lightweight. Very happy with this purchase!
If you're curious about the tutorial video, check it out here: https://www.ridepdw.com/product-help/magic-flute-instructional-video