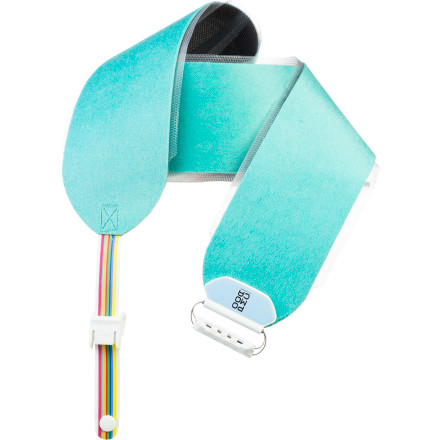 Colors
Description
Be ready with grip and glide.
The Pomoca Climb Pro Glide Climbing Skins give backcountry skiers the best of both gliding and gripping capabilities. This magical skin does so with the silky glide of mohair and the durable grip of nylon, which gives you optimal preparedness and safe hiking in the backcountry. These skins resist tangling and twisting, dry quickly, and cling with dynamic tenacity. Glide technology reduces friction on each fiber so even super-cold virgin snow doesn't stick and slow it down, while Ever Dry resists weight-adding moisture to stay ultralight and superfast. The Back Fix attachment features light, simple strap at the tip and strong, snazzy, easily adjustable tail strap with plastic hook.

Mohair and nylon
Razor-thin, 3-layer Safer Skin
Glide technology
Ever Dry
Back Fix
Share your thoughts
What do you think of the
Pomoca
Climb Pro Glide Climbing Skins
? Share a...
Cant say much about touring yet, but setup was a breeze on the moment underworlds. maybe 10 minutes. comes with a total of four tip hooks. probably a good idea to keep the extras in your pack just in case but it looks like a bomber system for now. Tail hooks are plastic, so it will be interesting when you kick turn your tail into a rock under the snow, or if your generally hard on your gear. side note, they are the same color as the sidewalls to this years moment underworld. lots of baby blue going on.
what size should I get for my black crow camox freebirds that are 177 long and 128, 97,119....??
Hey Terry,

You need the Large size (176-187 cm) for your Black Crows and if you do not want to trim the skins, go with the 100 mm width. If you want to have better stick when climbing, go with the 120 mm and trim them.

Feel free to shoot me any more questions about these Pomoca or other climbing skins. And give my best to Baldy! I used to live in Ketchum.

Kyle
Expert Gearhead
klivingston@backcountry.com
801-736-4337
What is the lenght of the XL Skin? My skis are 192cm, will it be long anough?
Best Answer
XL: approx. 186-197cm ski length
Not sure it gets better
Familiarity:

I've put it through the wringer
I've got the Climb Pro Glides from the 2013/2014 season.

First, these skins are great. I am not sure the glide/grip combo can be beat. My skis are 115mm under foot and I don't need skin savers to get the skins apart. To me that is a huge plus not having to deal with skin savers in the backcountry. They are also holding up great (over 50 days, lots of different conditions - warm, cold, wet). If they get snow on the glue you can brush it off with the bare hand and they still stick fine. They still deal with steep climbing probably better than anyone I've climbed with who has different skins, and these babies have some miles on them. Oh, they do indeed dry well.

Second, their customer service has been amazing. Like many others, my wire tips finally failed (despite taping). I was lucky to be in Switzerland at the time (or unlucky to have my skin fail on a ski trip), but still. I wrote them and got an email response within an hour (10pm local on a Sunday) of asking about repair. That's unreal, especially in Switzerland. I was able to swing by the factory the next morning and they replaced the tips with the new (non-wire) system for me in five minutes. They also replaced the previous plastic rivets in the tails with new, smaller, metal ones (since I had lost one of the plastic ones). They were super friendly and accommodating (threw in a tube of glue). I don't think you can beat that service...

As a general note: the aren't producing the wire system anymore (for obvious reasons). And they are willing to replace or send replacement parts to anyone with the wire system. The replacement is the new clip lock system, which actually hold on my tips even better.

One thing: skin savers are not necessary during use, but recommended to save the glue for storage.

Bottom line: these skins are worth it. Like magic.

A+

(Obligatory mention of SCIENCE, so you know it's good)
Bombproof
Familiarity:

I've put it through the wringer
These skins are amazing. I rented AT gear for a few years and always struggled with terrible skins. So maybe that's a bad comparison. But now that I have my own kit, these skins are one of my favorite pieces. And when I ski with friends, I'm always gliding faster and climbing stronger. Slush, ice, dry pow, packed out track, from 10* - 65* F... I think I've used them in about every imaginable condition. In warm and wet conditions they do get a bit waterlogged and slippery (what doesn't?) but a bit of wax solves that. The tips mine came with (over a year ago) were this solid metal loop. After bashing them a few times they got bent and caused the skin to twist on my ski. So I replaced them with a Black Diamond cable loop and am super happy. Looks like they come with a flexible loop now though. The tail clip isn't super secure on my twin tips, but it's never caused a problem. I can keep skinning perfectly with it undone and just put it back on when convenient. They were super easy to trim with the tool and assemble. Back to buy my dad a pair for his b-day so he can keep up.
Lightweight and Durable
Familiarity:

I've put it through the wringer
I really dig these skins. They're super lightweight, and fold up easily.

The attachments are super bomber, but I wrapped a little tape around the wire and haven't had any issues since.

They climb excellently, and after a season of buchwacking and touring almost daily, they're still in great shape.

Sidenote, the skin cutter/ trimmer from Pamoca is the best thing going! Makes fitting them to your skis a snap.
Is medium the right length Pomoco Pro Glide Skin for a 155 CM ski?


Hi there,
By length alone it sounds like your ski will fit the XS- but I would recommend filling this little form out with the exact model and size, and they'll pull up the perfect fit- you may end up in a size Small: http://www.pomoca.com/
Will the 140mm skin tip loop fit over a 2015 Megawatt securely?
Ski Dimensions 147/120/127
These skins in the 140mm will loop over the tip of the 2015 Megawatt skis. You will also be able to climb the steepest skin tracks with confidence knowing your skins are going to stay in place.
good, durable skin
Familiarity:

I've used it several times
I don't do a lot of touring, but these skins have held up well over 2 seasons (10-12 tours). They still look good and the glue is still holding strong. I put them on a pair of BD Kilowatt skis. They're my first skins so I'm not sure how they compare to other brands but I am happy with them and will buy again when new skins are finally needed.
Will these work on an old pair of K2 Super...
Will these work on an old pair of K2 Super stinx?
Michael,
The K2 Super Stinx were always a pretty narrow ski and I would be interested to know what the profile is on the pair you have (length and tip/waist/tail width), but the Pomoca Climb Pro Glide Climbing Skins in a 100mm should work for you.
I got them, and they work well. 174 length and i got medium. Large prob would be fine too. they were left for me from a family member, but i think they are 107/70/97.