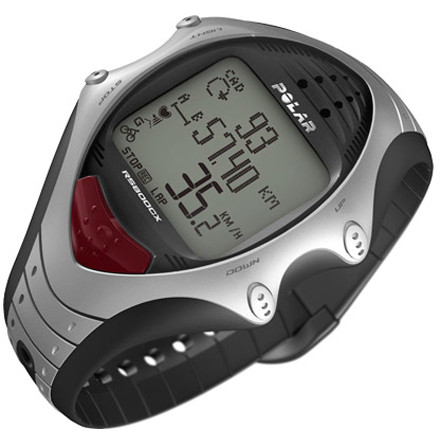 With the included s3 stride sensor, the Polar RS800CX Run Heart Rate Monitor tracks your progress with a running index feature and records stride length and cadence. Set this monitor to show pace and cadence for speed training (shorten your stride and work on increasing cadence while holding the same pace). The stride sensor allows for three calibrations for three different pairs of shoes. The altimeter uses barometric readings to show elevation profiles, and the extended exercise profiles allow you to create training sessions with individual settings for duration, heart-rate target zones, interval training, and recovery calculations.
What do you think about this product?
Have questions about this product?
Great if: 1. You know how to use a software.
2. Do cycling, running, swimming, and you want to combine all sports in one exercise review.
3. You like to see your exercise output and compare to other ones. IT IS GREAT !!!
4. You want to improve your exercise.
4. You have extra money because you need to by new bateries. The ones that it comes with are almost dead.
5. You have extra patience to change bateries, the cover noches off.

Bad if: 1. Interface software is not your thing.
2. You rely on its user manual. It seams it was written by a novice. It doesn't make ANY sense.
3. You are on an airplane using this as a watch and want to see the current altitude. It measures a fake altitude. It doesn't add the airplane elevation.
4 Your are in the middle of the Andes Bolivia and Peru (South America) using it and you want a GPS G3 sensor to work. It doesn't. Only if you are lucky and see a satelite dish (JJJJ) and you get closer to it then it works. After that, what??? you can't stay in one place.
5. You come back to this country and want to use it inmediatelly, you must recalibrate the watch and altitude. It goes cucu.