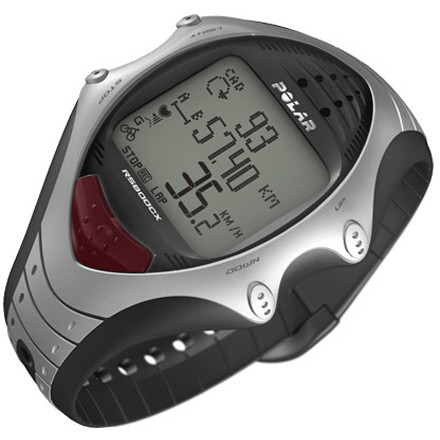 Community Images
No matter the terrain, whatever the sport, the Polar RS800CX Multi Heart Rate Monitor is an effective tool to measure your speed and distance as well as plan, monitor and analyze your body's response to different types of training. This customizable training tool records data for different sports and synchronizes with the Polar ProTrainer 5 software (not included) to analyze your training and create individual routines. With the RS800CX you can maximize the efficiency of your recovery time and even monitor your elevation profiles.
Share your thoughts
What do you think of the
Polar
RS800CX G3 Multi Heart Rate Monitor
? Share a...
Unanswered Question
Hello. See you got 3 different rs800. I...
Hello. See you got 3 different rs800. I am going to use it on bikecycling and need the garment incl GPS. Wich one will you recommend and what is the difference on gjerde watches? Greetings Trond
Great tool for multi sport only if....
Great if: 1. You know how to use a software.
2. Do cycling, running, swimming, and you want to combine all sports in one exercise review.
3. You like to see your exercise output and compare to other ones. IT IS GREAT !!!
4. You want to improve your exercise.
4. You have extra money because you need to by new bateries. The ones that it comes with are almost dead.
5. You have extra patience to change bateries, the cover noches off.

Bad if: 1. Interface software is not your thing.
2. You rely on its user manual. It seams it was written by a novice. It doesn't make ANY sense.
3. You are on an airplane using this as a watch and want to see the current altitude. It measures a fake altitude. It doesn't add the airplane elevation.
4 Your are in the middle of the Andes Bolivia and Peru (South America) using it and you want a GPS G3 sensor to work. It doesn't. Only if you are lucky and see a satelite dish (JJJJ) and you get closer to it then it works. After that, what??? you can't stay in one place.
5. You come back to this country and want to use it inmediatelly, you must recalibrate the watch and altitude. It goes cucu.
Unanswered Question
Do I have a chance to use combination of...
Do I have a chance to use combination of G3 and s3 stride sensor at the same time?How software (Polar ProTrainer 5) will react to it?