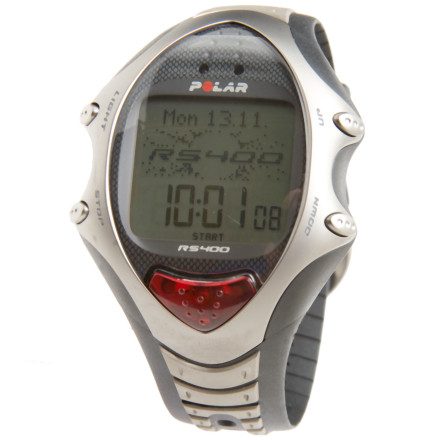 Detail Images
What do you think about this product?
Have questions about this product?
works for what i use it for!
i bought this to really isolate my calorie expenditure when doing p90x2/running so i can finish losing the weight i have, and it really works well. even though i did buy it mainly for the calorie counter, i use pretty much every feature on it at least once a week because, aside from losing weight, im trying to train for a 5k/10k/half marathon/marathon (havent decided what i want to do yet :P) and the sport zones really help me pace myself so i dont over do it and i train the right way to build myself up to holding a decently fast pace for long term. also the foot pod was surprisingly accurate for not being calculated with true distance so right out of the gate you know how far you run. along with the software and polarpersonaltrainer.com you can really break down each workout and see what works, what you did, and when to schedule recovery days... buy this!
Hi There:Does this unit have GPS with it?...
Hi There:Does this unit have GPS with it? I have a friend who while jogging gets a chime to let her know her miles and in turn pace. Does this watch allow me to do that. Thanx. G Fonseca
I'd believe not, if you look at http://www.polarusa.com/us-en/products/gps this model is not listed as a GPS unit.