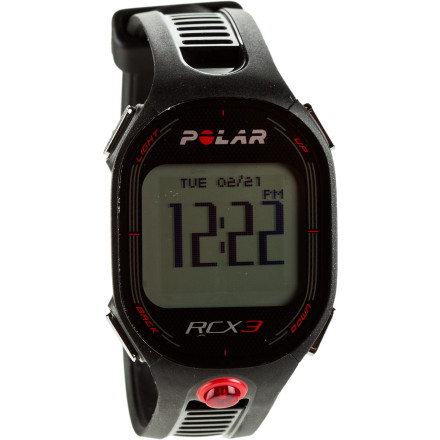 Detail Images
Train smarter and harder with the Polar RCX3 Heart Rate Monitor. This low-profile training watch helps you reach your exercise goals by monitoring your heart rate, counting calories burned, and engaging with you as you run and bike. Test your personal fitness level, then go out and get active with the training plans, personalized target zones, and Polar sport zones, which are tailored to running, biking, and other outdoor activities.

The RCX3 training computer comes bundled with a Polar H3 heart rate monitor that wirelessly communicates via Polar's W.I.N.D. signal. This training computer also syncs with separately available devices, such as Polar's bike sensors, run sensors, and GPS pod. In addition, this training computer can connect to Polarpersonaltrainer.com with the purchase of the Polar datalink (sold separately), allowing you to share and keep track of personal exercise goals online.

Slim, low profile
Polar H3 heart rate monitor included
Wireless transmission between devices with Polar OwnCode (2.4 GHz W.I.N.D)
Fitness test, training plans, training guidance, training feedback
Personalized target zones, Smart Calories, Polar sport zones
Works with separate Polar W.I.N.D devices (bike and run sensors, GPS pod)
Compatible with Polarpersonaltrainer.com via Polar datalink (sold separately)
User manual included
What is the difference between this product...
What is the difference between this product and Black, Men's - POL0087-BK-MEN
Hey Agnes,



This model is the basic package which includes the Device and H3 Heart Rate Sensor. The POL0087 model is the run package which also includes the S3+ Stride Sensor and DataLink stick in addition to everything the Basic Package includes.