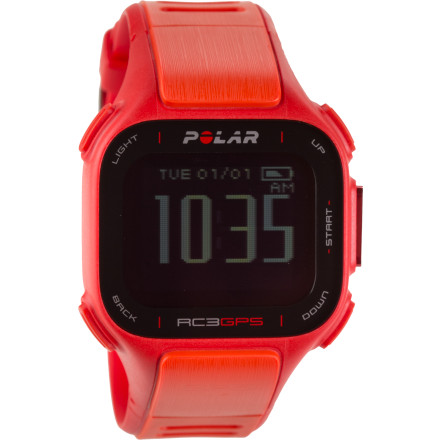 Looking to step up your endurance when running and biking? Check the Polar RC3 GPS Heart Rate Monitor for vital exercise statistics, such as route, speed, distance, and altitude via its built-in GPS. This exercise-savvy bundle includes the following: Polar RC3 GPS training computer, H3 heart rate sensor, USB cable, and user manual. Compatible with separate Polar sensors, the RC3 training computer and H3 heart rate monitor sync wirelessly with Polar's running and cycling sensors (available separately).

Providing a baseline for future workouts, the Polar Fitness Test measures aerobic fitness at rest in just under five minutes, delivering an estimate of VO2 max based on heart rate and heart rate variability. A Running Index scores performance based on heart rate and speed data. It not only provides daily information about your running habits, but it also provides useful feedback through improvement indicators. Tracking calories burned, Polar OwnCal calculates calorie expenditure during extended training sessions, allowing you to set caloric burn goals when exercising.

Supported through polarpersonaltrainer.com, this GPS training computer uploads data via USB to any PC or Mac (Intel-based) for evaluating post-workout statistics. Optional route mapping is also available within polarpersonaltrainer.com, as are endurance training programs for quickly raising exercise goals.

Includes: RC3 training computer, H3 heart rate sensor, USB cable, user manual
Tracks route, speed, distance, and altitude with built-in GPS
Running Index scores performance based on heart rate and speed data
Polar Fitness Test measures aerobic fitness at rest to estimate VO2 max
Polar OwnCal calculates calorie expenditure during training sessions
H3 heart rate sensor features a soft textile strap for a comfortable fit
Compatible with separate Polar running and biking sensors
Optional route mapping via polarpersonaltrainer.com
Endurance training programs available on polarpersonaltrainer.com
USB cable transfers data and progress to PC or Mac (Intel-based)