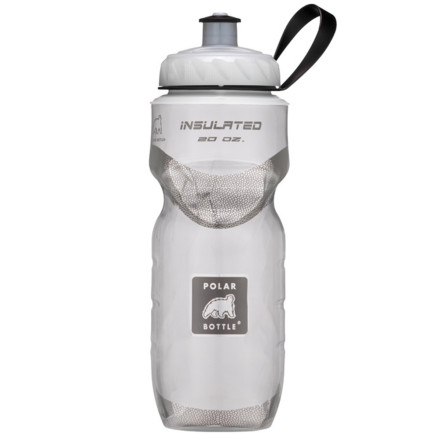 Colors
Description
Cold as ice
No one would argue that it's not a good idea to use a energy-replacement drink like First Endurance EFS on a ride of any duration or intensity. The only argument you'll get, in fact, is from your taste buds when you try to swallow a mouthful of EFS after you've been riding for 2 hours on a 90-degree day. Warm energy drinks (or just plain ol' water) are fairly awful when they've been simmering in a plastic water bottle for awhile. Hence the invention of the Polar Insulated Water Bottle: It keeps cold drinks icy for a long, long time -- time enough for you to palatably empty your bottles at the prescribed rate.
Polar has dominated the insulated bottle market for time immemorial for one simple reason: Their bottles work. No matter how hot it gets, liquid stays cold. Try one just once and you'll be a convert for life -- and you'll never stand for lukewarm drinks again. Available in 20oz and 24oz sizes.
Love some ice water on a hot ride
Familiarity:

I've put it through the wringer
The insulation really works - if you see me riding on an 80 degree plus day, you can bet there'll be an insulated polar bottle full of ice water on my frame. The lid is solid too, nothing fancy but doesn't leak when you try to take a drink like some other brands.
Good Bottle
Familiarity:

I've put it through the wringer
These bottles keep things cold and more importantly are easy to clean. There is no complicated bottle top that lets stuff grow like the podium chill bottles.


Not your average bottle
Familiarity:

I've put it through the wringer
Just go ahead and throw out all those free bottles that you get at events, you won't need them. These bottles from Polar have been what I have been reaching for when heading out for a ride. You probably have seen or heard about them at some point - they are insulated and keep your magic potion colder for longer on those hot days (or warmer on cold days if you're into that sort of thing). What you probably haven't heard is that they've improved them over the years to address any issues you may have had. First and foremost, they are ever so slightly more firm than your standard bottle, however it isn't something new to get used to and offers a good tactile grip. Second, the large cap is revised to make mixing drinks simple and fast along with the cap providing tons of flow for when you drop your buddy on the last 1k of your favorite climb. Further, the cap is only 2 pieces and is easy to take apart for in depth cleaning. As for the insulation properties, the bottle does a great job keeping my drinks refreshingly cold during the longest of rides. However realistically ice won't necessarily stick around all day in these bottles...it's all about give and take.
Keeps cold in 90+ deg weather 2hrs
Gender:

Male

Familiarity:

I've put it through the wringer
I have both the large and small version of this water bottle/insulation. If you like me you typically fill with ice and fill and go on ride. Last 1-2 hrs in 90+ temps. After about 2 hrs it will start to warm but I still think that is pretty good. If your really hardcore I recommend putting in freezer and then filling with ice/water to get even more run time. Top unscrews easily and easy to fill with mix, etc. Easy to wash also. No mold build up. Not for the weight weenies as it will add a few grams but on hot days who cares?! Fits my elite waterbottle cages without problems and no major scuffing has occurred. I did use them in Tacx holders also without problems.
I love this bottle. It keeps your liquids super cold.