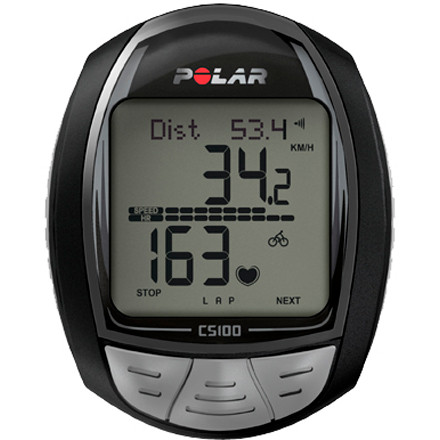 The CS100b is Polar's signature cycling-specific computer. You get the fundamental data every cyclist needs -- current, average, and maximum speed, trip distance, odometer, trip timer, plus a clock, a stopwatch, countdown timers, and the ability to use it on separate bikes. What sets the CS100b apart, though, is that it comes out of the box with no heart rate-specific features. Rather, you can retrofit your CS100b with full-on heart rate monitor functionality through an inexpensive upgrade down the road. Please note that it does not come with a chest strap, though it is 100% compatible with any Polar coded chest strap if/when you choose to upgrade to HR functionality. Comes standard with a wireless speed sensor, an option to upgrade to a wireless cadence sensor, plus the ability to mount the system on either a handlebar or stem.
What do you think about this product?
Have questions about this product?
Unanswered Question
Write your question here.| I have a polar...
Write your question here.|
I have a polar cs100b which has stopped working.
My bike is fitted to provide cadence and I have the heart monitor strap from my old unit.
Will this unit replace and work without the added equipment, or new speed/cadence/heart monitor equip?..