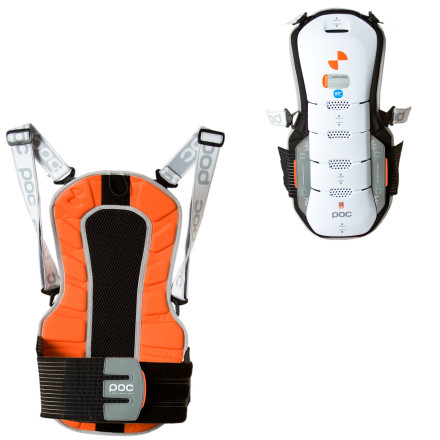 Detail Images
Ask any medical professional and they'll tell you, "protect two things, the head and the spine." POC makes more than one product that can protect your spine and complement their headgear, so you have choices. The Spine Ergo Flow Back Protector is minimal in design, yet it offers maximal spine protection. And that is its sole purpose.
The Spine Ergo Flow is designed to be worn like a backpack. It's most comfortable when worn over a base layer and under a jersey. This way, you won't get any chafing and when you do hit the deck, the edges can't get caught on rocks as you slide and tumble down the hill. Remember, a pad that stays put, protects. You'll be armored by a segmented, injection molded polyproplylene shell. It's lined with sculpted EPP foam to minimize the impact transmitted through the hard shell. A spine-centered strip of mesh allows air to move through perforated vents in the outer shell. The webbing shoulder straps and wide, flexible elastic waistband work together to keep the POC Spine protector snug and in-place when you need it. It comes with snap-on cervical and coccyx protection to have an ultimate level of safety for days on the hill that you know might just get ugly.
The POC Spine Ergo Flow Back Protector is White and is available in three sizes -- X-Small/Small, Medium, and Large/X-Large.
im "6 foot 1" what size do you think would...
im "6 foot 1" what size do you think would work best?
L/Xl would be the best fit for you, because you are about 185 cm and the L/XL fits 180cm and up
Write your question here... I'm about 5.1...
Write your question here... I'm about 5.1 is there a size that would fit me?
Sure...check out the size XS/S...it's based on torso length, so you'll want to check out the sizing chart (http://www.pocsports.com/products/sizeguide.asp?season=Ski), but it sounds like the small will be your best bet.
Been using the POC protector for just about 3 years now and have to give it a 5 star rating. Super comfortable and with the straps that could be clipped on and off on both sides, you have the option to position the adjustment buckle so it does not chafe you under the arms. I am 5'8 and have the size L, and it covers my spine properly. In fact so well that in three years I have walked away from many falls and slips on rails and in between trees with no serious injury, all thanx to this sweet piece of gear. The foam and padding also vents pretty well and even after 10 days of continuos spring time riding it did not build up any odors. Every end of season I simply rinse it with lukewarm water and leave to air dry. I would highly recommend this to anyone who goes onto the snow.
Hi I'm 178cm tall (5' 9"). What size would...
Hi I'm 178cm tall (5' 9"). What size would be right for me?
Regards

JD
Best Answer
Hey JimmyDee!

I'm about the same height and I rocked the Medium size all season long. It's a comfortable fit, protects the tailbone well, and the shoulder straps should cinch down to make a perfect fit.

Slap this on your back and feel like a million bucks.
Is there a sizing chart for this armor?...
Is there a sizing chart for this armor? I'm 5'11" 150lbs. with a long torso and 32" waist. what size is right for me?
According to POC's sizing chart you would fall in right at the high end of the M size range.