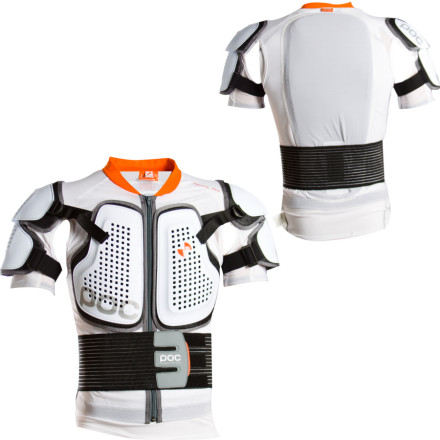 Colors

Detail Images
Description
Full-on gladiator style.
Shredding rowdy 'n' rugged downhill lines is too much fun, which means you go too fast, which means you crash too hard. While the gnarly spills are inevitable, the resulting injuries are avoidable, especially if you armor up with the POC Spine VPD Tee. This full-on upper-body protector employs hard padding on the chest and shoulders and a flexible VPD spine protector to keep you covered when you crash, and mesh fabric to keep you from overheating when you're riding under the sun. Don't let the soft nature of the VPD spine protector pysch you out, either--VPD (visco-elastic polymer dough, if you're curious) is a space-age material that hardens instantly upon impact, so you're protected when you crash but not restricted when you're upright. It's burly enough that it's even certified as motorcycle body armor. Finally, the Spine VPD closes up with a full front zipper and wide elastic waistband that lock it solidly in place without interfering with your riding.
Flexible VPD spine protector
Hard chest and shoulder pads
Mesh fabric
Hook-and-loop waist strap
Full front zip
Is the body armor on this removable?
Could you ride with just the spine protection and have the option to add the chest and shoulder protection?
Best Answer
Garrett, I just got off the phone with POC, they agree this was a great question! You buy it as a package and have to wear it as a package so you cannot remove anything, its all sewn in. If you want something more versatile, you have to spend a bit more and get the http://www.backcountry.com/poc-spine-vpd-2.0-dh-jacket . You can pick and choose what you want to use with that product.



If you have anymore questions feel free to send me an email or call!



Bill Porreca

bporreca@backcountry.com

801-736-6398
Unanswered Question
I'm 5'8 175lbs. Chest right under the armpits is 46 inches. WHAT Size do you recommend. ?
Super Comfortable
Familiarity:

I've used it several times
This back protector is great, after riding for a while you forget that you're wearing it. After the back piece warms up it becomes very compliant. The mesh of the shirt keeps everything cool and the back belt keeps things in place.
Ultimate Cosmic Power ... sort of
Overall: comfortable, flexible, and has a fit that won't leave you feeling like you're wearing a suit of chain mail.

Synthetic mesh breathes pretty easily (although all these 'pressure-suit' style armor tops are somewhat hot IMO), and the venting in the plates seems to do the trick. Shoulder and chest plates saved me from damage after I botched a landing at the Canyons and ended up rolling into a rock-lined ditch. Sold on this tee after that.

Waist closure fits great and has burly velcro that doesn't budge. Once you get this fitted and toss a jersey over it, it's not going anywhere. Spine protection isn't rigid, but like I said above, it saved my butt already. I couple this with some POC softie-style elbow pads as well. Fully rigid arms feel too restrictive.

Racers or regular tech-aggressive riders might look at something with longer arm protection and a rigid spine protection ... everyone else would do just fine with this tee.
I have yet to break my spine.....
Excellent purchase......the Tee is comfortable and form fitting. The spine protector works as advertised, soft and pliable until it takes a hit, then hardens nicely to take the shock.
I have been throwing myself off my roof onto my back and so far I haven't broken my back yet, although after the first try I should of worn a helmet too......
Just a note of clarification. I run POC in the US and wanted to clarify the level of protection from our VPD Tee. This Spine VPD Tee has our HIGHEST level of spine protection that we offer. This piece passes the motorcycle level II test.

Originally we used (and still sell) spine protection with a hard plastic covering. Once we discovered and integrated the VPD into this piece we realized that we could offer far more protection from impact with the seemingly softer VPD that we could with the plastic protection. (the hard plastic shell only passes the motorcycle level I test).

Do not be mislead by the VPD. It seems soft and conforms to the body and is comfortable... but when you crash... this is the best piece we make with the most protection.
super light! could easily and happily wear it all day. but the back pad, d30, vpd or otherwise, is simply too thin and unstructured to do a decent job for protecting you in a crash. no scapula protection. shoulders and chest are great, so that's the issue here.... great shoulder and chest armor, but the spine protection is a 3/8 foam pad? sure it's better than just foam, but it isn't rigid plastic, and this is your spine we're talking about here, I want some hard plastic on top of this foam please. The separate POC spine protector is sure nice (not sure that you can get it at hullnroll) and it should be part of this product.