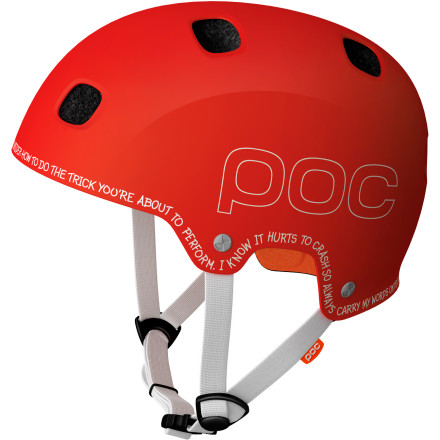 Martin Söderström's riding is so smooth, even his crashes look good. They don't feel good, though. Any time a 360 triple whip goes bad, you're in trouble. Fortunately, Martin has his own POC pro model, the Receptor Flow Söderström Edition Helmet, so he doesn't have to worry too much about what happens if he smacks his dome on the ground. Grab your own and look just like Martin–when you're standing around, that is.
POC built the Receptor Flow with Ventilated-Double-Shell Anti-Penetration (VDSAP) construction. This exclusive, patented design incorporates two offset shells that allow air to move between them but render the helmet virtually impenetrable. The outer shell is a hard, multi-impact plastic, so you don't have to replace the helmet every time you take a spill. The inner shell is a thin layer of polycarbonate that absorbs impact to reduce the risk of brain injury. POC then added a layer of penetration-resistant Aramid between the shell and the liner. This material is tough enough that POC's scientists were able to reduce the bulk and the weight of the helmet.
Another aspect of the Receptor Flow Helmet that makes it super-tough is the EPP Liner. Most companies use an EPS liner, which is lightweight and safe, but once deformed, EPS stays deformed. That means that the helmet has to be replaced. POC uses EPP foam, instead. EPP returns to its original shape so that the helmet is just as safe as it was before the impact, making the Receptor a true multi-impact helmet.
POC listened closely to what its riders had to say about comfort and design and built a low-profile shell that fits snugly around the head and won't rattle around during the various movements of the head that are typical to DH, BMX, and dirt-jumping. The Receptor's unique adjustment system not only changes the inner circumference of the helmet, but even allows you to move the helmet vertically according to the look and feel that you're going for.
The POC Receptor Flow Söderström Edition Helmet comes in 3 sizes; XS/S, M/L, and XL/XXL. It is available in Red.