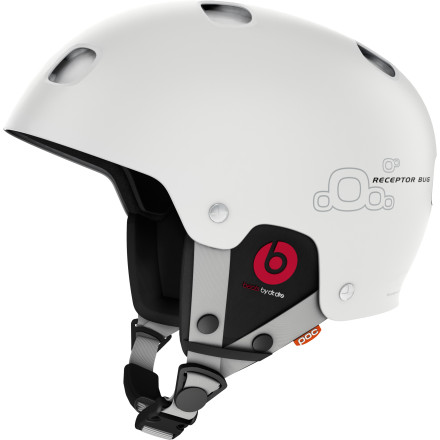 Colors
Description
Hardwired.
The POC Receptor BUG Communication Helmet takes the safety and style of the Receptor BUG and adds a trick audio setup from Beats by Dre. On the safety end of things, the helmet features the double-shell system and an EPS liner that work together to provide excellent puncture and impact protection while offering great ventilation. Spend less time fumbling in your pockets and more time riding with the Receptor BUG Communication Helmet.

Ventilated double-shell system
EPS liner
Beats by Dre headphones
Smartphone compatible cord and hands free control
Detachable goggle clip
Horrible customer service
This helmet DOES NOT comes with the beats wired that was promised. I had them ship me another helmet when I first was missing the wire, and it turns out there all missing the wire. They know I had been on vacation, which was why everything was rushed in the first place. Before I could get home from my vacation, they charged my card for both helmets. HORRIBLE experience. I will never be ordering from this company again. They also made it clear they have an inventory issue. Bottom line- don't spend this much money on a helmet that doesn't have everything promised included.
Finally woke up and got a helmet
Familiarity:

I've used it several times
Even if you don't like this product- GET A HELMET. I put off buying one for a long time thinking I don't need it. Now I won't ski without one.



Anyway onto this particular product- I work in movie sound, so a helmet with audio means that I can plug it into my equipment and monitor audio whilst working on snowsport projects. No more helmet pushing uncomfortably on my earbuds, so that's a score. When I'm skiing for fun then it plugs into my iPhone and I'm happy all day to listen to music and take calls.



The helmet was a little too tight at first despite ordering the size that was right for my head. I thought about returning it and getting the next size up, but after about three days it went from tight to snug so I guess it just needed time to wear in.



I do have to drop one star to backcountry, as although the description says these are Beats sound , I actually received the older Skull Candy version. As far as sound goes it doesn't matter to me, I'm not brand loyal to either headphone brand, I don't expect THX digital surround sound in a ski helmet. but the Skull Candy version only has the button on the microphone to answer and hang up phone calls, but there are no up and down volume controls. I cannot comment as to whether the updated Beats version has fixed this.



The helmet seems well made. It has inserts to plug up or remove for the ventilation holes, which is nice. I like vents in California, but in colder climates blocking out the cold air may be needed.



The goggle clip does seem a little flimsy. I get the feeling that it could break off really easily. The helmet itself is a little on the larger size so if you are looking for something more aerodynamic and sleek then "this is not the helmet you are looking for". (Waves hand at the weaker minded).



Mostly I like this helmet, it really suits my needs. Most importantly though, even if this particular helmet is not to your to your taste, GET A FREAKIN HELMET and protect your noggin.
Good but could be better
Familiarity:

I've put it through the wringer
All in all the helmet is a solid helmet that protects your head well... I had to remove most of the lining and cut the neckband that secures the cord to get more slack in the line to adjust the earpads. cord now secured with tape seamlessly. Not a great helmet if you have the Smith IO/X like I do... the buckles on the strap of that goggle dig into ur head...



last but not least - the earpads need to be better, the sound is fine but the way they look and getting them into place, etc.... its a pain in the arse... a great concept that gets the job done but needs to find a way to live up to the hype and expectation
I thought this thing would be amazing. I was very wrong. Sounds quality is crap. Not on par with other beats products at all. The helmet itself is very bulk and makes your head look comically big.