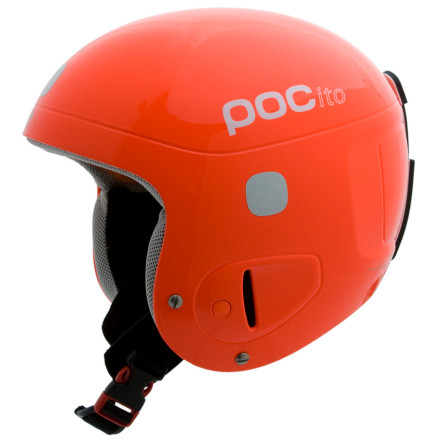 Description
POC won't compromise on your child's safety. Neither should you.
The continuously adjustable, high visibility, and child-specific POCito Kid's Helmet represents an unprecedented development in youth head protection on the ski hill. POC started with their adult racing helmets as a template and gave this helmet a softer lining with better shock absorption for lower speed impacts. They also made the helmet's shell continually adjustable so it can grow with your little one. The Swedes at POC also believe that visibility is paramount to a child's safety on the mountain so they included a removable blinking LED light and a nametag for parents' contact info on this fluorescent helmet along with a matching reflective vest.
Share your thoughts
What do you think of the
POC
POCito Skull Helmet - Kids'
? Share a...
Assuming this fits your kid's head (see review below) it is hard to believe there is a better kid's helmet out there. Full coverage, bright color, even a blinking LED...this fits our five year old great, and with the adjustability, it should get us a few more years. We have had no issues with anything coming apart, and this has had lots of hard use (probably 40 days this last season).
does anybody know if this helmet is a good...
does anybody know if this helmet is a good race helmet
For kids, this is probably THE race helmet. Full coverage, if it's fits buy it for your kids.
Best Kids Helmet..for oval heads
My wife and I are both ski patrollers and ski instructors in Colorado. We have two little boys, and we are enthusiastic helmet supportes (hey kids, no helmets = no sliding on the white stuff). Hands down, this is best helmet for young children on the market. If it fits. And that was our problem. Both of our boys have round-haped heads, and this helmet is designed for oval-shaped heads. While the helmets fit our boys fine in the fore-aft dimension, they were too tight in the side-to-side dimension. So, we had to return the POCito and go with a different helmet that fit the boys. Fit is by far the most important aspect when getting a helmet. If your kids have an oval-shaped head, THIS is the helmet for you. If they have round-shaped heads, you'll probably need to try other helmets.
Anyone know the wieght of this kids POC...
Anyone know the wieght of this kids POC helmet?
It's not a light weight helmet it has some weight to it but it's not heavy like drag down your head if that makes sense.
This is the best helmet for young children. POC took everything into consideration when putting together the helmet package. There are more things to worry about than the child wrecking themselves on the slopes.
Really excellent design, helmet adjustment works well. Because of the jawline coverage, this helmet may be a bit harder for a jr. to get on herself. Also the build quality is only "good" as some of the "glued pieces" aren't staying glued. I'd buy it again though