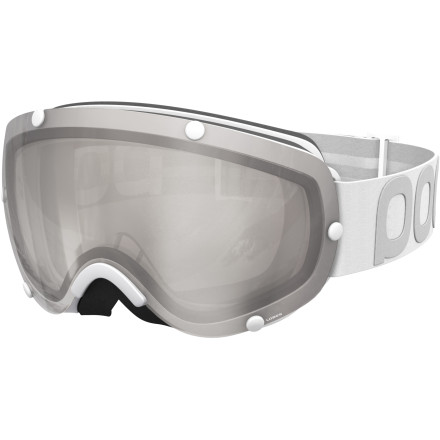 Colors

Community Images
Description
Large and in charge.
Designed to promote maximum peripheral vision when you're racing down the mountain at blistering speeds, the POC Lobes Goggle offers a large-sized frame and spherical-injected lens that's placed on the outside of the goggle for effortless lens swapping. The lens itself is treated with an anti-scratch, anti-fog treatment, allowing you to see clearly through nasty snowstorms, as well as resisting scratches from small bumps. Its soft polyurethane frame increases safety, should you fall face first onto the snow, and the triple-layer face foam offers blissful comfort. Additionally, there's a silicone backing on the strap, allowing the goggles to grip to your helmet without slipping off.

Soft polyurethane frame
Triple-layer face foam
Spherical-injected polycarbonate lens
Anti-scratch, anti-fog lens treatment
Silicone strap backing for helmet compatibility
Unanswered Question
so do the lobes or the lid have a better field of view?
Fighter Pilot Steeze
Familiarity:

I've put it through the wringer
These are the best wide field of vision goggles i have experienced so far.

Downsides
- The lenses don't change out that quickly and i have had some fitment issues with replacement lenses.
-The lenses are easy to damage and scratch for being $80 to replace.
- They also fog when climbing up chutes

Upsides
-They feel great on my face.
-They look really cool.
-The curvature on the lens is a speical design that makes a big difference on the way it feels and lets in light.
Awesome piece of equipment
Familiarity:

I've put it through the wringer
I have had 3 pairs of POC googles and these are by far the best.
These googles both look and feel great! The googles give a great wide view of the slopes because of the bubbled lens which is awesome!
The reason for one less star is because of the bubbled lens it is really easy for them to be scratched.
Overall it is a great goggle!
Gotsta go with what fits your face
Familiarity:

I've used it several times
Tried on many a pair of goggles and only found on pair that fit with my helmet and face, which was the POC Lobes. I opted for the orange since I find the color enhances to variability of the terrain in all conditions. Sure, it may be a bit bright on blue bird conditions, but it does not bother me. I'm not a big fan of having to spend extra money on replacement goggles.

The Lobes are well made and well designed. I like the big, spherical lenses that almost make me look like a fighter pilot. The strap has a rubbery/sticky material on the inside the prevent slippage on your helmet. The orange color of the strap does not match the image on the website. In person the strap is more orange flouro in color, which was fine by me. I find having this piece of equipment improves and enhances my performance on the slopes due to comfort, fit, and by providing clear vision.
I bought these goggles for my daughter for Xmas and she loves them. She has gotten minor scratches from slalom gate training. Today, they practiced in the rain and she used a goggle wipe cloth to clear the water. It wiped off all of the metallic finish. Disappointing for an expensive goggle.
Fantastic Goggles
Familiarity:

I've put it through the wringer
I've just moved to my second pair of Lobes after almost 4 winters with my original pair and I couldn't be much happier with them. The first pair eventually faded from a purple strap to a light pink color due to sun fade, the foam packed out, and the strap became very stretched out, but if you can find a pair of goggles that can survive about 400 days of skiing without similar degradation please let me know!



Pros

1. Fantastic field of view. The lens is nearly frameless (the POC Lids are truly frameless) and provides great peripheral vision.

2. Easy to switch lens. I have the all black, hi yellow, and the permission red mirror lens, it takes all of about 20-30 seconds to make a switch.

3. Spherical lens. I almost went with the new Lids over the Lobes on my recent purchase but I prefer the spherical (kind of bubbled out) lens on the Lobes. The flat lens of the new Lids will be more similar to the Cornea goggles. The Lobes also have more lens options than the Lids, which only have five lens available (none of which is a hi yellow).

4. Stylish. This isn't a critical selling point, but I love the style of the Lobes, they really just look great especially paired with a matching POC helmet.



Cons

1. My first pair of lobes came with a gold mirrored lens which got scratched up quicker than I would have liked (as mentioned in a review below). I haven't yet had this problem with my permission red mirror lens, and as the black and hi yellow lens don't have mirror it's been a non issue. This tends to be an issue with all mirrored goggles, you need to take good care of them, they will get scratched eventually. I don't think it's been anywhere near bad enough of a problem to justify a one star review, but it is the only reason I'm giving them four stars instead of five.



Overall I love these goggles. They're simple, work well, and look great. My all black lens is perfect for sunny days, the hi yellow is ideal for storms, and the permission red mirror that comes with the Lead Blue colored strap is a great in between. There are goggles with higher quality technical lens out there, but not at the $160 price range. I really couldn't ask for much more out a goggle.