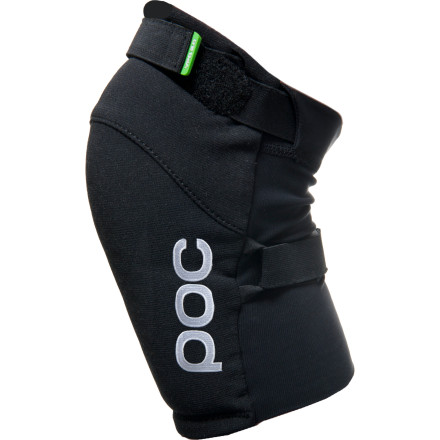 Community Images
The POC Joint VPD 2.0 Knee Pad is a true all-in-one knee protection solution that lets you move enough to pedal on all-day epic rides, but still offers enough protection to keep you confident through the hairiest DH lines.
3D-molded VPD 2.0 knee panel is perforated to improve ventilation

VPD (Visco-Elastic Polymer Dough) offers progressive, effective impact absorption and conforms to your body for a comfortable fit

Kevlar-reinforced fabric resists tears and snags

Super-stretchy back sleeve for a secure, personalized fit

Share your thoughts
What do you think of the
POC
Joint VPD 2.0 Knee Pads
? Share a...
Surprisingly comfortable
Familiarity:

I've put it through the wringer
I've taken a few mountain-biking tumbles and these knee pads really did the job. Super durable and also surprisingly comfortable - I will often just put them on before the ascent and they don't bug me one bit. I'm 5' 11" / 170 pounds with soccer player legs and wasn't sure if I should order the M or L size - went with the large and was glad I did. If you're between sizing I'd recommend going with the larger size. The velcro straps will keep them in place nicely and when they heat up they really do seem to conform to the contours of your knees.
Pleasure to use and great quality
Familiarity:

I've put it through the wringer
I got these for XC, single track and bit of free ride. They're very comfortable, clean quite easily - most dirt will wipe off with a wet cloth. I haven't had a huge spill with them yet so can't comment on their protection......yet. The construction feels like it will do the job though. I'm 14" knee cap and 14" calf and the Small fits well if not slightly big but it stays in place.
Sizing Question. My knee calf measures...
Sizing Question. My knee calf measures 14.5" in circumference and my calf 15". I seem to have to knee of a size small and a calf of a size large. does anyone have experience sizing these?
Best Answer
Hey Grouch, I've got a Small in these and I'm a 14" knee cap and 14" calf. If anything these are slightly big for me but stay in place and are comfortable. With a 15" calf I think you'll find them a perfect fit. The thing you need to be aware of is they don't give you much coverage of the shin. They end about 8-9cm/3.25" below the bottom of the knee cap. I also got the POC Joint VPD 2.0 Shin Pads in Small but find these a little too Small. If you're getting the combo you my be better off with the Medium in Shin pads. Hope this helps.
Awesome
Familiarity:

I've used it several times
I use these 4-5 times a week riding single track, freeride, and dirt jumps. I barely notice they're there and they've been the most comfortable knee pads I've ever owned. No complaints
Great POC product
Familiarity:

I've used it several times
I bought these for trail riding in Colorado because I always seem to scrape up my knees. The protection on these is great without compromising flexibility. I don't really notice them on long climbs (other than my legs being a bit hotter than usual). They don't slip down at all - although I bought a size small when I was on the edge of a small/medium.

I am a big fan of POC products and this one did not disappoint!
Hello, this price is for one or the pair...
Hello, this price is for one or the pair ? Im waiting your answer. Thanks !
It is for a pair of them, one for each knee.
I just got a pair of Mediums. They felt...
I just got a pair of Mediums. They felt good at home, but after a 7 mile ride they felt really really tight. Not sure if they will start to fit better or if my circulation will just be cut off every time I ride. Anyone else feel this?
D. Josh,
I have a friend who experienced the same problem with these initially, though he said they were better after a couple weeks of use. They still retained their elasticity and did not slip on his leg, but no longer bothered him at all by the end of a long day.
Finally a knee pads that stay up
I have tried several brands of knee pads, my favorites until now have been the Kyle Strait 661's, but I always had problems with them sliding down and they are a bit bulky on the side.
The POC Join VPD 2.0 Knee pads have been great, 5 consecutive days of wearing them with tons of climbing miles and absolutely zero issues, no problems with them sliding or moving out of place. In fact I often forgot I was wearing them. I have tried the Fox, 661 and Troy Lees and by far the fit of the POC's is unbeatable.

They run a bit small, so I would say if you are on the fence about size, error with the next size up.
do the POC Joint VPD 2.0 Knee Pads come...
do the POC Joint VPD 2.0 Knee Pads come with two knee pads?
yup, it comes with the left and right - they are contoured differently for each leg.
I ski with these religiously, for years I didn't wear knee pads and was highly skeptical of my need for them, but after a few too many bruises I sacked up and bought them. I thought they might be a bit too big to go unnoticed under ski pants but when your standing they are invisible. After putting these on my skiing has progressed significantly, no fear when carving of throwing the knee on the snow and is for conducive to aggressive tele styles. In terms of padding the VPD is the bomb, I can jump and land on knees in these and barely feel it, they are pliable when warm but on impact stiffen up!. Additionally they add a great deal of warmth and now the sweatiest spot on me while skiing is the knee. (Plus or minus here). The only negative is the slide on design, when touring you cant exactly put these on at the top and they are super warm on the way up. But in comparison to other pads that I have seen, these rock!!
Worth Every Penny
Gender:

Male

Familiarity:

I've used it several times
These pads are amazing. They are comfortable and extremely effective for taking hits. They took about two rides to "break in", but after that they are extremely comfortable. They "break in" period was really for my legs to get use to them. They had some minor pinching and light chaffing for the first two rides but nothing horrible. This has completely gone away after the third ride and they now perform above expectations. They are streamline and stay out of the way. I have hung them on my top tube a couple of times but that is probably because of my sloppy riding style.They are malleable and will harden on impact. I have taken a hard crash test and they performed excellent. They stayed in place and did not slide. If your looking for a high quality knee pad the search ends here. The sizing chart for me was right on and they fit well. If your are a bit over or in between go with the smaller size first.
Huge thanks to POC for yet another amazing piece of protection for rugged riding on single-track. As I built my chops on the mountain bike over the course of this past summer, I decided to complement my POC Trabec Race Helmet with these knee pads for added protection. While I was initially hesitant about wearing knee pads (for fear that they would prove needlessly hot and cause irritation or chafing), I was pleasantly surprised to find, after more than a few long-haul rides, that these pads are perfectly comfortable and ergonomic. I have pretty small knees and calves, but the Visco-Elastic Polymer Dough is malleable and form-fitting...regardless of your form!
Hated these at first, but notice 5 stars
Gender:

Male

Familiarity:

I've put it through the wringer
It seems the better I get on my bike the more protection I need. I've loved everything POC I've ever worn. WHen I got these I instantly put them on and dropped to my knees a few times and was really excited to use them they also do really form to your knees after they warm up. After 10min into the first ride they were pinching behind my knees real bad. I got a size small and don't even really strap my straps and it fits like a glove. I have tiny legs im 5'8 140 my calf is size small and my thigh was smaller than the small size but I didn't have any issues with it slipping. So by the end of the ride they were at my ankles. I was determined to give them a chance so I wore them another 3-4 times riding a few hours each time and they were starting to fit better but behind just my left knee it kept pinching so I figured it was me not the pads. I had a race and I was shocked during the race I didn't notice them at all (could be due to racing idk) but I was amazed and ever since then when I wear these I never notice there on untill I smack my knee and I'm like oh yea thanks poc! Give them a chance they'll be the best knee pad you've worn!

UPDATE: I've had these bad boys for over a year now and can still say they are amazing, when we go ride local xc trails you'd think I'd leave them at home but I take em on every ride. I rode yesterday and noticed a HORRIBLE stench from the kneepads so last night I put them in the washer on cold and now they look and smell new. Just like all of my other poc gear I see myself having these for years to come!!