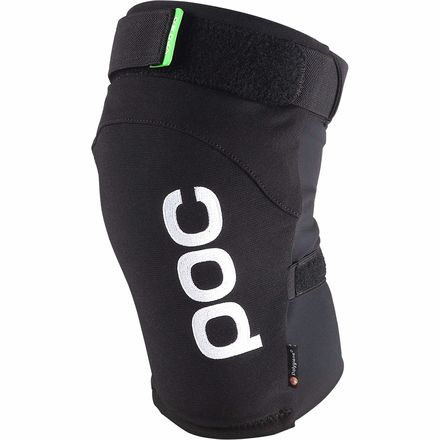 Colors

Community Images
Description
Arm yourself appropriately.
Ripping down flowing singletrack and blistering downhill courses is stupidly fun, but it doesn't come without consequences when you bail off your bike or fall at high speeds. Engineered to soften the blow from crashes, the POC Joint VPD 2.0 Knee Guard protects your knees from impact when you're trail riding and slaying downhill courses. The 3D-molded VPD foam stays pliable when you're riding, stiffening upon impact to absorb the punishment of crashes and trail mishaps. Its perforated design keeps you cool when you're riding, helping to prevent sweat build-up on hot summer rides. Plus, you'll find an elasticized hook-and-loop strap for a secure, adjustable fit. Note that these pads are slim enough to wear under your favorite trail shorts and riding pants.
3D-molded VPD foam protection
Perforated design
Elasticized hook-and-loop strap
Putting My Pads To Use On Pinecone Ridge
Park City, Utah. PC: Joey W.
the real deal
Familiarity:

I've put it through the wringer

Fit:

True to size
I picked these up for days when the VPD Air guards aren't up to the task. Namely bike park days (jumps / features) or DH shuttle runs (roots, rocks). They offer the best protection in the POC lineup without being too heavy. They also feature straps above and below the knee to help keep them secure. The VPD material is amazing stuff, and it's much more comfortable than a hard-shelled guard while offering the same (if not better) protection. I didn't have any fit issues and mine stay put, even when pedaling hard. I went with a medium based on the measurements below / above the knee. These are a little spendy but worth the price!
Great pads but buyer beware
Familiarity:

I've used it several times
I've had these pads for about 4 months now, the pads are great with a few issues...one is the sizing chart here on Backcountry, which still hasn't been fixed, it shows the above knee circumference to be smaller on the large than the medium...which is clearly wrong, because of that I ordered an XL which ended up way to big and had to return for a smaller size, thankfully Backcountry has an excellent return policy.



The next issue I noticed just recently while cleaning the pads, a flaw that explains why I've had slippage on one pad. One of the rubber strips above the knee appears to be sewn inside out, so it's a smoother surface than the more aggressive textured strips, which leads to the knee pad slipping above the knee while riding. Unfortunately after 4 months of use not sure if there's anything I can do about that issue, just bad quality control on what would otherwise be an amazing product.
Very good
Familiarity:

I've put it through the wringer
Overall, very solid knee guards. Just keep in mind that you are pretty much always making some sort of compromise with knee guards. Either super heavy duty hard-shells that suck and are annoying, or light weight enduro guards that you can ride forever in but shred easily. These are in between.

Pros: Heavy duty construction - I've scrapped these against plenty of rocks and they show almost no wear.
Protection - The pads work very well. I've banged my knee several times without pain or injury. The rest of the material is very sturdy and resists abrasions.

Cons: Feel - the interior of the material is pretty rough, and extended pedaling leaves my knees a bit raw.
Price - these things are pretty much twice the price of comparable knee pads, not really sure if they're worth the extra cost or not.
ended up being too small...
Familiarity:

I returned this product before using it
ordered these in size small based on the size chart (I'm 14in over the knee), but the fit was too tight - I couldn't even get the kneepads in place over my knees (let alone expect to be able to move my legs in them). These are also a a little bulkier than I expected based on the description. Not sure if I 'll be trying these again in a different size. They are very lightweight and seem well-constructed though.
Unanswered Question
On the size chart for Joint VPD Knee, are the inch measurements listed correct for the 10 cm above knee cap circumference? Small is listed as 14-6 to 16.1 in., medium is listed as 16.1 to 17.7 in., but large is listed as 15 to 16.5 in., which would make it smaller than the medium? It seems like this must be wrong. I don't want to order this gift without knowing that I'm ordering the correct size.
Killer Knee Pads
Familiarity:

I've put it through the wringer
These pads are awesome. Super comfy, easy to pedal in, and best of all they STAY ON. I've had these things for several months now and haven't had any issues; no sagging or stretching out. Sometimes i forget that they are on after a ride. A bit more expensive than others out there, but worth the money in my opinion and i would definitely recommend to others.
Great Pads!!!
Familiarity:

I've used it several times
These pads are super comfortable, and allow full range of motion while peddling. I have been using them while I get used to clipless peddles, so there have been a few times I tipped over with the bike still attached. They have been great at protecting the old knees. The only complaint that I have is that the run small. I am measured smack in the middle of the medium, but those were way too tight. Large fits well though. All in all I would highly recommend these.
Does this come as a pair or is this a...
Does this come as a pair or is this a single?
Radicool Pads!
Familiarity:

I've used it several times
Fit well. Stay in Place. Very Protective. VPD rules.

On the warmer side during long rides, but tend to only wear them on DH trails or at the bike park.

Recommend these bad Larrys.
Hard to tell how it fits unless you try
Familiarity:

I've used it several times
I got the XL size and it fits well. I got the L for elbows as XL would be too lose. Too bad there is no place around me to try before buying. I had to order all sizes and then return half of them.
What should be the mesurement for the abow...
What should be the mesurement for the abow and bellow of the knee for this sizes? (X-large)
Hi Tito,



For some reason, POC's size chart for knee pads only goes to size large:



http://www.pocsports.com/en/content/view/Wheels_size_guide



If your leg measures out larger than the upper limit of the size large, go for the XL.
Get newer version.
Familiarity:

I've put it through the wringer
These are good but there's no padding on the top of the knee. POC has a newer version, that i don't see listed here, that has separate vpd padding on the top and burlier straps. Get those!
Does ordering 1 get you a single pad, or...
Does ordering 1 get you a single pad, or a pair?
This listing and price is for a pair of pads.
Sick pads
Familiarity:

I've used it several times
These are the first knee pads I've owned so I can't compare them with other brands. However, they are exactly as described. Light, extremely flexible and they fit according to the size chart. I ride in Asia and during the summer months it is extremely humid. These pads do heat up and get sweaty, but I found that they do stay in place. They've already saved me a few times.

They are totally worth the price.
Awesome pads
Familiarity:

I've put it through the wringer
These are extremely protective, comfortable and breathable. The VPD acts almost like memory form and molds around your knee so they fit nice and snug but not overly tight. I use them on downhill trails and they have protected me very well. I highly recommend this product, nice work POC!
Great-but a bit too "great" for XC-trail
Far better quality than 661, superb design. But for XC-trail use, with lots of climbing and miles of pedaling, a bit on the heavy side. Striaght out of box and trying them on, then scale comparison even to the 661 DH D30s, could see all of the above. Wish POC had a "Lite" version for use with my 100mm SID M429er! Was hoping to the replace the lower quality 661 XC pads, not the DHs.
These pads have brought me a ton of piece of mind riding around Deer Valley, Park City, and Canyons downhill trails. I'm a huge fan of the VPD technology they utilize and the overall protection they provide. The pads fit well, only minimally move around, and handle heat well.
Best knees around
Familiarity:

I've put it through the wringer
They fit extremely well and are easy to forget they're on. I love the VPD stuff. Soft and pliable as you pedal and move on the bike, but super hard upon impacts. It's really quite impressive. They're so comfortable that I've accidentally worn them home on an hour drive and totally forgot they were on. I've only experience minor shifting of the pads on the knee. Nothing I wouldn't expect, and can be easily fixed.
Very comfortable. Slides on and off easily. Doesn't ride up or slip down while riding. Breathes well for hot days and definitely provides the protection needed for tiny to major spills.