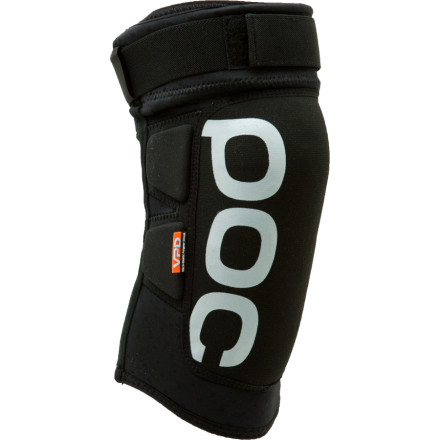 Colors

Detail Images

Community Images
Description
The secret blend.
Nobody likes wearing bulky knee pads, but sometimes you just have to. Until now, that is. POC Joint VPD Knee Protectors provide the protection of a bulky hardshell knee pad with the slim design and breathability of a soft pad.
The secret is Visco-Elastic Polymer Dough, or VPD. This modified polyurethane foam is soft and pliable. In a hard impact, however, it instantly hardens into a protective shell. These VPD pads are placed in the front and sides of the knee protector and held in place with stretchy, breathable neoprene. High-abrasion areas are then covered with an abrasion-resistant aramid fabric.
Visco-Elastic polymer dough padding
Padding at front and sides of knee cap
Stretchy, perforated neoprene construction
Aramid cloth covering
Share your thoughts
What do you think of the
POC
Joint VPD Knee Protectors
? Share a...
Don't even notice the hits!
Familiarity:

I've used it several times
I'm pretty new to mountain biking, which means I fall. A lot. Like a lot a lot. Kyle and Geoff convinced me it was time to go with kneepads to lessen the impact as I go tumbling through the woods.

I decided to go with these POC ones because I liked the style and they looked comfortable. That being said, I'm happy I chose them. After my first ride I declared "Yeah I didn't really need these...". Kyle told me to look at my knees and all of the dirt and twigs on my kneepads was evidence that I very much did need them. Best part was that I didn't feel a single hit.

These kneepads are stiff and protective but still conform to your leg. The padding is somewhat dense, but they are still light. It may be that I just don't have sweaty knees, but as of now I have yet to drench them in sweat: they stay comfortable. You could ride uphill with them, but I would rather just put them on once I got the top. You'd need to take off your shoes to put them on, but I'm okay with that.

Getting them seated right can be a bit finnicky due to the grippy silicone, but once they are in place they stay in place. I found the velcro strap to be rather unnecessary because the sleeve itself is good enough holding them up.

If you're looking for an AM/Trail kneedpad then this are great. They could also be used for some light DH action, but aren't going to be as burly as full shin pads.

Feel free to contact me!

Ben
brabinowitz@backcountry.com
801-746-7564
My buddy did some damage to his knee earlier this season so I decided it was time I invest in protection. I couldn't be happier with these guys. I purchased a size Medium and they fit well, stay in place and don't cause any irritation. I mainly ride XC but when I take on the trails at Deer Valley and the like, I feel much more confident that I am not going to ruin my summer.
Protect those precious knees.
Familiarity:

I've put it through the wringer
Whether it's a small spill or a big spill, my knees are always a point of impact in some way, so I decided it was time to invest in protecting them. I have enough scars on them already, why add more.

I actually bought another, cheaper, brand first, but I wasn't satisfied with the fit and comfort level. I have a POC helmet that is very high quality so I went with their knee pads, figuring the same. What a good choice! They fit really well, don't slide down my leg, don't get overly hot and aren't too bulky. Most importantly they keep my knees safe. I really forget they are on after a few minutes of riding. I ride mostly XC and some all-mountain, so I spend a lot of time in the saddle, and I love climbing, so bulky hot knee pads weren't going to work for me. After the ride they are of course soaked with sweat, but dry out pretty quickly and do not stink up my gear bag.

I really can't recommend them enough. Very high quality materials and fit you'd expect from POC, very much worth the few extra bucks you'll have to spend to get them. I am about 6'1" and 200 lbs. and the large fit me great.
Keeping those knees purdy
Gender:

Female

Familiarity:

I've put it through the wringer
This are a a great purchase and I don't get any hot spots from them. I don't find that I have to pull them up and the fit is great!
I would say they run small. I purchased the small and medium and returned the smalls because I couldn't even get them up haha. I do have athletic legs but I was surprised the smalls didn't fit. But the mediums are perfect as can be!


Great
Familiarity:

I've put it through the wringer
They have saved my knees many of times! I have had a few good wipeouts while on the trail and have never felt any of the (in the knee area anyway) while using thees pads. They do tend to slide down just a little but not enough to keep them from doing their job. All in all, for the price they are a solid knee guard.
Offer superior protection
Familiarity:

I've used it once or twice and have initial impressions
I've only used these about 4 times as I got them late in the season, but my initial review on these are they work and feel great, each time I rode with them it was for 3 hrs and longer and didn't feel any rubbing or discomfort.
Great product
Familiarity:

I've used it several times
I was a little concerned with the sizing since I'm 6'2 and 265 pounds. The lack of an XL was a little concerning. When the product arrived I was able to get them on but they were tight. I decided to give them a try instead of returning them and was very pleased to say by the end of my ride I didn't notice I was still wearing them. They adjusted perfectly during the ride and I ended up wearing them on the ride home because I forgot to take them off.

I have also fallen with them on and they did a great job. I'm a bit of a new rider so I fall a lot and these have saved my knees.
Offers Great Protection
Familiarity:

I've put it through the wringer
These knee pads offer a tight fit that will ensure they don't move around. These pads I have noticed to tend to run slightly small. The protect these pads offer are top notch. The foam in the pads feel like memory foam. The foam become softer and more movable as they heat up from your body heat. They absorb and impact really well insuring your knees will be safe. My only complaint is that these don't vent heat all that well. The back of the knee is covered as well which can make these pads very hot and sweaty in middle of summer. However, It seems to be a trade off for full protection. You can't beat the safety and quality of a POC product. I have owned numerous POC products in the past and have yet to be disappointed.
If you have any patella problems beware. I stopped using them because of pain related to these changing my patella movement. Maybe most knee protectors do this but my G Forms do not. G Form is for lighter duty though.
Nice, but...
Familiarity:

I've used it several times
I found them to be quality protection, but have two issues:
They rub my knee cap while pedaling to the point my skin is raw after 1 1/2 hour ride.
On one of the pads the stitching is coming undone at the bottom of the VPD pad.
I really wanted to like them, and got a great deal, but I may go back to the Kyle Straits.
If you're close, size up
Familiarity:

I've used it once or twice and have initial impressions
I was right at the top end measure for the small size based on my thigh (10cm above kneecap). I tried the smalls and they fit too tight around my lower thigh, couldn't get my full range of motion wearing them. Going to give the mediums a go. Protection wise these seem solid, and the top and bottom straps give you some room for adjustment.
Best product for Knee guard
Familiarity:

I've used it several times
raided with this set for 5 hours from Jerusalem to the Dead Sea in Israel !!! was perfect ! didn't move and was very comfy.
Love em so far
Familiarity:

I've used it once or twice and have initial impressions
I have used this pads on just one 25 mile ride ride so far. Have yet to crash but the vpd works like magic when bending and punching the pad. Mine are a bit small but hoping they will stretch out a bit. On the ride I did 3000 ft of climbing all with the pads on. Great flex and did not feel overheated.
Great flexible protection
Comfortable,but ...
Familiarity:

I returned this product before using it
These pads are very comfortable, and the VPD material offers more protection than the 661 EVO pads I tried also. They were a great deal on sale at $65. I worried though how secure they would be with only one retention strap. I am recovering from knee surgery and want the best protection available. So I returned them and opted for the POC VPD 2.0s (at full price unfortunately). The 2.0s have straps above and below the knee. I've used these a few times already, and have no issues with the pads slipping down.
I bought a Large and my first impression was the tight fit. I looked again at my measurements and got a second opinion about sizing and protection. I also looked at the sizing for all of the other manufacturers and they don't offer better sizing either. The bottom line is that these are of good quality and I won't ride with fear. All of the other comments about my legs getting sweaty are right, but that's normal. I'll stick with these.
POC Joint VPD Knee Protector.
An outstanding piece of kit. I haven't used knee protectors before so I don't have much to compare these to but in my view you can't go wrong with the POCs. They are comfortable, lightweight, breathable and whilst I haven't yet crashed wearing them they look up to the job when the inevitable happens. After wearing them for a few minutes you forget you have them on except for slightly warm knees but they give you the confidence that they will protect you in a crash. After 20+mile rides they do not move and they do not rub they are perfect. If you want a knee protector for general XC use I can't recommend these enough!!!!!
Just a disclaimer to anyone looking to purchase this armor... I would size your armor based upon your quad... not your calf. I recently purchased the elbow and knee protectors and the knee protector seems to run a little smaller than stated. It will flex/stretch a little but it makes it pretty tough to pedal when you have no blood flowing past your quad =)

Luckily Huck's got an awesome return policy and I'm swapping out for the large. Through reading reviews on other sites, POC seems notorious for running on the small side (unusual considering they only seem to carry small-medium-large). But on the upside, my elbow armor from them is awesome. Even though POC armor is a bit more $$$ buy with confidence knowing you gain better comfort through greater flexibility and range of motion.