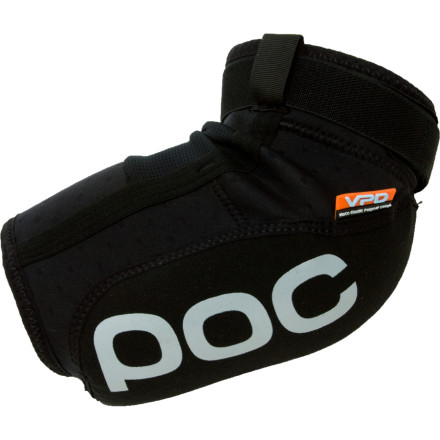 Colors

Community Images
Description
Protection when you need it
The POC Joint VPD Elbow Protectors offer a sleek, comfortable fit yet are constructed to provide serious protection. POC's Elbow Protectors feature visco-elastic polymer dough (VPD), which is soft to ensure flexiblilty, yet is designed to harden instantly at the moment of impact to deliver you maximum protection. POC encases the VPD cushion inside a lightweight, abrasion-resistant aramid/lycra material, and includes one elasticized hook-and-loop strap above the elbow to secure the perfect fit.
VPD padding
Lightweight, abrasion-resistant aramid/lycra
Elasticized hook-and-loop strap
It served it purpose
Familiarity:

I've put it through the wringer

Fit:

True to size
Had two crashes so far and this prevented me from having severe bruising, cuts, and skin peels. They fit comfortably and doesn't slide down. Better to be safe than sorry.
Crashed wearing these...
Familiarity:

I've used it several times
I've used these several times. The medium size fits me great (I'm 5ft. 11in. and 165lbs; forearm circumference is 24cm, bicep circumference is 28cm). The pads are a little tight at first but once they are worn in they fit perfectly. They can be worn on bare skin or between a thin layer of clothing without slipping off (they stay better if worn on bare skin though). I was recently doing some DH riding when I completely flipped off my bike and landed on my elbow. This pad took the hit like a boss. I haven't tried any other pads but I'm happy with these. They work and are comfortable to wear. Very low profile too.
These are POCing good!
Familiarity:

I've used it several times
I brought these firstly because my riding buddies have them. I'm a bit of sheep and refuse to make my own mind up and want to fit in. Gotta have swag down the jumps right!? I guess I also brought them because every time I came off, I cut the Sh!t out of my elbows. I was getting sick of that and these things were on sale. The first time I took them out, I came off and these saved my elbows from looking like they'd been through a cheese grater. You can't ask for more than that and they're also good when it's hot outside. If you wanna save your elbows and also look like you have all the top gear and know what you're doing, buy these. Otherwise, TCP is good for cleaning out wounds.
They are ok but others have caught up
Familiarity:

I've put it through the wringer
POC use to rule the high end protection gear; now other companies have caught up. I would only buy POC b/c of the superior material, etc but now they are just overpriced for what you get. Remember everyone, this gear is suppose to be disposable after couple of hard years of use and even then the material I suspect will degrade over time and will need to be tossed. These pads after 3 yrs are still flexible but as others mentioned they just don't stay up on my elbow; constantly pulling them up. They have a velcro strap at the top you cinch down but then its either too tight and arms hurt or too lose and fall down. I have taken a bif and they hold up well and did their job.
Great for Trail/AM riding
Familiarity:

I've put it through the wringer
Packs well.

Stays fitted while riding. Haven't had to really use them yet in a crash (knock on wood!) but seem like it will save some skin.

Best suited for Trail/All Mountain use. There are better products for DH riding.
Best Elbow guard in the market !
Familiarity:

I've used it several times
raided with this set for 5 hours from Jerusalem to the Dead Sea in Israel !!! was perfect ! didn't move and was very comfy.
Mehhhh
Familiarity:

I've put it through the wringer
They are super comfy, no rub. The build quality is suspect, they stretch out quick and the material rips pretty easily. They stay in place OK when riding but slip off the elbow if you fall.



Probably adequate for an XC'er who wants something..for DH seek something better.
Save those bows
Familiarity:

I've put it through the wringer
I broke an elbow this past ski season and decided some elbow pads would be a must for mtb this summer. they are true to fit and rarely do i need to adjust them because of sliding purposes. They breath far better than i thought as well, making this some of the best protection i bought in a while.
Very happy with this product!
Familiarity:

I've put it through the wringer
The POC elbow guards are the only ones I have ever had that stay in place, and do not rub and create sores on my arms... never have to worry about pulling them back up while I am riding, plus they are COMFY! I had a fantastic wreck riding downhill at winter park, and the portion of my arm they were covering is completely unscathed, including without bruising (while everything above and below is quite scathed!) Impressively, the elbow pad itself isn't even damaged, which I don't even understand how that is possible... They did not move when I wrecked, which I cannot say for the elbow pads I have used in the past... thinking I need to invest in some more POC gear!
Elbow pads have to be the hardest thing in the world to make well, since no one seems to be able to do it. POC is really close with these, but not quite there. They're super comfortable, but in Whistler breaking bumps, they'll slip down and be hanging around your wrist by the end Freight Train for sure.
I bought a large and like the POC Knee Protectors, they felt a little tight. My arms started to sweat, but the silicon strip in the lining kept the elbow protector in one place.
I don't exactly have chicken arms, but these won't stay in place once they get sweaty. They don't have a lower strap, and the upper strap is too long (can't get it tight enough and still velco. They're going into the back of the closet, and I'm buying some Fox ones. And they're expensive too
Unanswered Question
Why no sizes other than large? I'm no...
Why no sizes other than large?
I'm no neanderthal, I need a pair of smalls for my tiny Swedish man arms!
Solid Pad - Sizing maybe slightly small
Just picked up the joint vpd elbow and knee pad from POC. The quality of this armor from POC is very solid and feels great. Having the flexibility and protection from POC makes a huge difference in my opinion. The elbow protector fits perfect but the knee pad seems a bit small. I have smaller calves but my quads are on the bigger side and so I'm going to have to size up to the large as it isn't very easy to pedal with them cutting off blood circulation =)

I highly recommend getting these pads... even if they are a little more expensive I feel the comfort level through flexibility is all worth it. Just make sure you check your sizing.
This is a great Elbow pad. The velcro strap on the top keeps them right where they should be at all times. POC costs a bit more than other brands but they are dedicated to making high quality products. I would recommend these to anyone who wants a solid elbow pad. The Knee Pads are great as well.