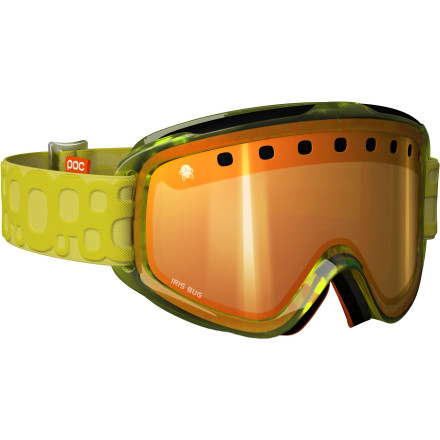 Colors

Detail Images

Videos

Community Images
the buzz is all about the Iris Bug
Familiarity:

I've put it through the wringer
these goggs are so comfy!! triple layer foam makes the fit awesome! they are for slightly smaller face shapes too which is nice because i hate oversized face covering lenses. i also really like the anti-fog properties of the lens, and sol/x lens for all around usage, my go to goggle 90% of the time
Goggle for a snowy day
Gender:

Male

Familiarity:

I've put it through the wringer
Quite nice... it does the job when the sun is not out. If you want those goggles be sure to have another pair for the sunny days. I tried them in the alps and in the east last winter and I was always dazzled. There's definitely a lack of tint in these lenses(orange ones).
Unanswered Question
Is the white with red/orange lens a mirror...
Is the white with red/orange lens a mirror lens? Also what is the VLT?
I used them last week in Colorado and loved them. The white with orange lenses held up great in bright sunlight and flat light in the trees. The orange lens are not fully mirrored (if that's what you're looking for) but they still look pretty sweet and reflective. The fit is a true medium. I have a larger face/nose (usually wear oakley crowbars) and these just fit me (any smaller and I would have had to return them, I am picky about fit). Peripheral vision is good. Good contrast. No fogging issues. Comfortable. I was not sure I needed a second pair of goggles, but I ended up liking them a lot more than expected and keeping them. On sale they were a great deal and I would highly recommend.
I have the Green in Large (they only came in small & large in '10/11, or so I'm told).

Pros - Great comfort and no fogging whatsoever when combined with a Frontal helmet. No issues with strap stretch.
Cons - Green mirror/Yellow lens doesn't provide great definition in flat light. Green mirror coating scratches *very* easily compared to the Blue/Brown Iris X (see photo).
Kids love POC goggles. Definitely what all their friends are wearing. I have purchased these in several colors over a few years. They are bright and fun and pretty durable(depending on the kid using them of course!) They are reasonably priced so you can afford to have a spare.
When it comes to a high quality, good fitting goggle, most people will start to look at something that is $150 and over. No real need though, these are a good fit and equally as good of quality without dropping unnecessary funds. If you have a bigger face you may need something a little wider as these are sized for a medium face. Pictured would be my sister Whitney with the red iris bug and the POC Frontal Jon Olsen helmet.
Great quality goggles that look great. The plastic on the inside of the strap keeps then from moving on a helmet or beanie no problems. The lens is great in all but the darkest light conditions. My only complaint is the nose pad area, it squeezes a bit and requires that I push them slightly higher on my head. This could be a problem with a smaller helmet, I've got a large smith seam and it works fine.
when i received these goggles i was very happy until i opened the box. online these goggles appear to have a reflective lens, but in real life they have absolutely no visible reflection. They have a slight sheen. You can see right through the lens. These goggles may be nice, but the lens they advertise is not the lens you will receive.
I love that these goggles have a rubber grip on the inside of the strap. This keeps the goggles in place on your helmet which is awesome
Hi guys, anyone knows where to buy the...
Hi guys,
anyone knows where to buy the clear and blue glass for POC goggles IRIS? My goggles are still OK, but i managed to break both glasses in cold weather. I find it difficult to find new ones. Europe provider would be preferable. Thanks
RaceWerks is a us provider. I think you can order them online
I own three pairs of goggles ,and they are all POC ! Look no further !
i love the iris. the frame actually fits my whole face and the lens that is in them is very clear and i was super impressed with the defogging on the lens! great goggles
New and Improved on the history of goggle technology
I have been an athlete representing a few different goggle companies over my career and after trying POC I was sold. The prices are modest, and the product is durable, fits great, and the lens quality is right up there with the companies claiming superiority. There is no need to overpay, as these goggles are going to treat you very well. There are no promises in life, but this is close to it.
These gogs are where it's at. This shit is the cat's meow. Went with the Green, couldn't be happier. The frame is nice and squishy, which means it can take a beating, and the nose bridge doesn't squeeze. No fog issues with the brain bucket(synapsis xp). Stoked on the bugs.
I have used a lot of goggles in the past few years, however the leans that comes in the "Coral Blue" option above is the coolest leans I have ever used. It compares to the Oakley High Intensity Blue as far as light emission in low light situations, but it protects enough and does not burn your eyes if the sun does come out periodically on those low light days. The frame in the Iris Bug collection are superior in many ways also. They have rubber on the inside of the strap so it does not slide on you helmet or hat, the frame does not pinch you nose, among other things. However, if I can recommend the best low light leans I have ever seen or used, go for the Coral Blue option above. You will love them.
Can you get clear, yellow, and pink...
Can you get clear, yellow, and pink lenses?
You can purchase pink and yellow replacement lens here for $20:http://www.race-werks.com/product.php?prod_num=13669200