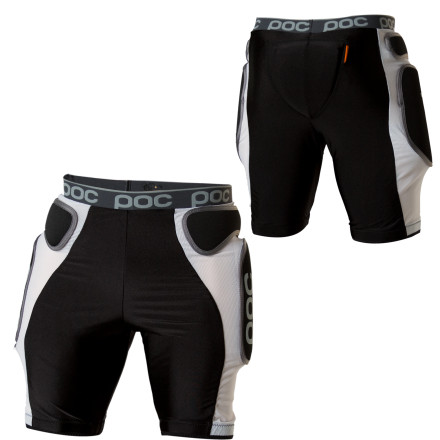 Detail Images
Charging booters and rails on your board or bombing singletrack on your bike is bound to involve some crashes, so be ready with the POC Hip VPD Impact Short. Protection for your hips, thighs, and tailbone doesn't get any more comfortable than this. Performance Coolmax fabric wicks moisture and promotes breathability when the ride gets intense.
All in All a great short.
I think that it is hard to make a good short that is low profile, non-restrictive, but still gets the job done. I think this is the one. I have taken a couple of falls in them and I have not noticed any discomfort where I might have in the past if I did not have the short. These fit under the short really well. My hood-rat friends have practiced hitting me and it did the job.
My first pair of impact shorts. I got them last year, knew I needed some because I bruised my tailbone in '09. Anyway, I can say that I came away clean from last year. They do a great job. VPD is pretty sweet stuff. Stiff at first, but once you've had it on a few minutes it softens up. Comfy shorts. Not bulky, even though they look like they would be. They've just gotten tight, but that's my own fault for packing on another 15 pounds. :)
They dont have a fly because they are like conpression shorts. The padding keeps you from brusing badly and they give you some confidence to hit thoes big lines.
I LOVE these impact shorts!!!!!!!!!!!!! Excellent job in keeping my hips, tailbone, and thighs from further breakage. There is still some pain, but not as much as if I did not wore anything underneath my pants. I would definitely recommend them.
Unanswered Question
Hi I am looking to purchase a pair of these...
Hi I am looking to purchase a pair of these shorts, not sure what size I would need, im around 29 waist, 38 hips im 5'4, I cannot find these in womens sizes, can anyone help please!
A Ski Bum's Take: POC VPD Hip Impact Shorts
As a skier, I have only recently been finding that riding with hip/tailbone protection has its benefits. I used to wear crash pads when I snowboarded as a kid, but until I started skiing in exposed aspects, I had never thought to rock the crash shorts. My experience with POC gear had mostly been relegated to their helmets & back protectors, so I figured I'd try their VPD hip impact shorts.

My take: The shorts are comfy, and tended to stay in place unlike some of my old crash shorts. I think the padding would be more effective with the VPD being used in more that just the tailbone. It would be worth the cost difference! Again, along with some of the other reviewers, I would like to see a fly included on the next version of these shorts. But, again, for the fit and comfort, these are hard to beat.
When I first got these things, I was pretty excited. They fit nice and low profile, they have solid (but well articulated) padding on the side of the thighs and hips. The patch of VPD seemed small, but it covered the tailbone so it let it go. I was stoked to use it. After a couple days with it on the mountain, I'm less stoked.

First, there is a function issue. There's not nearly enough padding coverage on the backside. If all you're concerned about is coccyx protection they're fine, but if you've ever slipped on on a rail, you know soft tissue impacts on a hard, sharp surface hurt plenty. At least a little bit more padding (not even the VPD) would have helped. Lame.

Second, no fly. I knew this coming in, but this drives me batty about impact shorts. Why would you not give them a fly? Guy lame.

Third, and most importantly, the spandex material surrounding the "pocket" where the VPD piece rests is tearing in two different places. I could stitch it up, but based on where it is, I think it's likely to get worse. SUPER lame.

It's sad because the VPD is really an incredible material. It's comfortable and pliable (much more so than D3O), while CE-2 certified for motorcycling. POC just hasn't found a way to make it work yet. I also bought the VPD vest, which I also had problems with. POC has a lot of great ideas with this incredible material, but they need to execute better.
Tight but not restrictive, good padded areas.
I got this thing a few weeks ago and have been on the snow once with it. I took a hit on a rail and I didn't feel a thing, but all falls are different. The short itself, as Elias mentioned below, fits pretty snugly. This is good because it keeps the pads where they should be: against vulnerable parts of your body. The short, as a whole, is low-profile and unless you're seriously getting checked out, is unnoticeable under your ski/ride clothing. The only thing is that the white panels seem to be the very light mesh and I worry about it ripping.

**Most of the pads are not VPD! Only the tailbone padding is VPD. The other pads (hip, thigh) are some type of soft mesh foam with a stiffer outer shell. The pads feel of good quality and are comfortable.
All right, what we've got here is a close fitting and low profile impact short. The fit is like that of spandex bike shorts, really snug to your hips and legs which keeps all the padding right where it's supposed to be. You'll never see these under your ski/ride pants. The tailbone area is protected by the VPD material, which feels kind of like Playdoh. It's not a stiff or uncomfortable cap style pad and that is much appreciated while sitting on lifts and bikes. The rest of the padding is just a dense foam that sits on all the right places, but isn't very hi-tech. I've grabbed these for skiing, but have only used them for DH biking so far. A couple of good crashes and I'm still un-bruised so they've passed that test. My only gripes are no fly (why would you ever make a dude-anything without a fly?) and the white mesh can be a little fragile. I need to patch up a tear on mine, although I should mention that I have a rep sample (prototype?) and the image above has a weave in the mesh that looks tougher than the construction of mine. The gasket leg is a little snug and left some redness, but nothing serious. All in all, I strongly recommend these since they do fit under your clothing so well and protect where they're supposed to protect.
How does this compare to the RED Total...
How does this compare to the RED Total Impact Short? Specifically, I'm interested in the padding material.

Thanks!
I picked up these shorts and compared it to the RED Total Impact Shorts in a store... and I'd go with these. The padding feels better and softer on the body-side, but these non-Newtonian materials (VPD, D3O, etc.) get softer with temperature, so it's impossible to tell unless you're wearing them. I'm not unhappy with my decision.