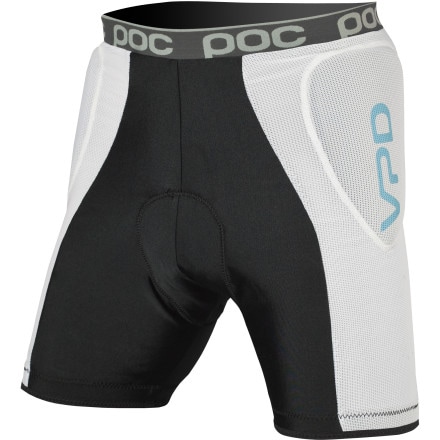 Detail Images
Description
Broken hips are for the elderly.
You're about to attempt a steep new line. You run through your gear check on the tailgate -- full face helmet, spine protector, knee and elbow pads, check, check, and check. If you've ever gone through this routine, only to eat it and bash your hip into a dead tree stump, you'll wonder why you didn't already have a pair of POC Hip VPD Shorts.
The POC Hip Shorts are similar to normal cycling shorts in that they are made of a form fitting lycra material. They are quite different however, because they have protective pads that may just keep you walking after brutal wipeouts. Held firmly in place by the stretchy lycra are the two pads for your hip crest, a nice pad on the outside of each thigh to cover your greater trochanter (the knob on the outside of the top of your femur), and a VPD pad for your tailbone. The four hip pads are made of heat-molded expanded polypropylene foam that moves with your body so you'll never even notice them. The VPD tailbone pad is a little more high-tech. VPD stands for Visco-elastic Polymer Dough. It's a semi-solid techno wonder that conforms easily to your shape and is fairly pliable when you try to move it slowly, kind of like taffy. But under impact, it hardens, resists deformation, and dissipates impact energy to keep you from having to sit on a donut for a month.
The POC Hip VPD Shorts come in black and are available in X-Small/Small, Medium, and Large/X-Large.
Share your thoughts
What do you think of the
POC Hip VPD 2.0 Shorts
? Share a...