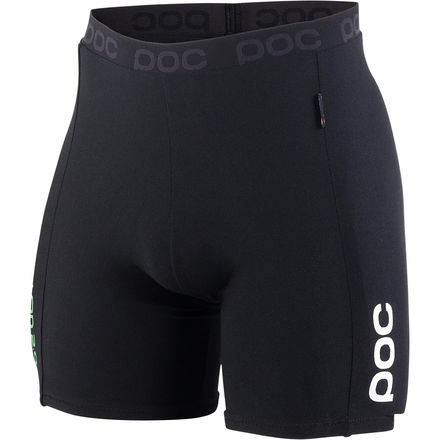 Colors
Delivering reliable tailbone and hip protection without compromising the ability to move, POC's Hip VPD 2.0 Short uses state-of-the-art technology. Its high-tech VPD 2.0 (Visco-Elastic Polymer Dough) is a pliable, lightweight material that offers industry-leading impact absorption.
When introduced to an impact, VPD immediately stiffens, but does not lose its ability to absorb energy. Just as importantly, VPD permits a sleek, slim design that fits easily under shorts to allow excellent freedom of movement. Also ensuring comfort is stretchy, ventilated mesh that ventilates and prevents overheating. For coccyx protection, POC provides a removable tailbone protector.
The Hip VPD 2.0 Shorts have a built in chamois for pedaling comfort, and POC makes them in three sizes; Small, Medium, and Large.
Share your thoughts
What do you think of the
POC
Hip VPD 2.0 Shorts
? Share a...
Posted on
Very good but could easily be better
Gender:

Male

Familiarity:

I've used it several times
For reference, I'm a semi-fast cross country mountain biker in Breckenridge, CO, and I ride in about 5 races per summer from 15 miles to 50 miles.

Every time I've fallen off my mountain bike onto my hips, I end up with a rash that's exactly where these pads are. And I mean exact. POC put some thought into where to put the hip pads; the size and location really are 100% perfect.

I removed the tailbone protection pad immediately; I have no idea what that's for. Some sport that I don't participate in, obviously. Fortunately it's designed to be removable, so removing it wasn't a big deal.

The VPD 2.0 material is amazing. At first they feel like a hard shell and I can't imagine pedaling for 2-3 hours with these shorts on, but then the pads soften up from body heat, and before I know it, they fit perfectly to my hips. I rode for about an hour with them this morning, and they feel great. You know the pads are there, but they're not bothersome.

The built-in chamois is really poor. That puts me in a dilemma: what do I wear with these shorts? Often I like to wear baggy mountain biking shorts, which usually don't have a chamois. So do I wear 3 layers of shorts - the POC VPD 2.0 shorts, plus spandex bike shorts with a good chamois, plus baggy mountain biking shorts? Or do I just live with the bad shamois and wear these under the baggy shorts? I guess time will tell what I like, but I wish they had just put a decent chamois in there. Doesn't seem like too much to ask for a $120 pair of shorts. I think when I'm alone I'll wear them with a good chamois bib short and call it good, but when riding with friends, spandex is a faux pas unless you're in a race. (Yes, I made the rules up.)

The fabric is good - they feel durable and breathable, though I'm concerned about what having to wear 3 layers of shorts will do to the breathability.

Bottom line: pricey and flawed, but I'm excited to ride and race with these shorts all summer.