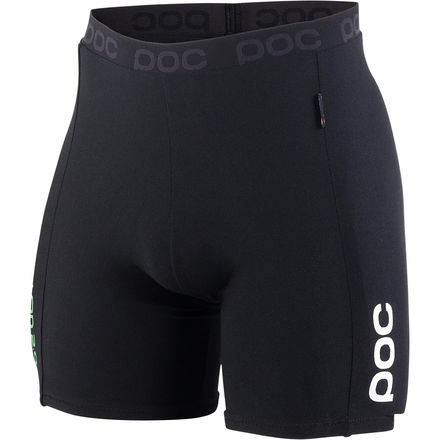 Colors
Delivering reliable tailbone and hip protection without compromising the ability to move, POC's Hip VPD 2.0 Short uses state-of-the-art technology. Its high-tech VPD 2.0 (Visco-Elastic Polymer Dough) is a pliable, lightweight material that offers industry-leading impact absorption.
When introduced to an impact, VPD immediately stiffens, but does not lose its ability to absorb energy. Just as importantly, VPD permits a sleek, slim design that fits easily under shorts to allow excellent freedom of movement. Also ensuring comfort is stretchy, ventilated mesh that ventilates and prevents overheating. For coccyx protection, POC provides a removable tailbone protector.
The Hip VPD 2.0 Shorts have a built in chamois for pedaling comfort, and POC makes them in three sizes; Small, Medium, and Large.
Share your thoughts
What do you think of the
POC
Hip VPD 2.0 Shorts
? Share a...
Posted on
Saved my ass...literally....
Familiarity:

I've put it through the wringer
This was my first POC VPD 2.0 product and I have only had good experiences with it so far. I originally bought this for skiing and it served me well. I had some nice falls onto ice and some hidden rocks, one fall was from about 10 feet up when my binding released on the hard landing, and my arse was unscathed despite a big impact on my tailbone. I remember bracing for the pain after I landed, with memories of my last "tailboner" fresh in my mind, where I was in so much pain I couldn't even move, let alone collect my skis and get to bottom of the hill. But the agony never came, and I skied away like nothing had happened. That incident alone was worth the price of admission.

These shorts were not tested much by falls from my bike, but I recently fell doing about 40 kmh on my "all terrain" in line skates on concrete and I think the only parts of my body that weren't injured were covered in VPD 2.0, specifically the long knee/shin guards and the shorts. I ended up with a torn biceps tendon, four broken ribs, a contused lung, road rash all up my right side that looked like hamburger meat, multiple bruises and lacerations, and bleeding in my abdomen, likely from a liver laceration. I'm already on the mend, but I have since ordered the VPD 2.0 jacket to complete my body armour.

Anyway, they fit well, don't impede flexibility or range of motion, they are light, and they do the job. Highly recommended.
Posted on
Very good but could easily be better
Gender:

Male

Familiarity:

I've used it several times
For reference, I'm a semi-fast cross country mountain biker in Breckenridge, CO, and I ride in about 5 races per summer from 15 miles to 50 miles.

Every time I've fallen off my mountain bike onto my hips, I end up with a rash that's exactly where these pads are. And I mean exact. POC put some thought into where to put the hip pads; the size and location really are 100% perfect.

I removed the tailbone protection pad immediately; I have no idea what that's for. Some sport that I don't participate in, obviously. Fortunately it's designed to be removable, so removing it wasn't a big deal.

The VPD 2.0 material is amazing. At first they feel like a hard shell and I can't imagine pedaling for 2-3 hours with these shorts on, but then the pads soften up from body heat, and before I know it, they fit perfectly to my hips. I rode for about an hour with them this morning, and they feel great. You know the pads are there, but they're not bothersome.

The built-in chamois is really poor. That puts me in a dilemma: what do I wear with these shorts? Often I like to wear baggy mountain biking shorts, which usually don't have a chamois. So do I wear 3 layers of shorts - the POC VPD 2.0 shorts, plus spandex bike shorts with a good chamois, plus baggy mountain biking shorts? Or do I just live with the bad shamois and wear these under the baggy shorts? I guess time will tell what I like, but I wish they had just put a decent chamois in there. Doesn't seem like too much to ask for a $120 pair of shorts. I think when I'm alone I'll wear them with a good chamois bib short and call it good, but when riding with friends, spandex is a faux pas unless you're in a race. (Yes, I made the rules up.)

The fabric is good - they feel durable and breathable, though I'm concerned about what having to wear 3 layers of shorts will do to the breathability.

Bottom line: pricey and flawed, but I'm excited to ride and race with these shorts all summer.