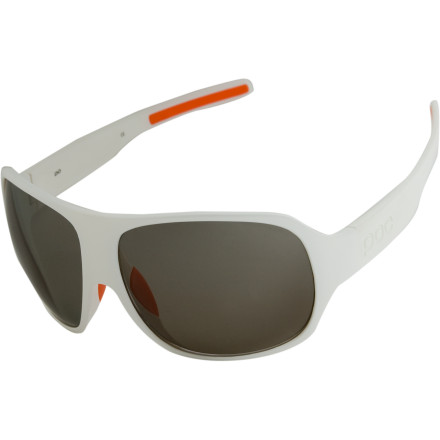 Detail Images
Take a ride to the wild side while wearing the massive POC Eye Do Sunglasses. When darkness falls, the photochromic lenses change tint to adapt—so choice. We're not sure what's on the 'wild side,' but you can have faith that the wrap-around shape of the frames will provide ample coverage and protection for your eyes. POC even added Hytrel rubber pads on the nose and temple, giving the Do Sunglasses a ninja-like grip on your face—which is a good thing.
Maybe it's just me, but I could almost swear that these glasses made my eyesight better! They are HUGE so if you have a small face or don't like that look, then these probably aren't for you. I got tons of compliments with them though and I don't normally wear large sunglasses. The lenses definitely change tint in different light although it is less noticeable than one would assume. It changes just the right amount.

The only problem with these glasses is that they are not very scratch resistant. They are built from this new superplastic called NXT, but they make the mistake of putting coatings on top of the base lens. The plastic itself may not be easy to scratch, but those filters and coatings are. Mine hit the pavement after a few months and got deep scratches right in the center of one of the lenses. Sure some of the coatings are nice, but I just want a scratch resistant lens.

Overall though I love the glasses! I just have to be more careful with my second pair. :)

4 stars because of the lack of scratch resistance.
Just got mine. Poc Sunglasses are hard to find right now in the USA except for Dogfunk and Backcountry when you search. Knowing the POC name and their reputation for good armor I had to get a pair regardless of the price. I wanted sunglasses I could trust would be almost bombproof if put through the paces, and worn often in any situation, be it for casual wear or sports.

Style wise I sort of like the Eye Did model better(and I might buy those later too), although when you don the Eye Do's you sort of feel like you are making a fashion statement with the big oversize lenses. I chose the Eye Do model for the grippier nose and ear pads. (I don't like always having to push up the bridge on glasses that slip on the nose.) Overall fit and feel is comfortable. The optics and definition are first rate. The photochromic level 3 lens is nice, although you will probably still have yourself an awesome pair of sunglasses with the level 1 lenses and save yourself a wad of money. My recommendation is get the level 1 lenses and buy two different pair for slightly more than the cost of one pair of photochromic, that is unless you really have to have, or need the polarized lenses.

I'd give it a 5 if these were price a little better, although if these stand up well to a lot of use I may rate it higher later. All in all pretty cool I think....