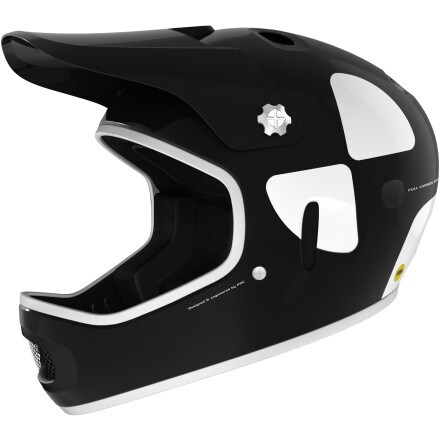 Videos
Description
Stay safe.
While speed can be intoxicating, it's never a good idea to lose your head. POC doesn't want you losing your head, so it designed its helmets to be exceptionally safe. The POC Cortex DH helmet is the crown jewel of its work.
POC uses the acronym VDSAP for its system (Ventilated Double Shell Anti Penetration). From the outside in, POC's double layer Cortex DH Helmet has a lightweight carbon fiber outer shell. Then there's the Aramid ballistic Penetration Barrier, or APB in POC speak. It's a layer of penetration-resistant Aramid (basically Kevlar, the same as found in bulletproof vests) between the outer shell and the liner shell. Further in, a thin polycarbonate shell covers the EPP liner material. As a result of this trifecta of protection, the outer shell can be thinner than usual, which makes it both lighter and better at absorbing blunt impact energy.
With the double-shell design, POC positions the vents so that the ones on the outside of the Cortex DH helmet draw air into channels that flow to the inside vents. This way, the vents next to the skull are not exposed to the outside. There are also ear vents that allow for decent hearing while keeping your ears protected. The chinguard is designed to keep your face and teeth ready for family photos, yet it's far enough away from your mouth and well ventilated so you can breathe easily, even when you have to ride up short climbs.
Perhaps the most interesting aspect of the Cortex DH Helmet is its use of MIPS (Multi-directional Impact Protection System) technology. Basically, safety engineers know that most bike crashes deliver your head to the ground, not straight down, but at an angle. These oblique impacts create problems as your helmet hits the ground, sticks, and your brain continues on its original trajectory to a degree. While we have a natural cushioning layer of cerebrospinal fluid that allows some shear between the brain and the skull, POC helmets with MIPS imitate our own fail-safe elements and add another engineered shear zone between the helmet liner and shell to further soften and absorb these rotational energies as they develop during our high-speed crashes. This adds up to the best possible protection for your brain.
The POC Cortex DH Helmet is available in sizes Small/medium, Medium/large, and Large/x-large. It comes in the colors Hydrogen White and Uranium Black.
Share your thoughts
What do you think of the
POC
Cortex DH MIPS Helmet
? Share a...
Posted on
MIPS Company Info