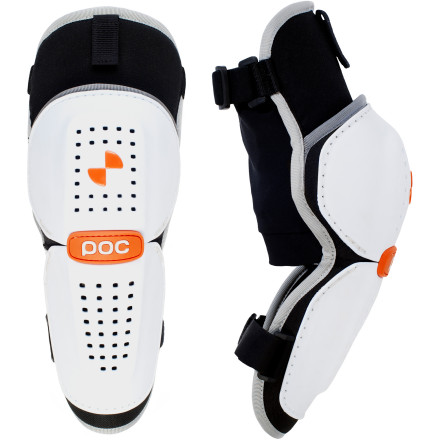 Colors
Description
Wrap your arms in amazing technology.
POC designed the Bone VPD Arm Guard to protect your forearm and elbow from your upper arm to your glove. The combination of VPD material and polypropylene shells makes a sturdy, lightweight, comfortable guard.

Generally speaking, there are two types of body armor: soft, flexible armor that's designed to be comfortable and hard-shell armor that's designed to absorb huge impacts. As logic would dictate, the soft stuff doesn't protect as well and the hard stuff isn't as comfortable. Well, now there's a third kind of armor–POC VPD. As far as we can tell, it's magic. VPD is a soft, flexible foam material that conforms to the contours of your body. However, in the event of an impact, it hardens instantly to provide the protection of a hard shell. It truly is the best of both worlds. Not only that, but VPD is a true multi-impact armor, so the protection level during your 20th crash is the same as it was during your 1st. This is especially important because a fall can often involve several impacts. You don't want your protection level to drop off over the course of a fall, because that last hit might be the hardest.

VPD is lightweight, soft, and flexible, so it's some of the most comfortable armor that we've tried. Another reason that VPD is so comfortable is efficient airflow. POC riddles its VPD material with vents so air flows freely in and out to keep your skin dry and cool, so you don't roast in the heat of the summer and get that nasty, clammy feeling under your pads. The main body of the arm guard is abrasion-resistant Kevlar-reinforced stretch fabric. POC also uses a static Crash Retention Strap to keep the guard from slipping out of place.

The POC Bone VPD Arm Guard comes in Black and is available in Small, Medium, and Large.
Share your thoughts
What do you think of the
POC
Bone VPD Arm Guard
? Share a...
Elbows give them 2 thumbs up
Familiarity:

I've put it through the wringer
I bought these after falling off a few too many logs and catapulting over an equal number of berms. Having experienced no marked increase in grace or athletic ability since then, I can safely attribute the intact skin on my elbows to these Star Wars-themed POC Arm Guards. Just the other day, my unfortunately low ratio of skills to courage caused me to come tumbling off a decently high log. Although my neck probably shouldn't rotate 180 degrees, I'm pumped to say that my elbow skin came out unscathed. Comfort-wise, I forget I'm wearing the armor about 10 minutes after putting it on. I've worn these in hot and nippier weather, on bare skin and over long sleeves; I have never over heated or developed any skin irritation as a result of these arm guards. I ordered a size small (5'6", 125lb female) and have plenty of room to adjust the guards smaller or larger. Overall, great quality, great comfort. Probably wouldn't look at another set if I were in the market again.
Best storm trooper elbow pad
Familiarity:

I've put it through the wringer
Gone through at least a dozen elbow pads. Some slide down your arm when riding. Others slide down when falling. Both are suboptimal. These pads are great, never slide, fallen countless times and provide a ton of protection. Only downside is look like a storm trooper.
Weird fit.
Familiarity:

I returned this product before using it
First of all, I love POC stuff, but I also admit the fit can be tricky. I ordered a large consider myself at 5'10" and 195 to have Med-Large arms. These were snug..real snug, and I felt like I was a robot when I put them on. I could bend my arms, but the pads felt stiff. I know, I know...they are armor. But I own a lot of armor..and I just felt like these were not made well. The quality is high, but the band is too tight and the strap for the forearm is not comfortable on bare skin. Also, I don't like that I ordered "Uranium Black" and the pads are snow white...
like a tank
Familiarity:

I've used it once or twice and have initial impressions
If you need something to make you feel invincible then these elbow pads are what you're looking for. They're tough and hard- basically tank armor. Despite the size it surprised me that it fit better than my friends Troy Lees 5550 Elbow-Forearm Guard .It's a great product for protection , but if you're just doing single track and light downhill this might be overkill. That's my reason for returning it, as I could better put that money towards a new helmet. In conclusion ,If you plan to do some reckless stuff you should get this.
You bet. Price is per pair.