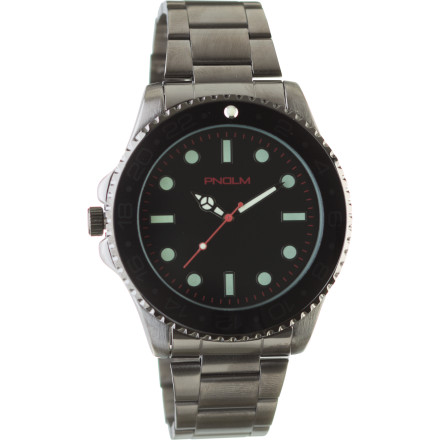 There are two kinds of people in this world: people who wear watches and children. The PNDLM DLMA Watch goes hard with grown-up style that clearly demonstrates your exit from the playground and your entrance into the big time.
Quarts movement keeps you right on time
Tough stainless steel construction is durable and gives you a classic look
What do you think about this product?
Have questions about this product?
PNDLM DLMA watch: red bezel
This watch was terrible. I knew as soon as I saw the outer packaging that it was a mistake. The watch is quite large, which doesn't bother me, but it was scratched before I even took it out of the package. The bracelet was too large, and you probably could remove links with great effort, but at this point, I didn't even care. Overall, felt like a $10. Canal street watch.
I've always had good luck with watches from BC and S&C up until I purchased this little gem. The guys at BC usually have the descriptions down to a T so Im not sure how this one got messed up.

The entire watch is made of plastic, not metal. The pictures make it look good and tough but the actual watch is flimsy and very weak. The face of the watch was even upside down in regards to the 12 oclock bezel. Walmart could have done better with a watch made by Huffy.

I didn't get the option to give it zero stars so it gets one by default.

Hope I have better luck next time.
Unanswered Question
Waterproof?