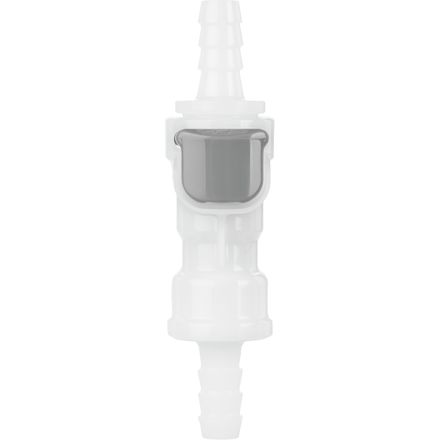 Description
This kit proves, once and for all, the intelligence of the Platypus.
Behold! The Platypus Quick-Disconnect Kit lets you refill your hydration reservoir without ever playing "thread-the-drinking-tube-through-the-pack" again. With this joint spliced into your Platypus (or other 1 / 4-inch) tube, you can unclip it, pull out your reservoir, and fill it up without dripping all over the place. Then you can put it back without having to jam the tube through all your gear, out the tiny port, and down your pack strap, soaking all your dry clothing in the process.
Unanswered Question
Is this interchangeable with the Osprey quick connect pieces? (Can I plug thre female end of a platypus connector into the male end of an osprey one / vice versa)
Unanswered Question
Any reason why I should buy this quick disconnect for a Platypus Hoser instead of the CamelBak Quick Link, which literally costs half as much? $20 for a Q/D seems... unreasonable.
Is this the same assembly found at the...
Is this the same assembly found at the base of the Platypus's gravity works dirty water reservoir?
Best Answer
Yeah, with the exception of the female end on the reservoir being built-in. But all the quick-disconnect fittings for the Platys and MSR stuff are compatible.
Will these work with the msr dromedary...
Will these work with the msr dromedary hydration kit?
Yep, same diameter, coupling type, etc.
I was in the shop checking one of these...
I was in the shop checking one of these out and it looks like it is not the correct diameter to fit the hydration tubes from Osprey Packs. Does anyone know of one of these that will fit the wider tubes, or suggest a reliable modification to get this one to work?
i dont think it will fit, couldnt tell you for sure without buying it myself...a lot of manufacturers make specific diameters for their products making it nearly impossible to use them with another brand's similar product. but i modified my tube length from my Osprey 3L hydration bladder with scissors, plumbing tape (i am pretty sure it's nylon-) and plain old black electrical tape. hasnt leaked in a couple months so far. as long as the diameter on this is smaller than the Osprey one you can make it work.
I used mine to make a gravity setup with a sawyer filter. The fittings also work with my Katadyn filter for leak free switching of hoses. These are great for the hoser bladder which doesn't come with the QD fittings like the big zip. Wish these were about 50% cheaper though! =)
this is the ticket! Hate re-threading the tube everytime you want to fill or empty the bladder? Buy this and your troubles are over. make sure you have the right sized tube diameter though. This is an in-line connector. I use it for a camel-back bladder tube. Does not fit Nalgene tubes.
If you filter, it may be worth it
I bought two of these to use with two CamelBak 3L bladders for a week in Yellowstone NP. Absolutely no problems with either valve. I put a female end on both drinking hoses, one male end on a short section of hose with a bite valve, and the other male end on a section of hose I attached to my MSR HyperFlow filter. Pumping straight from the filter into the bladder was very easy, and being able to change bladders quickly on the trail was nice. I also found that I could plug the male/filter hose into a bladder for a strong stream of water, without messing with a bite valve.

After fighting to pump water into a CamelBak bladder's main opening, using the Platypus Quick-Disconnect Kit was well worth the money to me.
Yeah... so I'm not really buying the...
Yeah... so I'm not really buying the previous answer regarding the number of male ends this thing comes with because the answer was completely different from the picture. Does this come with 1 female end for the hydration side and 1 male end for the drink tube side as the picture indicates or does it come with an extra male end you can put on your filter to back feed like with the camelback that is currently out of stock?
I just received mine and you get exactly what you see in the product picture: 1 male & 1 female end. To make use of this product, you'll need to buy at least two kits. That's too bad, because the CamelBak Hydrolink Filter Adapter Kit actually has three pieces and costs a little less. The Platypus solution looks more elegant and durable, so you make the call.
does this come with one or two male...
does this come with one or two male ends?
Actually, three male ends in total. Two male ends that fit into each end of your tube (or tube and bag) and then the male/female coupling for the quick-disconnect.
Quick-Disconnect - AWESOME
This is fabulous. I bought 2 sets. I use one set for my Camelbak 100 oz and the second set for my Platypus 100 oz. I have the quick-disconnect on my hydration bladder's hose just about 4" up from my mouthpiece. So, all I do is drop the input hose of my Katadyn Hiker PRO water filter into the creek (or water source) and I put the output hose of the water filter straight into my bladder and fill-er up!

I hike with anywhere from 5-20 people and I am the only one who doesn't have to take off my backpack and completely empty it to fill my hydration bladder. I just disconnect my mouthpiece and hook straight into the hose and it is awesome! I could literally fill up and be back on the trail in about 4-5 minutes (including getting the water filter out and putting it back up). But, because everyone else has to set their packs down & empty them, it takes about 20 minutes.

I love it!
I have an older Platypus, so I had to cut some of the hose to attach the quick-disconnect couple to the bag. So far it works great and is so much easier to get the bag in and out of my backpack.
Will this quick-disconnect couple to the...
Will this quick-disconnect couple to the quick-disconnect that comes with the Katadyn hiker pro?
It should connect to the Hiker without a problem. What I have done with mine is put the male end of the connection into output the hose of your Katadyn and you are all set.
They definitely fit! My Katadyn fittings plug right into my Platypus big zip with no leaks. The big zip has the same fittings as these.
Happy T's