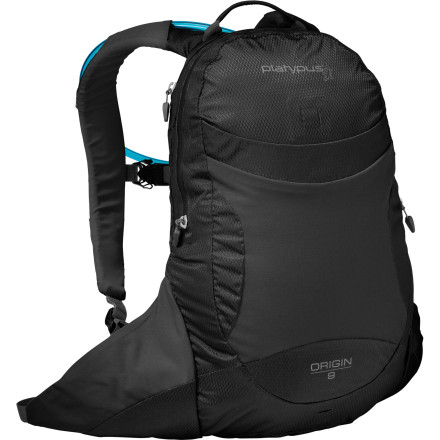 Videos
You have a day-long adventure planned, but aren't sure of the weather; pack both your warm and your waterproof layers into the Origin 9.0 Hydration Pack just to be sure. You'll also be sure to have enough liquids to keep you going, thanks to the large 3-liter BigZip SL reservoir.
BigZip SL reservior features leak-free SlideLock closure that opens wide for easy cleaning
BPA-free reservoir is treated with SlimeGuard antimicrobial treatment to keep it taste-free
Reservoir hangs from toggles to keep the compartment tidy and optimize space
Quick-disconnect hose lets you easily fill, clean, and swap packs
Waterproof fabric, weather-resistant zippers and heat-taped critical seams keep pack contents dry on a rainy or snowy day
Options for left, right, bottom, or top hose routing let you optimize your setup
BioCurve back panel and ergonomic shoulder straps maximize your carrying comfort
Strap attachment points can be adjusted for long or short torsos
One Season
Familiarity:

I've used it several times
This pack has been useful on several occasions. During the winter boarding trips, I filled the pack up 70% and drank all the water. I also landed on the pack a few times but never had it burst. On the day hikes, the pack felt great and carried all my little survival tools. Thumbs up on the design of the bag as well. Overall a great hydration pack.
7/10
Familiarity:

I've used it several times
Not bad, but not perfect.

I like the "waterproof" material and zippers. aside from being submerged in water, i think it's true.

i wish the main pocket opened up more- hard to see the pile of stuff at the bottom; have to go by feel.

the little mesh pocket inside is great, right at the top and visible.

it's pretty comfy and stable- better than my 4 year old camelbak mule.

I wish the side pockets came around my hips more so they could not only take more of the pack weight, but also be easier to access. And I have a 31" waist so if you're heftier they'll be further behind you.

Finally, I wish the side pockets had zippers or buttons or something. I've put my phone in during an enduro mtb ride without issues, but it's not very reassuring.

and i think i like platypus bladders more than cbaks. easier to fill and clean with the top mouth opening.
Platypus Origin 9.0 Hydration Pack
Go to bag for short hikes!
This bag is great for short or day hikes. I have taken it on many adventures and it has held up. I has a built in whistle and also open pockets along the hip strap which are great for easy storage (trail mix, etc...) I always keep a first aid kit and a rain jacket in it, and i can also store various other items along the hike. There is also a nice mesh pocket on the upper interior that is great for cameras or a first aid kit. The only complaint I have is that they waist straps are not very technical and do not prevent sliding around, but then again this is not for long hikes.
Looking to upgrade from my camelback......
Looking to upgrade from my camelback... generally a good overall pack, but when the res is filled 70% or greater it rounds out and does not sit properly on my back. Add some food and light layers and the pack torches my lower back on any ride over 3 hrs.

I like the way this Platypus looks in terms of overall ergo support and weight distribution. I can't seem to find one locally so I can check it out in person, but wanted to see if any other folks out there can chime in on this pack.

Does it hold a full bladder comfortably? What about overall stability? Some packs tend to "jump up" when riding fast, technical downhill...anyone put this Platypus to the test to see if it sits snug and quiet? How about extra storage (layers, food, tools et)? The Origin 22 looks too big for biking (IMO), but it's hard to tell if the 9.0 can do it all... in comfort?

Thanks!
i cannot speak to this pack specifically, but the osprey hydration system has a semi-rigid frame sheet. presents slumping. good stuff. and they make a couple lines of packs that come with the hydration system.
Platypus Origin Pack Philosophy
I've had the opportunity to use the Platypus Pack for several mountain bike trips and have been very pleased. One of the best features is that the main compartment is waterproof. I've been on a couple of rides where I got into a small microburst and all of the contents in my pack (including my iPhone) was perfectly dry. I also really like that when I fill my reservoir I don't worry about it being wet and getting everything else in my pack wet. This is due to the fully waterproofed-taped main pocket. I also love that it doesn't become a round tube when I fill the reservoir full (often happened with Camelbak). It sits fully flat on my back and is super comfortable. I haven't experienced any wear issues up to this point. It has been a solid pack and looks great as well.

I also really love that I don't taste any plastic when drinking from the reservoir. This has been a major complaint from all of my Brand X toting friends, even those with their latest reservoir. It is the only one that I've found that doesn't have that plastic taste.

All in all a very nice, well-thoughtout pack. I highly recommend it...