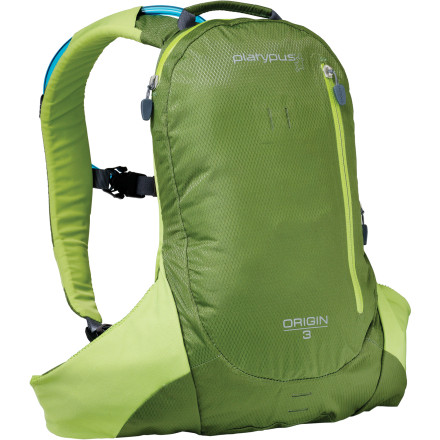 Whether you're going up the trails, down the trails, or both, keep performance-sapping dehydration at bay with the Platypus Origin 3.0 Hydration Pack. This sleek, low-profile pack totes a 2-liter BigZip SL reservoir as well as an extra layer and snacks to keep you going.
BigZip SL reservior features leak-free SlideLock closure that opens wide for easy cleaning
BPA-free reservoir treated with SlimeGuard antimicrobial treatment to keep it taste-free
Reservoir hangs by toggles from top of pack, so it's not slopping around the main compartment
Quick-disconnect hose lets you easily fill, clean, and swap packs
Options for left, right, bottom, or top hose routing let you optimize your setup
Waterproof fabric, weather-resistant zippers, and heat-taped critical seams keep pack contents dry on a rainy trail run
BioCurve back panel and ergonomic shoulder straps maximize your carrying comfort
Strap attachment points can be adjusted for long or short torsos
What do you think about this product?
Have questions about this product?
Platypus Origin Pack Philosophy
I've had the opportunity to use the Platypus Pack for several mountain bike trips and have been very pleased. One of the best features is that the main compartment is waterproof. I've been on a couple of rides where I got into a small microburst and all of the contents in my pack (including my iPhone) was perfectly dry. I also really like that when I fill my reservoir I don't worry about it being wet and getting everything else in my pack wet. This is due to the fully waterproofed-taped main pocket. I also love that it doesn't become a round tube when I fill the reservoir full (often happened with Camelbak). It sits fully flat on my back and is super comfortable. I haven't experienced any wear issues up to this point. It has been a solid pack and looks great as well.

I also really love that I don't taste any plastic when drinking from the reservoir. This has been a major complaint from all of my Brand X toting friends, even those with their latest reservoir. It is the only one that I've found that doesn't have that plastic taste.

All in all a very nice, well-thoughtout pack. I highly recommend it...