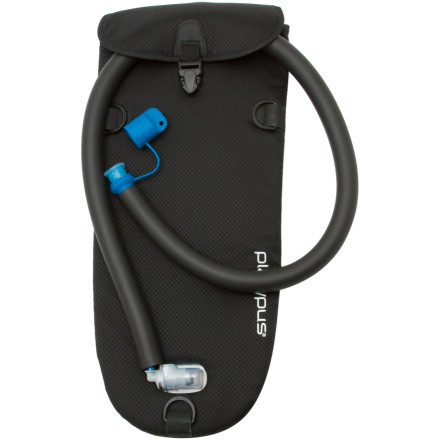 Detail Images

Community Images
Whether you're sipping near-scalding water during a desert hike or reaching for your bottle on a ski trip only to find a solid ice block, you need the Platypus Insulator. This insulated hydration pouch features a Platypus Big Zip SL reservoir with a padded insulator sleeve that keeps water from freezing or getting hot. An insulated tube and bite valve cover keeps your tube from freezing over, and attached D-rings make it easy to attach the insulator to your pack or kayak deck. And with Platypus' SlimeGuard antimicrobial treatment, your water stays fresh and tasty no matter how long it's in there.
Just in case anyone is wondering. This bag is 8.5 inches wide and 11 inches tall.
Great for winter hydration
Familiarity:

I've put it through the wringer
I love having this in my pack at the resort or when touring.

Doesn't freeze as long as you blow the water back when it's really cold out. Holds the perfect amount of water for a long day on the slopes.
I've tried a few reservoirs in the past - Osprey (punctured, didn't like the mouthpiece set up at all), CamelBak (I liked it, still have one for summer). For ski touring though, this insulated Platypus has been completely awesome. I've had it in around 0 degrees F and it worked like a charm. The mouthpiece freezes a little, but all you have to do is put it in your mouth for a minute and chew the mouthpiece and the water starts to flow. The tube is a little bulky to get through the little hole in my Black Diamond Covert pack to access the insulation strap from the reservoir storage slot, but I don't really ever remove it so I don't really care. Overall I have really liked it. I've seen a few negative comments about the cap, but I actually really like that too, and it works great on mine.
The system works well and keeps things warm (or cold), but of course there's a time limit to that depending on conditions outside. Really like that the bladder is easy to clean and the mouth piece gives a good flow. At -10/5 degs C the mouth piece has a tendency to freeze up a little but you can chew the piece and break down the ice so not a huge issue.



What I do absolutely hate is the cap. It has never stayed on the mouthpiece for more than about 10 mins. Pops off regularly, which is a real pain as it leads to freezing in the winter and dirt in the summer. I've tried all sorts of ways to customise the cap to stay on to no avail. If any owners of this pack know of a good way to keep the cap on would love to know!



One last thing is that the insulating tube is good but in my mind completely excessive in terms of diameter. It's super thick and barely goes through the hydration tube holder on my pack. Hydrapaks insulated tube is less the half the diameter of the platypus and still does the job well so I may just use that hose instead on my next trip.
Insulator system
Familiarity:

I've put it through the wringer
Its awesome! Im in the Army and statioed in Alaska. Ive taken this through hell and an its held up. Ive jumped out of a plane with it and used it in temps of -20 or so. The water didnt freeze up in the bladder or in the hose
Well It is very nicely made and sturdy, and great insulator. But I have pushed it to its limit as far as cold, and it was around 10 degree's. Froze part of the line and the mouth peace. I heard that you can blow the water back in the bladder after use to keep this from happening. It worked down to around 18 degree's with minor freezing though so I am still happy.
it looks like it does not have straps,if...
it looks like it does not have straps,if I am snowboardin or biking w/o a backpack how doI carry it?
you need a backpack. it is just a bladder with an insulation sleeve.
Your question is a little old, but you may find this useful if you don't want to carry a full backpack: http://store.pantacusa.com/packs/hydration/compact-hydration-carrier.html
Is this attachable to osprey packs (spec...
Is this attachable to osprey packs (spec aether)?
Sure, should fit just fine.
Great product
Gender:

Female

Familiarity:

I've put it through the wringer
Took this insulator on a recent trip up Kilimanjaro. Was advised that water bladders would freeze but it's my preferred method of drinking when hiking so I searched high and low for an insulator. This worked a charm. Filling was easy and the only slight freezing I had was summit day and even then it was only the mouthpiece which warmed up within 10 mins. Would totally recommend.
new favorite hydration bladder
Familiarity:

I've used it several times
My first test of this was out at the Wave on the border between Utah and Arizona in 90 degree temps. I didn't have to put any ice in the bag, and it stayed cold all day.

Second trip was through Behunin Canyon in Zion in 90+ temps, again it kept my water cold all day. No leakage while trying to squeeze through narrow slots or the like. And with 3L, I don't have to try and squeeze multiple bladders in my pack to stay hydrated.
Stays cool in 95 degree weather!
I am absolutely thrilled with this bladder and insulating sleeve. I just finished a 3 hour hike in 95-100 degree weather and the water stayed nice and cool the whole time. I agree that the hose insulation is too wide and removed it, but it will be handy when used on a ski trip to prevent freezing. I also like the zip top since it is easy to fill, clean and dry. Definitely recommended.
Great product, but could be better
I like the easy fill option and the handle when it's zipped close and shut. I also like the clip-in hose connector, even though I keep thinking that it could be a weak point for leaks. However, it hasn't leaked yet and seems to be very solid. The bladder sleeve is a nice add-on. You don't have to use it if you won't want to, but it gives you a lot of fastening options. Also, it gave me a little more peace of mind in terms of "ruggedness" as it seems to protect the bladder quite nicely. With the additional loops on the sleeve, you could stick it to the outside of your pack with some small carabiners, so you can easily refill it without taking it out of your pack.



One thing I didn't care for is the hose. The foam tube is way too large in diameter and the mouth piece cap keeps coming off. I have a Camelbak Lobo with the neoprene lined hose which is MUCH nicer. For my most recent trip to Alaska, I cut off the hose from the Camelbak and stuck it onto the Platypus Big Zip SL (3L). It fits great and worked out perfectly for me.



I think you can get the Camelbak neoprene hose as an accessory. I'd recommend this as an upgrade option, although it makes the entire hydration "system" quite expensive.
I bought 1.8-liter pack a couple months ago and last week finally got a chance to test it on several day-hikes in the mountains. The insulation system is useful in summer too, lets the water stay cool. Easy to drink, easy to fill it in. The only two minor drawbacks I found are: during warm days the first 2-3 gulps tasted a bit or rubber, which I hopefully assing to that the bladder is new; it is not convenient to dry the bladder after use - you have to insert something into the neck to keep it open. But both are just small inconveniences, an excellent bladder
I have used this Platypus Hydration Bladder for over 3 years, I have it hanging in my office on the wall next to my desk and I am very happy with it for the following reason. Its like having a water fountain at my desk - I stopped buying bottled water and the money I saved I bought another one for my home office - All the components of this system is superior in design over the competition - After reading the comment made about the blue slider cutting into the bag I inspected my bags and found no damage but as a preventative measure I did file down the sharp corners on the front of the slider guide because they were sharp.
The red marked is to so you the plastic loop for hanged from the packbags...I use the "Source" hydration...and did not like it
The red marked is to so you the plastic loop for hanged from the packbags...I use the "Source" hydration...and did not like it...it leak
It's First Field Excursion....
Outstanding! Like the idea of being able to remove the tube before placing the reservoir in the refrigerator. The insulator pouch was well thought out, being able to carry it by the handle/hang inside pack or the "D" ring attachments and also being able to see inside the reservoir. This will be my new Platypus Insulator hydration system's first field excursion....
I would wear this in a ski backpack that...
I would wear this in a ski backpack that gets squished between my back and a chairlift. Would the pressure cause this to leak? It did with my Camelbak.
Given enough pressure you will have a potential leak with nearly every system. Not crushing it and being sure that everything is properly sealed as well as not overfilling tend to alleviate the problems with most models.
Looking for a hydration bladder for...
Looking for a hydration bladder for Rando-racing, Hiking, and mountaineering. Can I easily switch This bladder between packs?
This bladder will slip into any pack that's big enough to house it and has a hydration port. Use it for everything!
This is so much easier to use than the Cam . . . Er . . competitor's reservoir. This is very easy to fill all the way to the top and the opening is plenty big enough to add ice also.

The drinking tube has very good protection from the elements and is also much easier to drink from than the competitor's.
The classic problem, you bring water to your trip and then you take a sip and the water's frozen. I've used this product for more than a year and I can't remember having the hose frozen shut. The cap helps provide insulation to the mouthpiece and also cover it to prevent contamination (hanging hose anyone?).

Aside from the great insulation I also like the antimicrobial properties of the plastic. After my last trip of the season I forgot to take out the water (I know). A couple of months later when I noticed I just cleaned the reservoir and hose and the water tasted great. I liked the product so much I ended buying one for a friend after seeing him trying to suck water through a frozen hose.