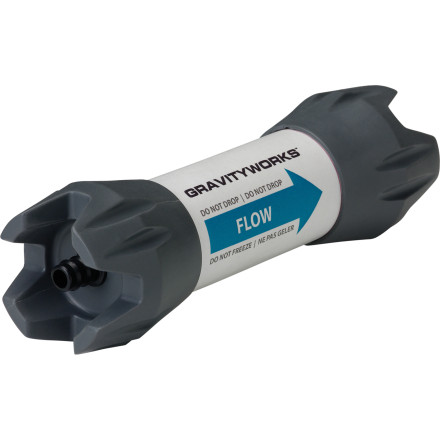 Community Images
Description
Keep your water free of microscopic hitchhikers that make you sick.
The Platypus GravityWorks Filter Cartridge filters down to 0.2 microns and meets EPA Guide Standards for the removal of bacteria and protozoans. Pop one in the gravity line of your GravityWorks or CleanStream filter and enjoy fresh water. Measuring just about six inches in length and a few inches wide one of these spare filters takes up minimal room in your backpacking kit. It can't hurt to keep a spare around for particularly dirty water, or large groups that require a constant supply of high quality H20.
Love the Gravity Works Filters!
Familiarity:

I've put it through the wringer
This is by far the best way to filter water for large groups or even just for yourself. It is just so easy! forget all the pumping just scoop up the dirty lake or river water in to a platypus bag that you labeled dirty water and hook the filter up and another bag. Hang the dirty water bag higher than the clean water bag and forget about it, Go catch a fish or set up camp. Come back to it and you'll have clean water. This is the fastest gravity feed system i have seen and can easily go faster than pumping it. I do not go backpacking with out this filter! lasts a very long time and when the flow starts to slow just back flush the filter and then you have many more uses out of it. Defiantly pick this up if you do any sort of backpacking or camping where you need to filter lots of water or just a water bottle
GravityWorks Cartridge Flows Like This
If you're looking at this cartridge you probably already know about its features and benefits. If not, see my review of the excellent Platypus GravityWorks 4.0L Filter System. I think the GravityWorks systems flow like a stream!



Video (test/first video upload) shows Arkansas' Buffalo River Trail after a spring rain.
Platypus GravityWorks Filter