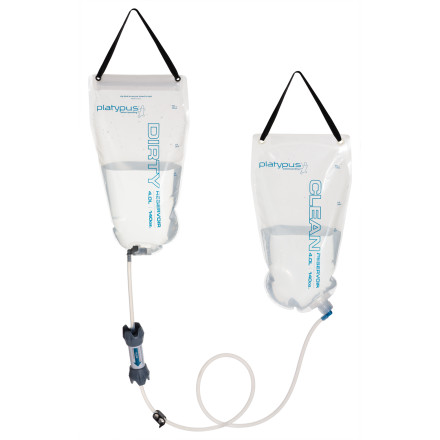 Community Images
When you come around a bend in the trail and find someone crouched in the mud, grunting and pumping furiously, your initial thought is usually a little disturbing. The Platypus GravityWorks Water Filter System cleans four liters of water in 2.5 minutes with no pumping and very little grunting required. Just fill the dirty water reservoir and hang it above the clean water reservoir. Gravity will take care of the rest.
Filter removes particles, protozoa, and bacteria down to 0.2 microns in size
Dirty reservoir's quick-disconnect valve automatically shuts off the water flow when the hose is disconnected
Shutoff clamp on the clean water hose allows you to control water flow for filling bottles and shut filter off when not in use
Reservoirs feature SlimeGuard antimicrobial treatment to eliminate blecky tastes
Compatible with Platypus Bottles, Water Tanks, and Big Zip SL reservoirs, not included
Clean by holding the clean reservoir above the dirty reservoir to backflush the filter
Share your thoughts
What do you think of the
Platypus
GravityWorks Filter System
? Share a...
Unanswered Question
Will this be restocked soon?
How to use the Platypus in 30 sec
A really good review from a Youtuber
A pretty good review from OGL
A simple video that compares products
Simple systems work the best
Familiarity:

I've used it once or twice and have initial impressions
To me the most efficient and reliable filtering solution on the market. The gravity makes it extremely reliable, every time you use it basically.
The large reservoir allows to treat a larger amount of water (something to consider if you are backpacking in an area where water supplies are limited).
The plastic reservoirs have 2 advantages which people don't think of while shopping in the stores:
- It makes it easily accessibly to small streams (where a pump would have a harder time).
- It is extremely packable and will take less space in your pack.
It purifies all kind of bacterias and will do the job in most US water streams. It wont treat virus but this is not so much of a concern (tablets are great at treating viruses). If you really concern about having the most perfect water, I would add a tablet after filtering it with the Platypus.

Stop pumping!
Familiarity:

I've used it several times
I have used pump filters for years. And I picked this up and I will never go back to pump filters. Gravity fed filtration is the the best innovation in filters I believe! Go buy one ifyou do a lot of filtering!
It's been reviewed and there isn't much to add other than another positive recommendation. I researched and compared many filters; but, after seeing one in action, this is the filter system I chose. Comparing to other methods and designs I have seen when in the backcountry, I am happy I chose this.

Super easy, light and fast. fill the clean and the dirty and take a ton of water back to camp. I bought a few extra pieces to connect directly to my Big Zip SL and I can fill my bladder without removing from my pack.

Buy this filter!
Works well, handling sucks
Familiarity:

I've used it several times
In practice, this filter is awesome. It has a lot of nice features that really make it stand out: a good filter, a CLEAN bag that allows you to store water, and Platypus quality. The clean bag is so nice, especially if you have to hike to get water. On a recent trip in Zion, we had a 20 minute hike from our campsite down into a canyon for water, and it was nice to be able to store 8 liters in the system in addition to the bottles we filled up (4 in the DIRTY, 4 in the CLEAN). Then, as you need it, you can filter from the dirty or just use the clean. Nice feature. The filter works well, it floats, which is nice, and I haven't had it clog on me yet. Backflush-ability is a nice feature that others don't have, namely the similar Katadyn filter.
The downfall of this filter though is how tough it is to dry out after use! I left it open, upside down, at my sink for weeks, and it still refuses to dry. You have to get a flow dryer or something to dry it out, and even then, you're left with a gross mildew smell. It's not easy to clean. Hovering between 3 and 4 stars for me, I'll round up, because I will most likely keep it and use it, but I hate cleaning the thing and trying to get it to dry.
Look no further, this is the water filter you want. No pumping, it works fast (while you're setting up camp) and it's lighter than other pump filters. Use this filter if you want to go fast and light and cover ground or if you're just car camping.
Working great in the Adirondacks
This filter is exceptionally easy to use. Cleans 4 liters of water while I can be off doing other things. The only issue I had was in keeping the "clean" components free from contaminants. The clean hose and clean opening on the filter seemed exposed to opportunity for contamination. Otherwise, it is a great product that is well designed and ridiculously convenient.
Anyone know if this works with salt water?...
Anyone know if this works with salt water? If not this, anything similar that does?
I'm not sure I'm following exactly what you're looking to do here.

If it's desalinization you're looking for, this absolutely won't work (sea salt micron size (0.035 microns) is well below 0.20 microns). The simplest and most cost-effective way to do that is distillation (boiling or evaporation...think still). The other way is reverse-osmosis, but I've never seen anything designed for it that would even be comparable to something like the Platy or any other personal filtration system. Those are generally big and expensive municipal or commercial operations.

I hope I answered your question, but this is not the right tool for the job.
Thanks Phil. Yeah I was talking about desalinization. I'm going to be doing some very long distance sailing trips soon, and was looking for an emergency backup water solution, this looked promising and better than most.
Cool, not a problem. Something to think about. Knowing what you were looking for got me searching for what's available that might fit your needs. There's always the old plastic sheeting and cup method for making an emergency still, and that may indeed be the best and most compact way to go, but I found a video of a larger variation on that that might give you some ideas for rigging something up. All the real high tech stuff was huge, and at that point, you might as well just throw another 25 or 30 gallon jugs on board.

http://www.youtube.com/watch?v=c9fepEyGRx8

Bon voyage.