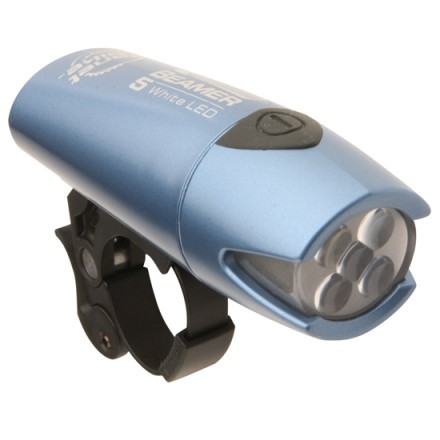 great light, keep batteries charged
this light fades as the batteries die and the temperature drops. in my experience this is accelerated in cold weather. flash would get slower and slower the longer i rode. other than that, beamer 5 is one of the brightest AA powered lights out there. i use this light to "be seen" not to "see."
I've been riding this light both in the city and out on less lit roads for 2 years now and it has exceeded my expectations and the performance of the various other headlights that my friends ride. This light goes beyond simply providing notice to cars headed your way of your existence. On roads with no light at all I feel confident in the amount of road it illuminates to ride up to say 20mph. I wouldn't necessarily rely on it if the road you're riding is completely untrustworthy, but it works well for clean roads to roads with possibilities of random objects.

The 5 LED design is strong enough to cast light on the ground out 20-30 feet but isn't too spotlight-y so as to have a narrow beam. I'm using rechargeable AA's now in rotation but the light strength holds out very well on standard AA's as well. I'll add the mounting bracket has worked fine for me on multiple diameter bar tubes.

If you just want cars to see you buy some cheapo blinky light, if you want to see where your going but not have to drop $50+ then buy this light.
This light is definitely bright and does its job very well. Has too modes, on and blinking. When I ride during the day, I put it in my pack because it's really noisy. The batteries in it rattle around and it's super annoying. The mounting bracket doesn't really work like its supposed to either. It has a lever that you screw on and then clamp shut to tighten. It doesn't stay clamped. It doesn't really matter though because you can just tighten it all the way down and not clamp it.