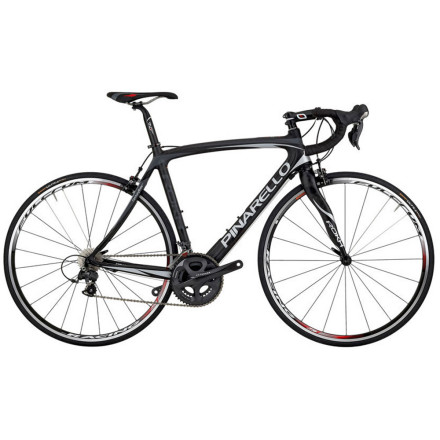 Detail Images
In exciting fashion, the Pinarello ROKH Shimano Ultegra Complete Bike lacks drama. That's no contradiction. It's a pro ride, a light bike with lots of flash for the eye; but it's a solid, dependable, no-surprises performer. It's built with a similarly dependable, surprise-free component group.
The ROKH, pronounced "rock," is based on the KOBH ("cob," short for cobblestone), the ProTour frame for the cobbled classics that Pinarello designed with a little prodding from Team Sky. The difference being that the KOBH was built around the body sizes and flexibility of ProTour riders, whereas the ROKH was built around fit riders. And the ROKH is designed to be complimentary to the Quattro, as it shares the 30HM12K carbon cloth that is also used in the Quattro. Stiff? Yes, particularly in the lateral plane for excellent power transfer, but forgiving of the road surface so the miles don't wear so much. As with the KOBH, you have the asymmetric design of the Dogma, with geometry designed for stability and long-distance comfort.
The comfort package for the ROKH includes: clearance for 28mm tires, curvilinear seat stays for more vertical compliance, slightly relaxed head and seat angles, a longer fork rake, and a taller head tube so it's easy to have your bars higher. As you should know, comfort has a certain relationship with speed. When you're comfortable, you're generally in a frame of mind to ride hard. And when you're going hard, you'll be happy that the fork rides on a tapered fork with a 1-1/2" lower race. It's another feature to keep the riding not only fast, but safe and predictable.
While the frame comes first, we definitely don't skimp on the parts. This bike is built up with a Shimano Ultegra drivetrain (50/34 compact cranks, front and rear derailleurs, shifters, 11-28 cassette) that yields a wide range of gear ratios for all types of terrain. The Fulcrum Racing 5 wheels have 20 spokes in front and 24 in the rear with 24mm deep clincher rims. The rest of the build comes from Pinarello's MOst component line, which means all the parts are finished to complement the frame's paint scheme. Those components include MOst B-Max Force brakes, MOst C-Alu seat post, MOst Jaguar XA compact ergonomic bars, MOst Tiger stem, and MOst Oselot saddle. Bars, stem, crank lengths are all size appropriate to the frame.
The Pinarello ROKH Shimano Ultegra Complete Bike comes in seven sizes from 43cm to 57cm, and in the color Matte Black on Black.