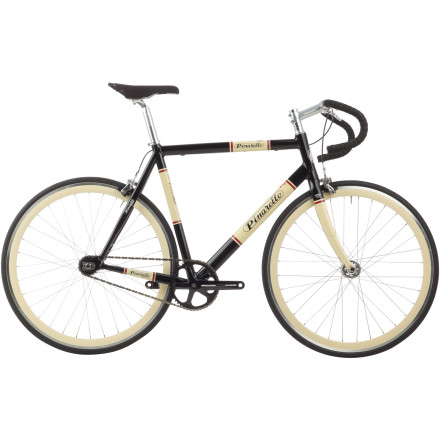 Detail Images

Community Images
The advent of fixed-gear bike culture pre-dates the current urban fashion of riding them by such a long way that the origins of the basic idea are unknown and undocumented. What we know, we've taken from the thought leaders such as the well-known Bike Snob NYC and the less-known but equally important Trackosaurus Rex. What is that basic idea? It's not what it seems — let's ride in traffic with no brakes and with limited ability to stop the crankset from turning.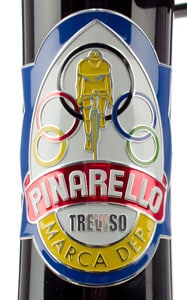 Rather, not unlike acoustic sets and restaurants keen on serving only what they grow, our best guess is that it's an embrace of simplicity in an ever-noisier, evermore needlessly overwrought world. No gears? That cures 75% of a bike's maintenance woes. No brakes? We appreciate the aesthetic simplicity brought on by the elimination of the rest of the cables. The resulting irony, of course, is that a bike stripped down to its essential moving parts — brainless to maintain, joyful to accessorize, minimally appealing to steal — becomes the ultimate urban weapon for battling the nemesis of the true urban dweller: those dreadful cars.
Have you ever ridden a fixed gear before? If not, it's a bit of a shocker how you naturally take for granted freewheel coasting, which can end up tossing you rodeo-style over the bars. The first few times you catch yourself, it's pretty terrifying. Terror, of course, is the best disciplinarian, so you learn quickly to stop indulging the freewheel instinct. We'll admit, though, that since our riding time is precious (we're in that kids + job phase of life), our preference for fine-tuning old skills takes precedence over learning new ones. This means (a) getting comfortable with the hardly-subtle nuances of a fixed drivetrain and (b) getting accustomed to dealing with traffic when brakes aren't in the cards. It's a shame, really, because the delight of a fixed gear is the simple, maintenance-free beauty, making it appealing on many levels. And this is why we have a bit of a crush on the Pinarello Lungavita. It lets you access those delights without forcing you to risk life and limb.
The Lungavita comes with a flip-flop rear hub. One side has a real-deal fixed cog, i.e. if the rear wheel is moving, your crankset will be moving. But the other side is a single-speed freewheel cog that allows you to do what you're used to doing — stop pedaling whenever you deem fit, exactly like your ability to coast on your regular, everyday geared bike. The other touch of risk management is the presence of small brake levers on the bar tops — like what you're attuned to seeing on cyclocross race bikes. After all, "Lungavita" means "long life" and we're not afraid of saying our days of doing overtly self-destructive things are pretty much behind us…
The Pinarello Lungavita frame is made from triple-butted 6061 T6 aluminum with a painted-to-match aluminum fork. It's available in five sizes and comes as a complete bike only, so all you'll need to add is pedals. It is geared with a 46 tooth chainring and 18 tooth rear cog for a total gear of 86.4 inches.
6061 T6 aluminum offers a durable, quick-handling ride

Horizontal dropouts make chain tension adjustments a breeze

MOst alloy crankset and cockpit maintain the aesthetics of the bike while providing excellent performance

Pay close attention to the geometry chart –Pinarello uses a center-to-center seat tube measurement for this frame, which results in the nominal size listed in the dropdown

Is the frame made in Italy or elsewhere?
Is the frame made in Italy or elsewhere?
this is an aluminum frame sourced from asia but designed in italy
The SoHo Lungavita on your site shows the...
The SoHo Lungavita on your site shows the bike with drop handlebars. All other sites and the official Pinarello site show the bike with straight bars.

can you tell me what is actually on the bike that you are selling. I kind of like the straight bars and was hoping for such but I could settle for the drops.
Best Answer
I'm fairly certain the SoHo Lungavita comes with both. Rad, eh?!
I love the s**t out of this bike. I'm a steel girl, but I love this aluminum frame. It handles well, it's light, it's comfortable, motorists love it, and I get my picture taken quite often with it.
I live in Austin and have taken this on the city's trails with the Maxxis tires just trying to flat them (I'm hard on my bikes), but in 6 months of rough city riding, I haven't even gotten a flat. This bike is worth it. Every penny.
Love this bike! needed to have something other than clipping into my road bike to jump on and run errands with and do speedy cruising around town. Beautiful to ride and lots of great comments even from the messengers! I choose for the moment to keep it single speed but have the option to go fixie. Its a perfect complement to the collection!