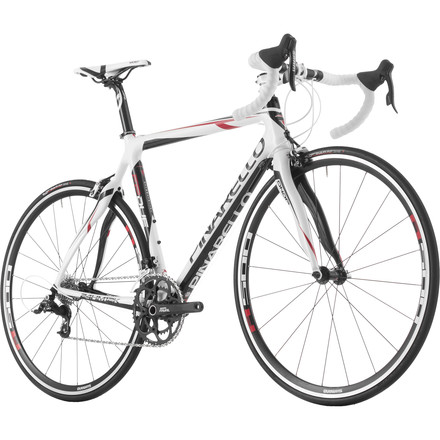 Detail Images
We aren't all riders at the level of Pinarello's flagship sponsored outfit, Team Sky. Those guys often cream the competition aboard the cream of the crop. The superlative Dogma line comprises machines that are virtually unmatched in cycling today, but which also demand a premium that self-sponsored cyclists like us simply can't justify. Fortunately, Pinarello's tradition of ride quality and innovation isn't just limited to Dogma frames. Cyclists who want a bike that rides just as well on weekend group rides as Lycra-clad hammerfests can access that tradition with the Pinarello FP Due SRAM Rival Complete Bike. The FP Due accommodates all road cycling identities.
In naming conventions, this is the successor of the FP line, but it's also the heir apparent to some royalty-level tech from the Pinarello Prince, which has since retired to a country estate and left the scepter and the isle to the FP Due. The frame is molded from plies of 24HM12K carbon, which translates to a 24-ton, high-modulus carbon cloth with a 12K finish wrap. This is standard for the FP line, but the Due also enjoys the asymmetrical build of the Prince, which buttresses the areas of the bike that receive the most duress under hard pedaling. It's designed to increase frame stiffness on the drivetrain side while saving weight where possible.
Both the stays and the fork showcase Pinarello's Onda (in English, wave) design, adding a fluid comfort to the ride. The steerer tube is tapered for greater lateral stiffness, starting at 1-1/8 inches at the upper bearing and expanding to 1.5 inches at the lower. While even more stiff efficiency is great, we really appreciate the more solid control the tapered headset provides when descending at speed — something even the most mild-mannered cyclist will be tempted to do on the FP Due because of its smooth ride quality.
Visually, the geometry is identical to Pinarello's ProTour offerings from the same year, but the FP Due actually feature a slightly relaxed seat tube angle and slightly taller head tube. This reduces strain on your back and further complements handling. For riders who don't just race, this frame geometry presents a very solid platform for do-it-all-cycling. The paint scheme reinforces this with race-stripe elements that accent an overall theme of tasteful understatement. Given its carbon construction, thoughtful geometry, and subtle aesthetics, the FP Due is equally at home in races and cyclosportives, hammerfest climbing and uphill noodling.
This version of the Due is built up with a drivetrain from SRAM's reliable workhorse group, Rival 10-speed, and a selection of MOst components. You'll get Rival DoubleTap levers, crank, derailleurs, and cassette. The wheels are Shimano R500, another reliable staple from a venerable manufacturer. The rest of the kit comes from Pinarello's MOst component line: B-Max Force brake calipers, Jaguar XA anatomic bars, Tiger Alu Painted stem, Jaguar XA seatpost, and Bobcat saddle. The MOst components are finished to complement the frame colors, adding a nice custom touch to the bike. Cranks, stem, and bars are sized according to the frame. The cranks are compact with 50/34 rings and the cassette is a wide-range 11-25t cassette.
The Pinarello FP Due is currently available in four sizes ranging from 51 to 57 centimeters in the colors Black/silver, White/blue, and White/red.
Hi. I was wondering if you guys will be getting this in smaller sizes? I'm 5'7. Also, in a different color scheme?
Best Answer
Hello, We will not be getting any more of these exact bicycles in. We do though, have some other great discounts on full carbon road bikes from Ridley and Boardman. Please reach out to me directly at gmcbride@backcountry.com or at extension 4769 and I can go through our options and help find you the bike of your drems! Take care.
Hello, is it good for daily? I used to ride Specialized Allez compact for about 8 miles round trip. Hope it is a good upgrade?
This bicycle would make your daily ride a living dream! Smooth, light, and efficient! Although it doesn't have mounts for racks, you still can ride this every waking second of every day! Let me know if you have questions, gmcbride@backcountry.com
Is it 53cm or 51.5cm ...which is correct size for the listing of the sale item?
As of right now, we have size 53, 55, and 57 in stock. The run one size large so the size 53 fits like a standard 55cm frame (usually someone 5'9" to 5'10")
If I buy a bike from you, what would I have to do once it gets here?