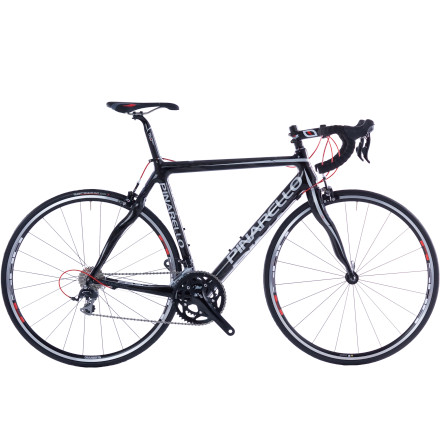 Detail Images
The Pinarello FP Due is a workhorse of a frame that has been built up in numerous complete bike configurations, and the one that packs in the most performance for the least sting in your pocketbook is the Pinarello FP Due/Shimano 105 Complete Bike.
As with the Rival and Ultegra equipped FP Dues, the heart of the bike is the frame. And the evolution to this current iteration reflects how advanced it is. In naming conventions, this is the successor to the older FP2. But in terms of performance, this owes not only to the 2, but also to the now-absent Pinarello Prince. The frame is molded from plies of 24HM12K carbon-fiber. It's a 24-ton high-modulus cloth with the 12K finish wrap and all, but unlike the older FP2 and closer to the Prince, this is asymmetric in the stays and the fork. These asymmetries better fight the single-sided torque of driving the bike from the right side.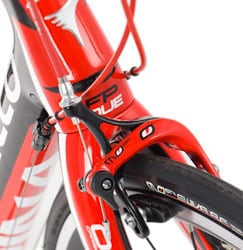 Both the stays and the fork employ Pinarello's Onda design, aka waves, to add comfort to the ride. The steerer tube is also tapered with a more-dramatic flare for greater lateral stiffness, starting at 1-1/8" at the upper bearing and expanding to 1.5" at the lower. So you get comfort where you need it and stiffness where it helps with the ride and steering stability.
The geometry is racy without being a backbreaker. You'll see a slightly relaxed seat tube angle and slightly taller head tube relative to Pinarello's ProTour-level Dogma2. Pro racing bikes aren't always the most comfortable, and those of you who want a bike that's a little more so will find this geometry perfect.
This Due is built up with wallet friendly Shimano 105 parts -- STI levers, crank, derailleurs, and cassette. Pinarello takes their MOst components to fill in the rest: B-Max Force brakes, Jaguar XA anatomic bars, Tiger Au Painted stem, Jaguar XA seat post, Ocelot saddle. The MOst components are finished to complement the frame colors, adding a nice custom touch to the bike. The wheels are Shimano WH-R01, with 24mm deep rims and conventional hubs to keep maintenance easy. Cranks, stem, and bars are sized according to the frame. The cranks are compact with 50/34 rings and the cassette is a wide-range 12-27.
The Pinarello FP Due/Shimano 105 Complete Bike comes in Black-on-black, Red, and White/black/silver. There are seven sizes available from 44 to 59cm.
Shimano 105 shifters and drivetrain are ready for a lifetime of chasing dreams

Compact crankset and gearing give you more big-ring versatility, letting you save the little ring for those huge climbs

Shimano R500 wheels light and strong enough for all-around riding, without necessitating an out-of-box upgrade

Most seatpost, saddle, and cockpit ensure all-around comfort and perfectly coordinated Italian panache