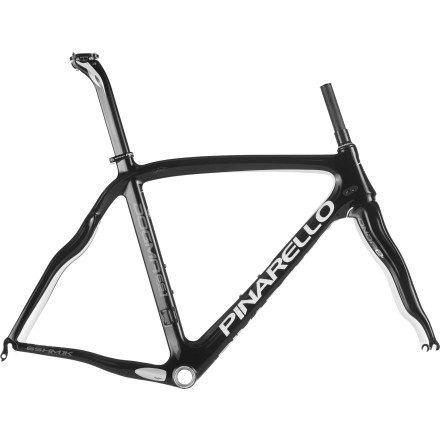 Colors

Detail Images

Community Images
Description
Perfection, redefined.
While we wouldn't even think about questioning the pinnacle of Pinarello design, its engineers continuously rewrite the perfection that is the Dogma. The latest generation of the asymmetric frame, the Dogma 65.1 Think2, challenges the frame material while keeping the frame's lauded geometry close at heart. And while we like to think that it's the rider, not the bike, that wins the race, the Dogma 65.1 Think 2 continues to grace Pro Tour podiums the world over. Gets you thinking a little, doesn't it?
Previous versions of the Dogma have been molded from Torayca 60HM1K carbon fiber cloth. And while this is its top-tier weave, Pinarello asked Torayca to create a proprietary carbon fiber that was stronger than anything they had previously used. The result was a 65HM1K Nano-alloy carbon fiber. This new composite is a full 5-tons per square centimeter stronger than what Pinarello used in the original Dogma. A stronger weave and more rigid cloth means that Pinarello was able to use less material in critical areas of the frame-this reduces the weight of the frame. And while you may not think of the Dogma as a climbing-specific frame, it's two Tour victories as well as being the steed that the Climber's jersey was won on, might change your mind.
The frame design that sets the Dogma apart from its peers has not been tampered with. The asymmetrical shaping that Pinarello has become known for is evident. Using FEA (finite element analysis), engineers further studied the forces on the frame, from sprinting to climbing. In the latest iteration of the frame, Pinarello moved the top-tube slightly to the right to further level the variances in frame deflection. It also redesigned the front end of the frame. It utilizes a 1.5-inch lower headset bearing, which creates a larger diameter tube at the crown. Additionally, the re-design includes even more aerodynamic fork legs. These subtle changes create even more predictable braking and steering feel.
As far as component compatibility, Pinarello ensures that you're able to choose the groupset of your choice. Internal cable routing allows for either mechanical or electronic shifting systems. No matter which you choose, you won't be compromising on aesthetics or aerodynamics. And if you just can't decide between American-engineered SRAM, or Italian Campagnolo to match the pedigree of Pinarello. the cable stops are interchangeable so that swapping is easy.
The 65HM1K uses the same Nano-alloy technology as was embedded into the 60HM1K carbon weave. If you have an unfortunate crash, these particle are actually designed to explode. These micro-explosions absorb kinetic energy from impact forces so that the carbon doesn't have to. Aiding this is the manufacturing process of the frames themselves. Rather than using a bladder, Pinarello uses a polystyrene form as a base for the carbon lay-up. This allows for an even more precise compacting of the laminate and fewer incidences of trapped gas or resin within the layers of carbon cloth. Once the frame is molded, the polystyrene is melted away with a solvent. A side effect of this process is that the inner surface of a Pinarello Dogman frame is virtually as smooth as the exterior.
The Pinarello Dogma 65.1 Think2 Road Bike Frame is available in 12 sizes from 42 to 62cm and in the colors Black/white gloss, Black/orange matte, BoB, and Movistar. The frame includes an Onda 2 asymmetrical carbon fiber fork, a Pinarello integrated 1-1/8 to 1.5in press-in headset, and a Dogma 2 carbon fiber seatpost. You will need to purchase an Italian bottom bracket and a braze-on front derailleur.
Torayca's all-new 65-ton 65HM1K Nano-alloy carbon fiber frame
Onda Torayca 65HM1K Nano-alloy Carbon fork
Refined asymmetrical design
1.5 lower headset bearing & larger diameter steerer tube
Internal cable routing for both mechanical and electronic groupsets
Pinarello integrated 1-1/8 to 1.5in press-in headset
Dogma 2 carbon fiber seatpost
Unanswered Question
Does this frame fit wide rims like the HED Ardennes/Belgium +? Ideally these would be riding with 25mm tyres.
Unanswered Question
On a 62 cm frame what is the maximum distance from BB (center) to seat clamp. Great stack and TTT on this frame but it looks like the seat post is an integral part of the frame and I need to ensure I have enough leg room at 36" inseam.
Can I use a bb30 sram red22 quarq power...
Can I use a bb30 sram red22 quarq power meter crank with this frame ?


Best Answer
Vint,



I'm sorry but no that crank will not work on this bike because the BB30 Spindle size is not compatible. This frame requires a SRAM GXP.



If you have any other questions please give us a call.
AMAZING!!!!
Familiarity:

I've put it through the wringer
Without a doubt, this is the most incredible machine that I've ever ridden. I went with a slightly larger than usual frame as I like a little more wheelbase, and I've not been disappointed. My first long ride on the Dogma was a 200K brevet on rough central Texas roads, and it failed to disappoint. Normally, I would never have taken a full-on race rig on this type of ride, and the bike certainly felt like a pure bred race bike; however, the biggest surprise was how comfortable I remained at the 100 mile mark!



Enough cannot be said about how GOOD this bike truly is!! With that being said, I'm a little disappointed with the paint on my BoB. I've had a lot paint chip on the fork around the front brakes. This may just be me nit-picking, but Pinarello has always been known for their paintwork, and I expected a little bit more from them in the department. Like I said though, this is just me nit-picking, and this may be an isolated occurrence.



Competitive Cyclist have made me a life time customer with this purchase! They have been MORE then helpful and accommodating along the way. Replacing everything from stems that were the wrong size (my fault) as well as saddles that didn't fit right, Competitive Cyclist have truly been the best retailer I've dealt with to date.
Best bike overall to date
I have owned lots of bikes in the past few years from most major brands including some from Pinarello, but not the dogma. I don't usually write reviews, but after riding this bike, I said to myself that review is a must. First of, the guys at competitive are amazing with the level of customer support. I always deal with Josh C. and he knows his Pinarellos in and out.

I have only had a limited riding trial with this bike, I have it built with 11 speed di2 as well as the new reynolds 46 aero wheels. There not one aspects that really stands out, but overall it has an amazing feel to the bike. Great acceleration, stability, stiffness, but not so that you feel beat up by it. It is like I combined different aspects from 4 of my other road bikes together and it all came together into this one bike.

If you can afford it, look no further. Josh at x 4365 will never stear you in the wrong direction no matter what your riding styles or interestes are.
Mr. H Racing On The Pinarello Dogma
By Move Press. Pinarello starts at 2min 13 sec.
Just solid, everywhere, all the time
Familiarity:

I've put it through the wringer
I spent a summer on this frame, and there were lots of qualities that were great, but one thing always stood out - it's just solid. It feels almost weirdly-solid in corners, out of the saddle climbing/sprinting, over rough ground, etc. It seems so simple (and not exotic like you'd expect a Dogma review to read), but after you ride one, you look back at all the previous bikes you've owned and realize they just weren't that solid. One big grin and two thumbs up.
The Credo of Treviso
Familiarity:

I've put it through the wringer
Is no longer steel. I?m a little young to have sampled the frames Pinarello chiseled from the earth?s crust for Der Kaiser, but I now understand what riders talk about when they say ??it?s a Pina,? and reference their Torayca-laid wunderbikes.



I?ll admit, I used to be a bit of a hater. ?Oh, nearly all carbon frames ride the same?, I?d preach, whenever consulted about the purported dream-like quality of the newer Pinarellos. Of course, I?d never had a real chance to swing a leg over one. Now, thanks to their generous sponsorship, I was finally able to sample the bikes many only get to fantasize about.



Down to brass tacks. This frame is a mind-blower. My first time on it, with too-big bars and stem, it was still an epic experience. Stepping on the cranks provides razor-sharp response from the bike, but without the feeling of being beaten around on the pavement. It?s not mushy like a lot of carbon bikes - I?ve never once looked back at my rear wheel thinking I?ve gotten a flat. No waifish chainstays here. From the front end, the massive 1.5? tapered headtube and fork steerer rail corners with nary a hint of flex.



The bike strikes a perfect balance, in my opinion, between all the polar qualities of a superb all-around race bike. The geometry is incredibly well-balanced. It?s stable on descents and when taking a no-handed feed, but not to the point of feeling slow in corners or in the pack. It?s comfortable over the long haul, but not comfortable enough that you lose road feedback or stiffness. The fit and finish is second-to-none?I often find myself gazing at the bass-boat silver paint accents and getting a little lost.



Is it heavy? Hell yes it is. But when building it to 15lbs isn't hard with a nice group and decent wheels, I'd prefer to shed grams elsewhere. The ride more than makes up for the weight savings relative to the paper-thin 800g available, in my never-humble opinion.



Buy the Dogma. You won't regret it.
I LOVE MY DOGMA !!
Familiarity:

I've put it through the wringer
I have both a Dogma 2 and a Dogma 65.1.



When I first purchased my Dogma 2, I was stunned at how it rode. It combines both comfort and speed. While it is NOT the fastest bike from Zero to 25 mph, it is the easiest bicycle I've ever rode to sustain a speed. The cycling mechanics are incredibly smooth on this bike and the same is true on the Dogma 65.1. Once you achieve your speed, the bike rides itself. I've also discovered that it is the most comfortable bike I've ever ridden in the drops and it is, by far, the most stable bike going down hills at high speeds (i.e. 50 mph feels like 30 mph).



The Dogma 65.1, in contrast to the Dogma 2, is stiffer and is a little faster from Zero to 25 MPH. When I take long endurance rides (over 60 miles), I take the Dogma 2 because it is (slightly) more comfortable. However, I prefer the Dogma 65.1.



As for the finish, I don't think there is any bicycle finished as well as the Pinarello Dogma's. If you want the Italian finish, you need to own a high end Italian bicycle.



Lastly, if up to date engineering is important to you, then you get it with the Dogma 65.1. No other bike has 65 ton carbon or the degree of asymmetrical design. While all this engineering means nothing if it doesn't ride well, the truth is that it rides superbly.



The one downside to the Dogma 65.1 is that if you try it, you will "NEED" to own it.