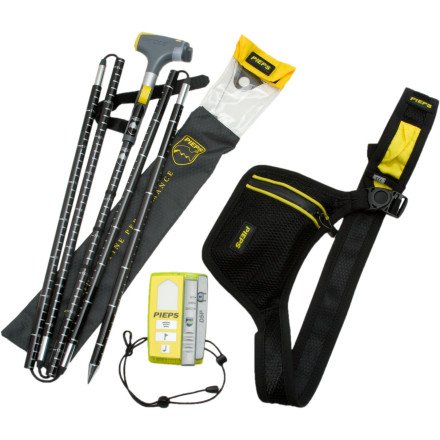 Detail Images
Pieps put together a powerhouse combination with its iProbe DSP Package. This package offers the latest, most tricked-out avalanche search-and-rescue technology available, and it's for serious backcountry enthusiasts and ski patrollers who are going to put in the time to practice with the equipment. It's not so easy to use that a marmot could pick it up and help with your avy search—but it does offer exceptional precision and speed for those who learn to use it properly.
Pieps DSP Beacon excels in multiple burial situations, showing immediately how many victims are buried and where they are in relation to each other
Once you locate the closest victim, the beacon's Mark button lets you turn his signal off and focus on the next closest signal
The beacon's Smart Transmitter feature eliminates the problem of overlapping signals when two victims are buried close together
iProbe is the first avalanche probe to electronically communicate with victims' beacons, which cuts probing time dramatically and lets you start digging faster
Probe helps guide you closer to victims, starting with a beep and LED indication that you're within two meters, and then a continuous beep that indicates you're within 50cm
If victims are using compatible Pieps beacons, you can actually press a button on the iProbe to turn off their signals when you start digging, which allows you to focus exclusively on the next victim's signal
What do you think about this product?
Have questions about this product?
Who needs length when you have girth?
IMHO the Pieps DSP is the best available on the market today, simple user interface, klutz proof buttons and intuitive layout; to go along with the triple antenna. And if used in conjunction with the iprobe, can help you search faster for your buddies who are buried. The probe also has a cool feature that actually talks to your dsp and allows you to switch targets after one has been found. I would find this very useful if you had many members of your party buried and needed to get to finding the others quickly while the rest of your party did the dig out. The probe is a little more short relative to the others out there, I believe this one is 225 cm versus like a 260 cm medium from the other brands, but where it lacks in length, the iprobe makes up for in girth. The tip of the probe actually has a tiny sensor that sends a transmitting beep when you get within about 15 cm from the transmitting dsp. Pretty cool features that I think can help save time when it matters most., unless it's not in your bag........d'oh

I'll update on the build quality later on in the season when this thing has been used for more than 15 days.