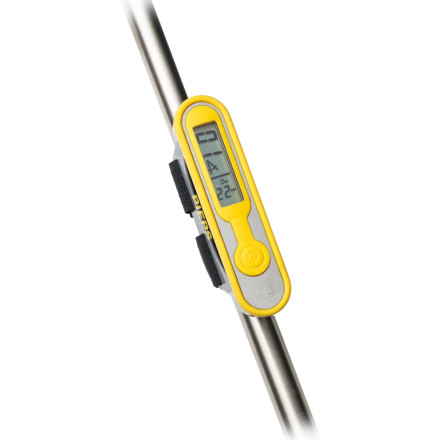 Pieps created the 30 Degree Plus inclinometer so you can ski smart in avalanche terrain. Just attach it to your ski pole and lay it flat on the slope to get a precise measurement of the slope's angle. With goniometric calculations between a flat 0-degrees to a vertical 90-degrees and with a +/- 1 degree of accuracy, you'll know exactly what angle the hillside you're about to trek up is. This gadget also lets you know what the temperature it is in order to help you evaluate the potential changes of snow quality. The LCD screen provides an easy readout of the angle and the temperature so you can get on with your adventure (or reassess and decide to try again on a more safe day). The Li-ion battery powers this device for up to five hours, and its lightweight (only one ounce) and compact design means you'll never feel the need to head up the mountains without it.

Goniometer: 0° - 90°
+/- 1 degree of accuracy
Li-ion battery with 5-hour lifespan
Temperature readout between -4° and 113°F
3-dimensional measurements
Keeps you honest
Familiarity:

I've put it through the wringer
I looked at this for a while before being able to justify the cost, but I've found that it's a really useful tool to have. Prior to this I used a compass that had an inclinometer... maybe once in every 3-4 tours. Now that I have an inclinometer strapped to my pole I can measure the slope angle without really having to stop. Just turn it on, drop your pole on the slope, read it and you're good to go. The slope angle updates very quickly so there isn't any waiting around for it to get its bearings. I've also found that this makes it much easier to get an accurate angle vs. messing around with a compass vs. the "gentleman's guess." This thing has really helped me hone route finding decisions on the skin track and descents.

Setup is super easy - two velcro straps will hold this to any kind of ski/treking pole you can think of. No issues with durability or battery life after a full season of use
Hone your "slope angle" guesstimates
I bought this mainly so I can improve my ability to judge slope angles. I "guesstimate" the slope angle, then check it on this to confirm what it really is, that way I can update my "mental" model and hopefully get better to the point where I don't need it anymore.



I've found it gets harder to judge as the slope gets steeper. 30 degrees is fairly easy to judge (for me anyway!), but as you get to 40+ it gets a little harder.



OK, it's not what I'd call cheap, someone suggested I use an iPhone app (e.g. backcountry access free app) to measure slope angle, but do you really want to stop all the time, get out your iPhone, open the app, measure, put your phone back etc etc when you could just lay down your ski pole?



Having the temperature is handy, in this photo it was a nipple hardening -15C (not including wind chill!).



It has an auto power off feature and attaches to any ski pole via a velcro strap. For weight weenies - It's super light, you won't know it's there.
Nice to have
Familiarity:

I've used it once or twice and have initial impressions
This inclinometer is great for touring when the avy danger is high on steep rollers. You can check on your way up what the slope angle is.
Any reason why this wouldn't fit on snow...
Any reason why this wouldn't fit on snow shoe poles instead of ski poles?
Best Answer
Lauren,

The Peips 30 Degree Plus will absolutely work on a pair of snowshoe poles as well. There really isn't much difference between skiing/trekking/snowshoeing poles, but small accessory differences such as how or if they collapse, shock absorption, and diameter of the basket.
From personal experience I can vouch for the Pieps Pieps 30 Degree Plus working on all of Black Diamonds trekking poles.